Belarus in the Run-Up to New Elections
Publication: Eurasia Daily Monitor Volume: 12 Issue: 74
By: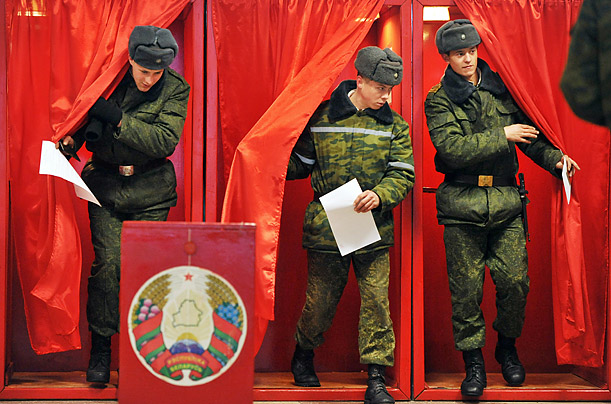 Belarus's presidential elections are going to take place on November 15, 2015. This time, the pre-election period promises to be less eventful than in 2001, 2006 or 2010. The opposition has failed to consolidate and promote either a single candidate as in 2001, two candidates as in 2006, or multiple, unelectable but still recognizable and pugnacious presidential hopefuls as in 2010. Moreover, the opposition leader with the highest rating has decided to stay away from the race. According to the March 2015 national survey by the Independent Institute for Socio-Economic and Political Studies (IISEPS), the most competitive opposition leader would have been Uladzimer Neklyaev, a 2010 presidential hopeful, a poet and until, April 8, the chairman of the civic campaign "Speak the Truth." Faced with the open question, "Who you would vote for?" 7.6 percent of those surveyed named Neklyaev. And faced with a list of possible candidates—which included Neklyaev—determined ahead of time by the pollsters, 9.4 percent opted for that politician. However, not only did Neklyaev decide against running, on April 8 he resigned from his chairmanship position with "Speak the Truth" and left his civic campaign altogether, citing a lack of serious electoral consolidation efforts on the part of his colleagues (Naviny.by, April 9). Alyaksandr Milinkevich, a 2006 presidential hopeful, has also declined to run.
It appears that besides the incumbent president, Alyaksandr Lukashenka, his rivals are going to be Anatol Lyabedska, the leader of the United Civic Party; Tatyana Korotkevich, from the "Speak the Truth" campaign; and possibly Alona Anisim, from the Belarusian Language Association (Salidarnasts, April 17). Lyabedska has been vice-chairman and then chairman of his party for as long as Lukashenka has been president of Belarus. Lyabedska's rating, according to IISEPS, is just 2.9 percent, but at least he enjoys some name recognition. Korotkevich and Anisim are not widely known in Belarus. Their promotion as candidates seems to be an act of filling the void in a political situation in which the electoral chances of the opposition are small and the formerly popular tactic of expressing discontent in public protests on a square in downtown Minsk has been discredited by the February 2014 events in Kyiv and their aftermath. Also, Western donors of the Belarusian opposition seem to have lost their enthusiasm, despite the fact that the current economic situation is actually unfavorable for the Belarusian government. No inflow of youth to the ranks of the opposition has materialized, although 18.8 percent of the electorate is prone to vote for opposition candidates no matter what (Naviny.by, April 13).
The March national survey by IISEPS revealed that 36.9 percent of the electorate would vote for the incumbent president if the elections were "today," possibly an understatement. According to Yury Drakakhrust, the refrain of Lukashenka's de facto presidential campaign is: "I will not allow the Maidan"—i.e., Kyiv-style developments—and will continue to pursue a responsible style of governance, whereas "my potential rivals are troublemakers." Drakakhrust claims that whether or not this accusation of "troublemaking" is based on fact is unimportant in the current political environment (Tut.by, April 13).
Unlike in the past, the perceived certainty of Lukashenka's electoral success is not backed by growth in personal incomes. Rather, it is conditioned by the new geopolitical situation informed by the war in Ukraine and by Lukashenka's much publicized attempts to preserve public order and to strengthen Belarus's independence by pursuing his "multi-vector" foreign policy.
A certainty at the ballot box implies that Lukashenka can afford to make some controversial decisions. On the domestic front, the president announced a decree against social parasitism, according to which able-bodied people of working age not employed for at least 183 days per year are going to pay a fine equal to at least twenty "basic threshold values" (bazovaya velichina), which equal 180,000 rubles ($12.63). This amount multiplied by twenty would thus come out to a fine of about $253 (Zakon o tuneyadstve, March 17). The decree stipulates exemptions for mothers with children below seven years of age, and certain other groups. The decree has generated a mixed response, and Lukashenka has already promised to eliminate the glitches (Tut.by, April 18).
Internationally, Lukashenka's biggest bombshell has been his decision to skip the Victory Day military parade in the Russian capital on May 9. In an interview with Russia's official TASS news agency, Lukashenka said he will participate in the May 7–8 events in Moscow marking the 70th anniversary of the end of World War II in the European theater; but on May 9, he will preside over the Victory Day parade in Minsk (Moskovsky Komsomolets, April 18).
Lukashenka also continues to pursue a rapprochement with the West. Thus, on April 17, he received Johannes Hahn, the Commissioner for European Neighborhood Policy and Enlargement, and made some suggestions about how to transform the European Union's Eastern Partnership. Yet, at the same time, Lukashenka has not released Belarus's remaining political prisoners, and the prison terms of some of them may even be extended. It could be that Belarus is testing the limits of the EU's patience. But it could also be that Brussels is now keen on improving its relations with Minsk no matter what (Svaboda, April 15; Naviny.by, April 17).
Perhaps even more importantly, the Belarusian delegation held negotiations at the International Monetary Fund (IMF), in Washington, DC. The resumption of the IMF's credit line for Belarus, in exchange for a compromise program of structural reforms, seems more likely than ever before since the IMF's previous (2009) stand-by loan to Belarus (Tut.by, April 19). If this resumption comes through, Belarus's one-sided dependency on Russian loans will be somewhat balanced by Western donors. On the other hand, Moscow announced it would refinance Belarus's 2015 premium on its debts to Russia (Tut.by, April 16).
In summary, despite economic difficulties experienced by Belarus, Lukashenka appears to have plenty of positive news to report to his fellow countrymen during this year's election season.