Belarus in a Love Triangle With Russia and the West?
Publication: Eurasia Daily Monitor Volume: 14 Issue: 158
By: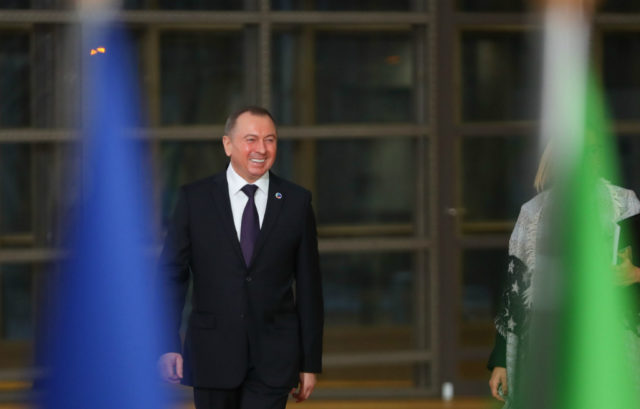 Belarus openly admits to pursuing a multi-directional foreign policy. And Foreign Minister Vladimir Makei has made multiple statements about the difficulties of balancing between East and West under growing tensions and belligerent rhetoric from both sides (see, for example, Belta, June 2). But if Belarus's foreign minister is willing to admit to such "balancing" behavior on the part of Minsk, then what is a fitting metaphor for the major external actors' relationships with that country?
The November 28 episode of "Mesto Vstrechia" ("Meeting Place"), a popular political talk show on the Russian TV channel NTV, which broadcasts into Belarus, put forward some suggestions. Specifically, Belarus was referred to on the show as a "cheating wife" and a "prostitute," and its president, Alyaksandr Lukashenka, was accused of blackmail. Representing Belarus, Andrei Dmitriev, a co-chairman of the Speak the Truth civic campaign, tried his best to explain to the audience that Belarus's relations with the West are not being pursued at the expense of its relations with Russia; but he was booed. The NTV channel is owned by Russian Gazprom, largely a state-run corporation; and in Russia, TV talk shows are major conduits of official propaganda. No wonder then that the main Belarusian daily, Belarus Segodnya, responded angrily, accusing unnamed "puppet masters" of bad taste. It also did not escape the attention of the critics that whereas previously Russia regularly portrayed itself as Belarus's older brother, today it calls itself the husband (Belarus Segodnya, December 1).
This humiliation of an ally was exacerbated by news pertaining to a bilateral agreement on the joint reinforcement of a regional grouping of troops to be deployed in Belarus in case of military threat (Pravo.by, December 1). According to this agreement, signed one year ago but enacted on November 14, Russia obtains the right to relocate its weaponry and troops to Belarus. This deployment is contingent on a "mounting military threat," whose very definition in the age of "hybrid" wars has become less straightforward than ever before. That is why the Belarusian military observer Alexander Alesin claims the agreement is a step back in Belarus's quest for true independence (Tut.by, December 1).
If Belarus is a disloyal wife cheating on Russia with the West, then the latter is an uncommitted lover at best. In the 21-page declaration of the Eastern Partnership (EaP) summit (held in Brussels on November 27), Belarus is mentioned three times and Russia not at all. This appeared to be a clear concession to Belarus's demand, indirectly acknowledged by Makei (following his meeting with his Russian counterpart, Sergei Lavrov), and a setback for Ukraine. The declaration confirms progress in Belarusian–European Union relations and in negotiations on transit (Tut.by, November 24). At the same time, the EU again conditioned the beginning of cooperation talks with Minsk on political reforms in Belarus. In the opinion of Denis Melyantsov, expressed on behalf of the Minsk Dialogue initiative, this approach is yet another relapse of double standard, as no such concessions were demanded from Azerbaijan. And it further undercuts Minsk's interest in the EaP, he continues. At the same time, positive outcomes include a commitment to implement Minsk's idea to harmonize digital markets and to expand the Trans-European transportation network, which promises some investment on infrastructure projects. The EaP initiative continues to lose its political ambition, Melyantsov asserts. For practical purposes, the agenda of bilateral, Belarus-Europe, contacts is now more forthcoming than that of the EaP as a whole, he claims (Minskdialogue.by, November 30).
That subversive designs are no longer expected from European partners has become evident from the closure of the so-called White Legion case (see EDM, March 27). It was launched following Lukashenka's March 21 statement that armed insurgents allegedly trained by Western advisors had been apprehended. Thirty-five Belarusians were, indeed, arrested and Belarusian TV, together with the main government daily, conducted a campaign against the purported nationalist underground. However, in June, the KGB terminated its investigation and began to release those arrested. In late November, the Investigative Committee, a joint unit of pre-trial probing, subordinated to the president of Belarus, ruled that although "the acts of the defendants formally contain signs of creating an illegal armed formation," they "do not pose a public danger […] because they did not cause significant harm…" and "were not aimed at [bringing about a] forcible change of the constitutional order" (Sk.gov.by, November 11). Considering the low frequency of acquittals in the Belarusian judicial system, such a decision was prone to generate multiple political interpretations (see, for example, Svaboda.org, November 30). Be that as it may, a widely publicized suspicion of nationalist disorder instigated with the help of the West was put to rest, if only for the time being.
This outcome stands in contrast to current tensions between Belarus and Ukraine (see EDM, November 28). On November 20, the authorities announced the arrest of Pavel Sharoiko, a Ukrainian radio correspondent. Sharoiko turned out to be a Ukrainian intelligence colonel, who allegedly gathered information about government institutions and Russian military objects in Belarus and acted under the supervision of Igor Skvortsov, an advisor of the Ukrainian embassy in Minsk. Skvortsov was declared persona non grata, and Ukraine expelled a Belarusian diplomat in return (News21.by, November 27). All of this might be downplayed as a nuisance be it not for a public statement made by Lukashenka. During his visit to the Gomel region, he declared that both Sharoiko's arrest and the expulsion of a Ukrainian diplomat took place more than a month ago (YouTube, November 25). During Lukashenka's November 2 meeting with Petro Poroshenko in the United Arab Emirates, the two leaders had agreed to keep mum about those events. According to Lukashenka, however, the Ukrainian side violated this agreement and leaked the information to the press. The coincidence between this leak and the run-up to the EaP meeting in Brussels looks troubling, particularly if one takes into account some of Ukraine's own tensions with the EU. In any case, it is in response to this breach of agreement that the Belarusian side decided to publicize its own view of the situation, according to the president of Belarus. With this in mind, Sharoiko's confession and his apology were broadcast on Belarusian TV.
In summary, if courting Belarus is what some influential external centers of power do, the advantage of the East is still largely unchallenged. The other side may need to become more creative.