Kremlin Turning Belarus Into Bridgehead for Anti-Ukrainian Provocations
Publication: Eurasia Daily Monitor Volume: 14 Issue: 153
By: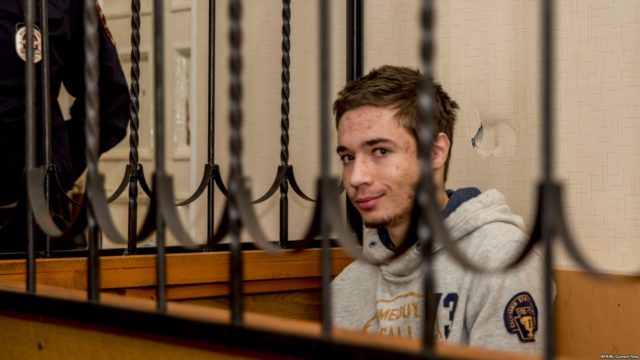 In recent months, Russia has repeatedly used Belarus for provocations against Ukraine. The latest example was the arrest of Ukrainian journalist Pavel Sharoyko by the Belarusian KGB—an incident in which the hand of Moscow is clearly perceptible. The Sharyoko case, as well as a series of separate episodes, illustrate that many of Minsk's decisions concerning Ukraine are actually being developed in Moscow.
Ukrainian journalist Pavel Sharoyko was detained by the Belarusian KGB in Minsk on October 25. He was accused of "espionage," a standard charge for foreign correspondents (Interfax, November 17). However, evidence has surfaced that the arrest was actually organized by the Russian Federal Security Service (FSB). In particular, a Belarusian staff reporter from the Russian television company NTV was secretly sent to a Ukrainian journalist in order to deliver to him documents that referred to Belarusian authorities allegedly giving their consent to the Russian side to use Belarusian territory as well as Belarus's Armed Forces to wage the Kremlin's war against Ukraine (LB.ua, November 17). The Russian secret services hoped that the Ukrainians, having received such documents, would react immediately, thereby worsening bilateral Ukrainian-Belarusian relations.
This was not the first such case of the Kremlin using Belarus to engage in provocation operations against Ukraine. For example, in early 2017, during the so-called "March of Angry Belarusian Citizens" (see EDM, February 21, 28), Russian propaganda exposed Belarusian society to the possibility of a looming serious crisis in bilateral relations with Russia, but also for a potential change in the ruling regime in Belarus. Specifically, the Belarusian media space was inundated by the narrative that a Belarusian "Maidan" was being implemented in the country (Regnum, March 14). This information warfare was complemented by increased Russian economic and political pressure on Minsk. The goal of this agit-prop campaign was to convince Belarusian society that if their leadership did not act "wisely," the country would experience similar chaos that befell neighboring Ukraine in 2014—thus simultaneously souring Belarusians on relations with Kyiv (Belvpo.com, March 2).
Another example of anti-Ukrainian propaganda was a story, aired in March on the TV channel Belarus 1, titled "A Call to a Friend." Most of this program was devoted to negatively comparing the peaceful demonstrations in Belarus to events in Ukraine, again emulating well-worn Kremlin propaganda narratives (Tvr.by, March 6).
Beyond the above instances, in late March, the state-run news outlet BELTA reported on a video allegedly showing individuals attempting to break through the Ukrainian-Belarusian border into Belarus in a car carrying weapons and explosives (BELTA, March 20). The Belarusian media was soon filled with accusations that Ukraine was seeking to destabilize its northern neighbor. Belarusian President Alyaksandr Lukashenka echoed these sentiments publicly (BELTA, March 21), while the Belarusian secret services made statements declaring they had information about plans to transfer militants from Ukraine to Belarus (BELTA, March 23. Reports also emerged in Belarus that Ukrainian diplomats and politicians were supposedly involved in the transfer of Ukrainian nationalist and veteran military groups to Belarus on the "Day of Freedom" (Sozh.info, March 25).
Then, on August 25, the Russian special services kidnapped in Ukrainian citizen Pavel Hryb on Belarusian territory. A couple weeks later, on September 7, the Ukrainian foreign ministry reported that Hryb had been found in the investigatory isolation ward of Russian Krasnodar and was being accused of terrorism (Pravda.com.ua, September 7). This was not the first such instance of the detention of Ukrainian citizens in a neighboring state. However, while journalist Vitaliy Sizov (Korrespondent, February 1) and writer Serhiy Zhadan (Glavcom, February 11) were ordered to immediately leave the territory of Belarus, Hryb faces 10–15 years imprisonment.
The situation with Pavel Hryb is significant because it was the first time the Russian secret services carried out an operation inside Belarus entirely without the consent of their local colleagues. That operation clearly surprised Minsk, which could not explain that incident for a long time (Zn.ua, November 2).
The Kremlin's involvement in these provocations can be also corroborated by the similar actions that it had previously carried out against Ukrainian citizens on the territory of the Russian Federation and the occupied regions of Ukraine. Last year's arrest of Ukrainian journalist Roman Sushchenko in Moscow (Ukrinform, October 3, 2016) and the Ukrainian so-called "diversionists" in Crimea (Korrespondent, November 10, 2016), along with the kidnapping of Ukrainian border guards (Espreso.tv, October 4, 2017) and other Ukrainian citizens convincingly resemble the aforementioned Belarusian provocations.
Nevertheless, when it comes to relations with Ukraine, Belarus continues to position itself as a strictly neutral party, simply interested in resolving the Ukrainian-Russian conflict. In particular, in November, the head of the Belarusian Ministry of Foreign Affairs, Vladimir Makei, while participating in the joint press conference in Moscow with his Russian counterpart Sergei Lavrov, said that his country is interested in peace and stability in eastern Ukraine and is ready to take part in a peacekeeping mission in Donbas (UNIAN, November 15). However, it bears pointing out that Belarus forms the Union State with Russia and is arguably Moscow's closest ally in the Collective Security Treaty Organization (CSTO). Hence a peacekeeping contingent in Ukraine that includes regular Belarusian forces might not be seen as truly impartial—in the same way that Russian peacekeepers in Donbas would not be.
Also notable is that that right before announcing its peacekeeping initiative, the Belarusian government decided to oppose the revised United Nations resolution criticizing the human rights situation in occupied Crimea. As such, Minsk's actions showed closer consistency with Moscow's position than Kyiv's. In response, Iryna Gerashchenko, the first deputy chairperson of the Verkhovna Rada (parliament) of Ukraine noted, "Neutral countries have at least abstained, but Belarus again showed a lack of 'neutrality' [when it came to] Russia's positon" (Espreso.tv, November 15).
Moscow has been turning Belarus into one of the most active "bridgeheads" for hybrid aggression directed at the countries of Central and Eastern Europe. The Kremlin now regularly uses its ally to launch various anti-Ukrainian provocations, and the frequency of such operations can only be expected to increase in the future. Moreover, the use of Belarusian territory for Russia's provocations against citizens of the West—journalists, human rights activists, diplomats, etc.—could be possible as well. Such moves would at the same time allow the Kremlin, with the minimal use of resources, to separate Lukashenka from the rest of Europe and tie him ever closer to Moscow. And today, Minsk's options to prevent such an outcome are increasingly limited.