Turmoil in and Around Belarus
Publication: Eurasia Daily Monitor Volume: 14 Issue: 21
By: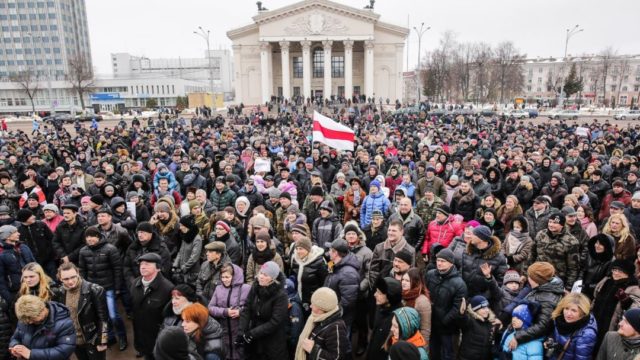 Belarus's legendary calm was shattered by three momentous disruptions in recent days. First, President Alyaksandr Lukashenka surprisingly agreed to a two-hour meeting with Iosif Seredich, the editor-in-chief of the major opposition newspaper Narodnaya Volya. Second, mass rallies have gripped Minsk and Belarus's other five regional capitals as demonstrators protest a $180 annual tax, established via presidential decree, on able-bodied but unemployed individuals of working age. Third, the ongoing hassle with Russia over natural gas prices and visa-free travel to Belarus from 80 countries was exacerbated after a Russian polling agency published its latest data chronicling Russians' hardening attitude toward their western neighbor. And all these events have become enveloped in a cacophony of fateful predictions by all sorts of oracles, including those whose opinions had long been relegated to the dustbin of history.
As for the Lukashenka-Seredich meeting, it was a groundbreaking event because the Belarusian president had ostracized the opposition since the mid-1990s; he has called it a "fifth column," invoking its Western funding, and ridiculed its internecine fights. This time, he responded positively to Seredich's initiative to meet and reportedly even acquiesced to the idea of holding a roundtable with the opposition (Svaboda.org, February 14). Arguably, not rejecting such an idea out of hand was only possible because the relationship with Russia, Belarus's major ally and donor, has reached a dead end. Thus, an appreciation of Belarus's independence suddenly looks like a possible bond between sworn political enemies. Nevertheless, suddenly a litany of mutual incriminations was unleashed, especially on social networks but also in the media (e.g., Svaboda.org, February 15). Critics rebuked Seredich as a traitor who hugged a dictator; other negative voices warned the opposition media personality against being duped by Lukashenka, and so on (Naviny, February 14).
Meanwhile, both the authorities and the opposition missed the growing wave of public discontent inside Belarus. On Friday, February 17, three days prior to the deadline for paying the aforementioned $180 tax, a 2,000-strong rally gathered in downtown Minsk. While participants protested the presidential decree that gave rise to the tax, they also shouted swear words directed at Lukashenka. According to Artyom Shraibman, a political analyst with Tut.by, the Belarusian opposition should have been able to ride this wave of public discontent, but instead it approached these protests as an opportunity to settle internecine scores. Indeed, only one opposition leader appealed to ordinary folks to demonstrate on February 17, whereas other opposition politicians demanded a later date for the rally and refused to compromise. The shortsightedness of the authorities is also bewildering. In part because they had terminated the only independent polling agency in Belarus (see EDM, September 7, 2016), government officials were unable to predict the increasingly impoverished population's volatile response to the ongoing economic slump. Under such conditions, financially punishing people for not having jobs makes no sense. In addition, the cost of administering this jobless tax collection will probably exceed the respective revenue as only about one-tenth of the targeted group reportedly paid the said tax (Tut.by, February 17). On Saturday, February 18, similar protest rallies took place in all other Belarusian regional centers, with the largest—a crowd of 3,000—gathering in Gomel (Tut.by, February 19).
Adding to the perception of pandemonium, Russia's official polling agency VTSIOM published the provocative results of its February 8–9 national survey. According to the presented data, 78 percent of Russians favor introducing a visa regime with Belarus, and 60 percent oppose discounts on prices of oil and gas sold to that country (Tut.by, February 16). Sundry media outlets in Russia came up with agitated interpretations of the survey. Their refrain—we have been patient for far too long and allowed the Belarusian leadership to take advantage of us (e.g., EADaily, February 17)—is uncannily reminiscent of Donald Trump's pronouncements about "every country taking advantage of the United States."
A careful analysis, however, deprives the aforementioned survey of its fateful aura. First, it turns out that Russians have had isolationist leanings at least since 2011, and the proportion of those against discounts on oil and gas has been steady ever since (VTSIOM, accessed February 20). As for the attitude toward a border regime with Belarus, it is rooted in the wording of the questionnaire's answer options. One of them reads, "We ought to maintain the non-visa regime with Belarus even despite the risk that citizens of 80 countries that can now come to Belarus without visas can enter Russia without a requisite Russian visa." Little wonder most respondents were against this option. The second option read, "We ought to cancel the no-visa regime with Belarus because Russia should not let unknown people without a requisite Russian visa enter the country" (Salidarnasts, February 16). It is this latter option that reportedly received the 78 percent approval. In truth, because Russia and Belarus never agreed about the joint-visa policy, scores of foreigners that used to receive a Belarusian (but not Russian) visa could conceivably enter Russia, especially by bus or train; but this "danger" had not disturbed Russian authorities for twenty odd years, whereas now it is suddenly bothering them. It is rather this change of heart in Moscow—rather than Minsk's introduction of a five-day visa-free regime—that is actually at issue.
Nobody has reflected the implications of this change of heart better than Garik Martirossian from the Moscow-based Comedy Club. In one particular standup routine, he delivered a satirical would-be weather forecast for the distant future date of October 27, 2115. His weatherman's narrative reads, "In Russia: it is going to be 18 degrees in Moscow, Saratov, Paris, Milan, Syzran, Buenos-Aires, the Chilean highlands, [and] the Amazonian autonomous republic; in China, Korea, Buryatia, and other regions of Siberia, it is going to be plus 27–29 degrees. And finally, a few words about weather conditions abroad: In Minsk, it is going to be 17 degrees centigrade" (Rutube.ru, April 1, 2016). One can hardly put this better: even Brazil is more likely to join Russia than Belarus. This seems to be the pertinent message emanating from Minsk today.