Belarus Moves Slowly Toward More Positive Relationship With Europe
Publication: Eurasia Daily Monitor Volume: 15 Issue: 1
By: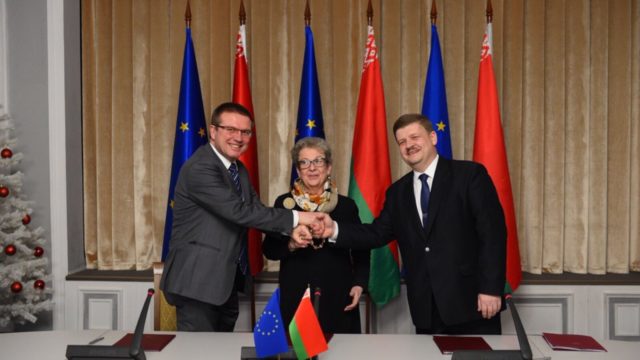 In an October 2017 interview on Lenta.ru, a mainstream Russian online news portal, prominent historian Sergei Volkov was pointedly asked, "Why is it that neighbors and allies of Russia continue to build their state ideologies on anti-Russian rhetoric?" He responded, "That is because all these limitrophe entities [frontier countries] attribute the very fact of their existence to breaking away from Russia," adding, "This is the only thing they can say to justify their existence and to explain how they came about. Naturally, they need to amass as many facts and circumstances they could blame the parent state for" (Lenta.ru, October 31, 2017).
If one ignores for a moment the phraseology in Volkov's response that is plainly offensive to the other former union republics, an immutable truth clearly surfaces from his remarks. Mainly, self-determination depends—naturally—on one's disengagement from the meaningful other. Moreover, if that meaningful other is actually a part of you (i.e., of a self-asserting entity) because the umbilical cord connecting you with the parent is still there, then attempts to prove that you are your own boss could be particularly ardent and daring.
If this logic makes sense, then beginning in 2014—or, one may claim, even much earlier— Russia's closest relatives, Ukraine and Belarus, were observed undertaking just such efforts to disengage. These efforts, strategically dissimilar as they are, leveraged the power of comparison with Russia, which turned out to be unusually persuasive. So much so, that a seemingly paradoxical assertion by Yauheni Preiherman of the Minsk Dialogue discussion platform: "The only way for Belarusian-European relations to retain a positive dynamic is to move slowly" hit the mark (RFI—Russian service, December 18, 2017). Once burned, twice shy. Minsk has effectively chosen its way independent of Moscow; and it gained significant reassurance for its cautious route from observing the quicker yet more volatile developments across Belarus's southern border.
However slow, the movement is real. As Anton Rodnenkov of Tut.by points out, alongside "soft Belarusianization" (see EDM, July 20, 2017), "soft Europeanization is also gaining momentum." A visa-simplification regime is about to be endorsed. After the European Union lifted sanctions on Belarus, the European Investment Bank (EIB) and the Eastern Europe Energy Efficiency and Environmental Partnership became active in the country. Grants by the latter institution increased six-fold over ten years, to over $100 million per year. Moreover, the World Bank and the European Bank for Reconstruction and Development (EBRD) have increased their aid to Belarus's infrastructure, health care, water treatment facilities and forestry. Whereas Russian loans refinance Belarus's current obligations, Western monetary infusions enter the real sector of the economy. And "although [the West's] perorations about the importance of democratic values have not yet ceased […] the agenda of democratization is giving way to the agenda of functional cooperation," Rodnekov writes (Tut.by, December 28, 2017).
Little wonder that Belarusian non-governmental organizations (NGO), which used to be the major recipients of European aid, now account for just 10 percent of EU monetary support "due to their intransigence and a lack of experts," Rodnekov asserts. Belarus's collaboration with Europe is being depoliticized; the designated subjects of collaboration are government ministries, specialists and regional elites. Thus, 20 raions (lower-level Belarusian administrative divisions) are engaged in the EU Eastern Partnership's (EaP) initiative "Mayors for Economic Growth," and 40 raions take part in the "Mayors' Agreement on Climate and Energy." Furthermore, $1.5 million is to be awarded to Belarus's National Bank to educate its personnel along the lines of the Twinning program (enhancing the skills of state managers). Additionally, the MOST program has been extended, which will allow 2,000 more Belarusian specialists to set up contacts with their European counterparts. The likely total outcome is that "technocratic and regional elites are going to be drawn into and socialized in the European context, adopt 'accepted rules of behavior,' and learn new terminology" (Tut.by, December 28, 2017).
In media coverage, however, the above developments have been largely eclipsed by the economy-unshackling decrees signed by President Alyaksandr Lukashenka. Following a reform package devoted to boosting entrepreneurial activity in general (see EDM, October 30, 2017; Belta, November 23, 2017), Lukashenka signed yet another notable decree on December 22. The latter presidential directive is intended to extend the already existing tax advantages bestowed upon the IT industry and to "attract digital coin entrepreneurs, who are moving businesses to locations more welcoming to crypto-currencies as they face intensifying scrutiny from regulators over digital currency fund-raising, known as initial coin offerings" (Reuters, December 22, 2017).
Tut.by has attempted to dispel the most frequent criticisms regarding the new decree (Tut.by, December 28, 2017). Detractors had pointed to the presumed creation of a closed club of software developers and currency speculators, advantages enjoyed by lobbyists for the decree, reduced tax revenues from IT entities, the potential attraction of money-launderers to a crypto-currency safe haven, as well as the fact that much of the Belarusian economy remains archaic while entrepreneurial activity continues to be easily criminalized. Tut.by's explanations do not deny the preferential treatment afforded to the High-Tech Park in Minsk; but the online outlet claims the High-Tech Park's situation is not unique. For example, residents of the Belarusian-Chinese Industrial Park "Great Stone" are treated in a similar fashion by the law. Likewise, none of these industrial oases is a closed club, and business incubators offer their services to other startups. Above all, however, the creation of the most forward-looking enclave within the Belarusian economy is going to have a wholesome effect on the rest of it, Tut.by argues. As for crypto-currency speculators, their existence as well as the existence of connected Internet scammers is real. However, initial coin offerings (ICO) are currently undergoing changes to ensure that crypto-projects resemble regular startups by venture entrepreneurs, in which 99 percent of funds needed to release a new product is collected not from thousands of people each investing $100 but from several investors willing to sacrifice, say, $1 million. Such an investment structure promises to make verification easier.
It further bears mentioning that, a few years ago, developments like those unleashed by Lukashenka's recent economic and reform decrees would have been unthinkable in a country described as "existing in a time warp," a "relic of the Soviet Union," "Europe's last dictatorship," and the like. Popular incredulity about Belarus has remained pervasive for decades. Yet, like a punching clown in the community of nations, Belarus continues to pops back up each time doomsayers push it over, thus habitually confounding skeptics.