BELARUS PRESIDENT YIELDS TO RUSSIA ON THE OIL TRANSIT TERMS
Publication: Eurasia Daily Monitor Volume: 4 Issue: 8
By: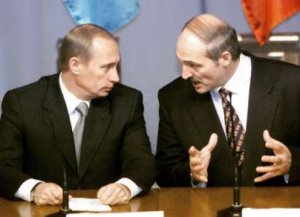 On January 10, Belarus President Alexander Lukashenka informed his Russian counterpart Vladimir Putin by telephone that Belarus was canceling as of that day the transit tax on Russian oil en route to Europe. Minsk had introduced the oil transit tax on January 1 in response to Moscow's introduction of customs duties on crude oil supplies to Belarus effective also from January 1, which had heavily hit Belarus' export-oriented refining industry. These moves escalated the political confrontation between official Minsk and Moscow to an unprecedented level. Moreover, Russia halted oil exports to European countries through Belarus, partially on January 5 and completely on the 8th.
In their telephone conversation, the two presidents agreed to order the respective prime ministers to hold emergency talks within two days in Moscow, for a full-range review of bilateral economic and trade relations. The prime ministers, Mikhail Fradkov and Syarhey Sidorski, are to report the results to Putin and Lukashenka by January 12 for ultimate decisions. In his turn, Sidorski telephoned Fradkov to ask for an immediate meeting.
By official Minsk's account, the presidents' conversation was "lengthy" and held "in a positive spirit," aiming for "balanced decisions" to remove customs barriers and other restrictions on a wide range of "sensitive categories of goods." The Kremlin's account, however, merely says that Lukashenka initiated the conversation. These contrasting spins suggest that Lukashenka is de-escalating the political conflict over oil, as he did when climbing down in the dispute over gas supplies at the end of December 2006.
Russia's export duty of $180 per ton of crude oil in effect erases the high profits that Belarus was until now earning through export of oil derivatives from duty-free Russian crude. Moreover, the duty-free crude enabled Belarus to supply relatively cheap fuels to its agriculture and industry. Russia now claims that it gave up some $3.5-4 billion in customs revenue per year in 2005 and 2006 alone through this decade-old arrangement.
Furthermore, Moscow demands the lion's share of Minsk's tax revenue from the export of Belarus-refined oil products. Moscow bases its claim on a 1996 bilateral agreement whereby Russia would supply duty-free crude to Belarus in return for an 85% share of Belarus' tax revenue from the export of oil derivatives.
Minsk responded by introducing a $45 transit tax per ton of Russian oil en route to Europe through the Belarus Druzhba pipeline system. Extrapolating from the annual transit volumes of nearly 80 million tons, Belarus stood to earn some $3.5 billion annually from the transit tax. Belarus had until now provided the transit service gratis.
Moscow threatened to counter-retaliate by restricting the access of Belarus products to the Russian market. Belarus depends almost totally on that market for its massive exports of trucks, rolling stock, tractors, electrical household appliances, and other goods that form the mainstay of its industry. Moscow officials repeatedly and publicly alluded to the possibility of blocking those Belarus exports during the confrontation over oil supplies and transit. This factor decisively inclined the balance in Moscow's favor, compelling Minsk to de-escalate and seek a quick end to the dispute over oil issues.
Official Minsk called for immediate negotiations toward a reciprocal renunciation of the Russian oil export duty and the Belarus oil transit tax, as well as for a 50% to 50% sharing of the tax proceeds from the export of Belarus-refined oil products. Russia, however, demanded that Belarus cancel the oil transit tax unconditionally, as a prerequisite to the start of negotiations on all the other issues. Moscow held out a theoretical possibility of reverting to duty-free oil supplies to Belarus, although a full restoration of the status quo in this respect seems highly unlikely.
Moscow could afford to wait. A Belarus government delegation, led by Deputy Prime Minister Andrei Kabyakou and Deputy Economics Minister Uladzimir Naydunau, spent a largely idle time in Moscow from January 4 onward, hoping to be received by Russian officials and to start negotiations. The delegation was only able to hand over its proposals, but these were not even considered by the Russian government.
With the oil transit tax in Belarus canceled as of January 10, Russia announced the resumption of its oil supplies to European Union countries via Belarus. According to Russian Transneft president Semyon Vainshtok, the oil flow through Belarus' Druzhba pipeline restarted partially during the afternoon of January 10 and should reach full volume by the 11th.
Lukashenka seems to be climbing down from a confrontation for the second time in less than two weeks. On December 31 he was forced to accept Russia's conditions for resumption of natural gas supplies to Belarus. The Russian side is exploiting not only its monopoly position as energy supplier, but also Belarus' heavy dependence on the Russian market for its industrial exports. Ultimately, this latter factor is proving decisive, practically offsetting any commercial counter-leverage that Belarus might legitimately have obtained from its position as a transit country for Russian energy.
(Interfax, Belapan, Russian and Belarus television, January 11; see EDM, January 2, January 8, 9, 10)