Belarus Redoubles Efforts to Connect With the World
Publication: Eurasia Daily Monitor Volume: 12 Issue: 194
By: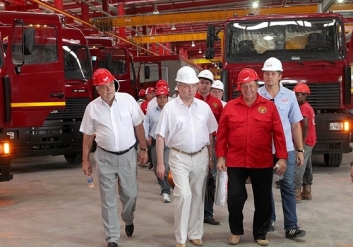 While the outcome of this past month's presidential elections in Belarus continues to be discussed, the major news refrains have become the debate on a Russian airbase in Belarus, rapprochement with the West, the prospects for economic reform, and labor migration to and from Belarus.
During an improvised briefing at a Minsk voting precinct on election day, October 11, President Alyaksandr Lukashenka opined that there is no need for a Russian airbase in Belarus; it would have been better if Moscow helped Minsk to renovate Belarus's own fleet of warplanes. Alexander Alesin, a military expert, believes Lukashenka's words signaled the start of a grand bargain with Moscow. In other words, Russia may actually pay Belarus for the right to establish its base, ostensibly to balance against the growing concentration of North Atlantic Treaty Organization (NATO) forces in Poland (Naviny.by, October 20). However, on October 22, Belarus's Minister of Defense Andrei Ravkov suggested, yet again, that "it does not make sense" to locate a new Russian airbase in Belarus. According to Ravkov, the more effective way to counter Poland's solicitation of what he referred to as four new NATO bases with various functions is for Belarus to equip itself with new weapons of destruction (sredstva porazheniya) that could potentially annihilate those bases (Tut.by, October 22). The fact that such language is being used despite the noticeable improvement in relations between Belarus and the West represents both a paradox and a hint that what has been made public regarding the air base debate constitutes only the tip of the iceberg in the overall decision-making process.
Recent pronouncements by Foreign Minister Vladimir Makei and by 2006 presidential hopeful Alyaksandr Milinkevich reflected more of that same iceberg's underwater portion. Milinkevich spoke at the congress of the European People's Party (EPP), which took place on October 20–21, in Madrid, Spain. The EPP, a pan-European center-right party, won the 2014 elections to the European Parliament. According to Milinkevich, Europe must learn to be patient when dealing with Belarus. After all, what is at stake is "change in post-Soviet mentality and national revival," and these do not happen overnight. Milinkevich called upon Europe not to isolate Belarus but to open up the continent for Belarusian society, to conduct a stepwise rapprochement with Minsk, as well as to invest in European education for Belarusians, their national revivalist culture and small businesses. Milinkevich's 2006 presidential candidacy was endorsed by most of the Belarusian opposition—something that did not happen either in 2010 (when ten candidates ran) or in 2015 (when well-known opposition leaders failed to collect their requisite signatures to be legally allowed to campaign). Because Milinkevich, who leads the civic campaign For Liberty, did not participate in either of those later elections, he has actually retained more of his positive reputation in the eyes of the West than those who did (Tut.by, October 23).
Just days earlier, on October 19, Makei made a statement at a ceremony to unveil a commemorative plaque in the Loshitsa Manor Museum, in Minsk. The plaque describes the operation of the United Nation Relief and Rehabilitation Administration mission in Belarus. Makei emphasized that the mission was created to provide assistance to the countries that suffered the most during World War Two, including Belarus, and that the United States made a critical contribution to that assistance. Scott Rauland, the US charge d'affaires in Minsk, attended the ceremony (Belta, October 19).
With the rapprochement with the West in full swing, talk of economic reform in Belarus has intensified. The need for structural economic changes was among the prerequisites for the resumption of the International Monetary Fund's (IMF) loan program to Belarus. Two major pronouncements on reform were voiced in the past week by Mikhail Myasnikovich, who presides over the upper chamber of the Belarusian parliament, and Kirill Rudyi, an aide to President Lukashenka. According to Myasnikovich, the upcoming accession of Belarus to the World Trade Organization (WTO) will trigger structural changes in the economy, exacerbate the problems of some enterprises, and lessen the government's ability to continue subsidizing the countryside. However, it will open more opportunities for Belarusian goods abroad. Refraining from economic reform, on the other hand, may aggravate losses from Eurasian integration. After all, Russia is, in fact, the major competitor on global markets for many Belarusian exports. But while Belarusian and Russian products are of similar quality and cost, the price of natural gas for Russian enterprises is three times less than for Belarusian, and it is 1.5 times less for electricity, while taxes are 10–15 percent lower. This places Belarus at a disadvantage and contradicts the very idea of international economic integration that is supposed to level the playing field and eliminate trade barriers in Eurasia (Tut.by, October 23).
In turn, Kirill Rudyi, in a speech at a domestic economic conference, criticized the so-called manual steering (MS) of the economy—the antithesis of a market system. The major elements of MS include budget compensation for interest rates on loans, demands on private businesses to sponsor unprofitable state-owned production units, requirements that state-run enterprises constantly meet outmoded sets of economic indicators, and the indefinite perpetuation of initially temporary budgetary support for local enterprises, among others. According to Rudyi, ridding the Belarusian economic system of MS policies is possible through economic decentralization, the separation of state finances from the finances of individual state-run enterprises, as well as the implementation of efficiency-oriented state management. "Today, for example, money assigned to the purchase of pencils cannot be spent on pens," declared Rudyi. "Let them [state-owned enterprises] spend on whatever they want" if the result is right. One has to persistently protect property rights, abide by the principle of separation of power, and develop competition, insisted Rudyi. Such a pronouncement by a member of the presidential administration may be construed as the forerunner of reform (Tut.by, October 23).
Meanwhile, during the first nine months of 2015, 5,300 Belarusian citizens left the country to seek work abroad, most of them (4,455) to Russia. However, more than 24,000 foreign guest workers have found jobs in Belarus, and almost half of them (10,634) have come from Ukraine; China came in second, with 6,025 labor migrants (Tut.by, October 23).
Slowly but surely, it seems Belarus is improving its international image and standing despite some potential thorns in its side like the highly controversial Russian airbase.