Belarus Resists Becoming a Mere Extension of Russia
Publication: Eurasia Daily Monitor Volume: 20 Issue: 137
By: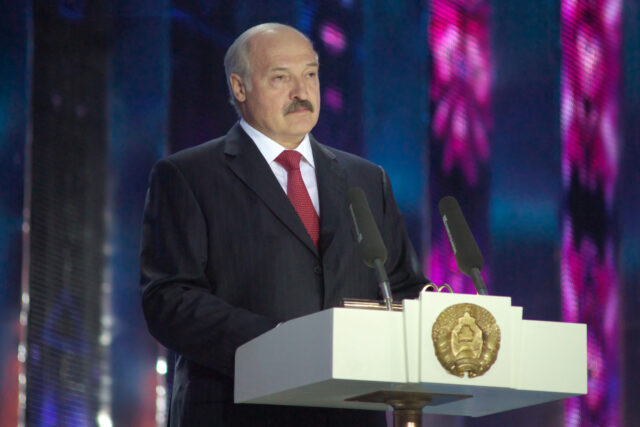 According to Diana Panchenko, a Ukrainian journalist considered by some to be a "pro-Russian propagandist," most commentators seemed to fixate on one particular admission coming from Belarusian President Alyaksandr Lukashenka's two-hour interview on August 17 (Zerkalo, August 17). Specifically, Panchenko referred to the widespread discussion regarding Lukashenka's response to the question of whether he had been informed in advance by Russian President Vladimir Putin about his intentions to launch an all-out invasion Ukraine on February 24, 2022. To this, the Belarusian president responded: "You saw his speech on TV [after the start of the operation]. Me too. … Right on the eve of hostilities, we did not have a conversation that would suggest the war would begin. I swear to you. Yes, we discussed that Russia may be taking some actions against Ukraine. The only thing is that when we met with [Putin] in his country residence and discussed the situation that had developed, he told me verbatim: Listen, Sasha, you know the situation; if, God forbid, suddenly something happens. … I say: Listen, what can happen? Well, he said, anything can happen. Cover for me, please" (President.gov.by, August 17).
From these remarks, it would be fair to conclude that Lukashenka may indeed have been unaware of the full extent of Putin's plans for Ukraine. Yet, it is hard to imagine that Lukashenka was wholly unconscious of Moscow's intentions to launch the invasion from Belarusian territory. According to one commentator from Zerkalo,"This statement sounds veritable, although it raises logical questions for a politician who was not even warned that [the Kremlin] would start a war against a neighbor from the territory of his country" (Zerkalo, August 17).
For Yury Drakakhrust of Radio Free Europe/Radio Liberty, Lukashenka's "confession" did not come across as genuine. Even so, Drakakhrust also considered it to be the most profound remark of the entire interview. Lukashenka could have assured his interviewer that he had been informed in advance of the invasion; instead, he seemingly confirmed the perception that he is Putin's puppet. In Drakakhrust's opinion, it was less damaging to Lukashenka's self-image to be seen as a puppet than to be seen as someone fully complicit in Russia's assault on Ukraine (Gazeta.by, August 19).
An earlier draft of Drakakhrust's article originally appeared on Facebook and generated significant public debate (Facebook.com/YuryDrakakhrust, August 18). Sergei Bogdan, a Belarusian historian formerly affiliated with the Free University of Berlin, opined: "The analysis of the disposition, structure and head count of the Belarusian army both then [in 2021] and now indicates the absence of plans for an offensive war much more convincingly than the words of President Lukashenka." Indeed, as Bogdan points out, by the fall of 2021, almost the entire south of Belarus had been demilitarized. When the war started, Bogdan continues, Belarus's border with Ukraine had to be covered by elite special operations units. The Belarusian army in general did not expand. Minsk delayed the formal creation of the Southern Operational Command for as long as it could. But Bogdan sees this more as a gimmick. He postulates that perhaps Russia's tactical nuclear weapons were deployed because the Belarusian government did not strengthen its army.
In a rebuttal, Drakakhrust called into question the information presented by Bogdan, arguing that these facts are unknown to most. Nevertheless, Bogdan insisted on the opposite. He contended that this information was publicly available and could be found in the 2019 and 2020 yearbooks of the International Institute for Strategic Studies, as well as in the publications of Minsk Dialogue.
From this exchange, it seems that the information Bogdan cited, while available in open sources, was not widely sought after. Apparently, this lack of interest largely stemmed from the belief that Belarus had effectively become an extension of Russia and therefore should be treated accordingly. It seems that the joint warning from Poland, Latvia and Lithuania on August 28—that their borders with Belarus may be closed entirely in the near future—follows the same logic (Reform.by, August 28). In this, Lithuania has already closed two of its six border crossings with Belarus and has voiced plans to close two more (Sputnik.by, August 28).
The joint warning was initially predicated on the growing threat of border provocations due to the arrival of Wagner Group units on Belarusian soil. However, the veracity of the Wagner threat has been called into question by some commentators. In the opinion of Artyom Shraibman, a nonresident scholar at the Carnegie Endowment for International Peace, "for hybrid provocations on the border," Lukashenka does not need Wagner; in fact, recently, Minsk extended some peaceful gestures to Poland, going so far as to offer an informal reconciliation agreement to Warsaw (Svaboda, August 28). Moreover, Minsk still welcomes visa-free travelers from all three of the aforementioned countries. Since April 2022, 694,614 people have taken advantage of this opportunity, including 438,969 from Lithuania (GPK.by, August 28).
For Shraibman, the joint warning from Poland, Lithuania and Latvia does not stem from simmering tensions with Minsk, but rather from recent developments in each country's domestic politics. For example, Poland is ramping up for elections to the Sejm that are scheduled for October 2023. It has long been the platform of the ruling Law and Justice (PiS) party to fight Russian influence operations. Thus, if Belarus is seen as a vassal of Russia, PiS's constituents will expect more forceful actions.
The Belarusian expert also believes that it would not make sense to close every border crossing. In doing so, these three members of the European Union will deprive themselves of any remaining influence in Minsk (Svaboda, August 28). To Shraibman's point, acting on the assumption that Belarus is already an extension of Russia morphs into a self-fulling prophesy all too easily.
Instead, perhaps it would make sense to push back on notions of Belarus and Russia being one and the same. And even some apparatchiks of the Lukashenka regime seem increasingly more open to cooperation in helping official Minsk retain its autonomy. For example, on August 27, Svetlana Varyanitsa, deputy chair of the Grodno chapter of Belaya Rus, a pro-presidential party (see EDM, March 29), publicly expressed her outrage at the content and phraseology of the most recent television show hosted by Grigory Azarenok, a major government propagandist. During his program, "The Secret Springs of Politics," inspired by Lukashenka's visit to Belarusian State University, Azarenok claimed that the Belarusian intelligentsia, much like the Soviet and Russian ones before, consist of low lives and enemies of the people. He further argued that, since these Belarusians do not want to join the fight against the West, they deserve nothing less than executions. To this, Varyanista lamented, "I cannot help but think about my children and grandchildren. … I do not want them to be intimidated by the Lubyanka dungeons and the new [Andrei] Zhdanov and [Joseph] Stalin" (Zerkalo, August 27).
It is rather notable that these words were uttered by an apparatchik of the current regime, and not an oppositionist. This fact instills the hope that the window is open to resume distancing Minsk from Moscow, and Western policymakers cannot ignore this possibility.