Moscow Reconsiders the Wagner Group's Role in Africa
Publication: Eurasia Daily Monitor Volume: 20 Issue: 136
By: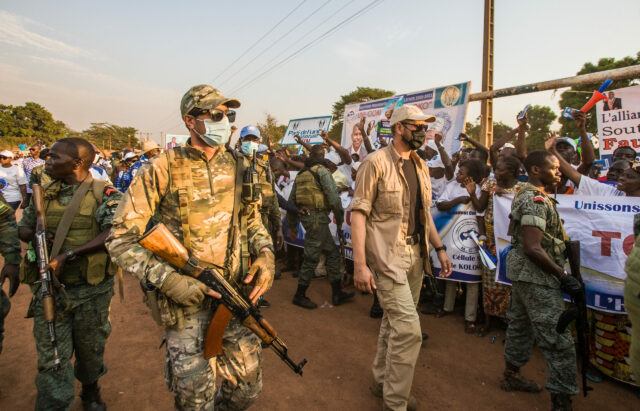 On August 23, Yevgeny Prigozhin, head of the notorious Wagner Group who had earlier ventured on an aborted mutiny against the Russian Ministry of Defense (MoD) (see EDM, July 11), died under mysterious circumstances when his business jet crashed in Russia's Tver region (Ru.euronews.com, August 27). For some, the death of the caterer turned warlord has seemingly dealt the final blow to his mercenary formation, which, according to President Vladimir Putin himself, was handsomely financed by the Russian state budget (Kommersant, June 27). Indeed, traces of the group within Russia are being actively removed. Wagner veterans of the war in Ukraine are being denied the status of war participants, making them ineligible to receive state benefits and support (The Moscow Times, August 30). Moreover, cemeteries with the remains of Wagnerites are being destroyed in some Russian regions (Meduza, August 25). Meanwhile, in Belarus, where some Wagner forces had been transferred following Prigozhin's coup, prospects for the group are growing increasingly problematic (Dw.com/ru, August 24).
It seems that the situation reached its breaking points when the Wagner chief appeared to feel confident enough in his personal safety to begin appearing publicly once again. Prigozhin was spotted at the Russia-Africa Summit in July 2023 taking pictures with the ambassador of the Central African Republic (CAR) to Russia and the head of Afrique Media, a multi-lingual, pro-Russian information channel (RBC, July 27). Additionally, according to Russian media, he also met with representatives from Mali and Niger (Fontanka.ru, July 27)—a country that recently suffered a military coup with the reported participation of Wagner forces (Meduza; Africanews, August 9).
Thus, it is rather likely that, prior to his death, Prigozhin was full of ambitious plans outside Russia, specifically aspiring to expand Wagner's activities in Sub-Saharan Africa. This was confirmed on August 22 when Prigozhin announced his intentions to expand the paramilitary group's activities and recruitment on the continent (The Moscow Times, August 22).
Now, following his death, several key developments are anticipated in transforming the Wagner Group's activities in Africa. First, the CAR, nicknamed "Wagner`s African laboratory," is strengthening its position as the group's major stronghold on the continent. Being of rather limited strategic importance on its own, the CAR provides strategic inroads to Chad, the resource-endowed Democratic Republic of the Congo and Sudan. Wagner's operational model in the country is based on two pillars: rendering protection for local political elite and key infrastructure as well as spreading anti-French propaganda, which is allegedly supported by the Kremlin (Al-Arabiya, November 20, 2022).
While Wagner will likely continue to follow this direction, the Russian state is expected to assume full and undisputed control over all Wagner activities within the CAR rather than allowing the group operate under semi-private ownership (The Moscow Times, August 31). One of the MoD-associated private military companies (PMC), such as Patriot or Redut, is the most likely to take over these tasks. Nevertheless, it remains to be seen whether Wagner will be able to maintain some level of operational autonomy; become subordinated to the MoD but retain its identity; or be wholly integrated into one of the already existing PMCs.
Second, in Sudan, Russian interests have been chiefly concerned with establishing a naval base at Port Sudan, which was ultimately authorized by the Sudanese government in 2020. Yet, due to the recent turbulence within the country, construction of the base has yet to begin (Interfax.ru, May 12). Aside from Moscow's expressed geopolitical interests, Sudan was also an area of interest for Prigozhin, where his companies have been mining gold in the Darfur region.
According to Russian sources, in Sudan, Wagner will now play a key role in forging Moscow`s agenda, with some goals aimed at expanding influence to Eritrea, which has vast amounts of natural resources (copper, gold, silver, granite, marble and potash) and wields an important geo-strategic location (Nezavisimaya gazeta, July 26). Based on the most recent developments, it is likely that Wagner's functions in the country will once again be delegated to one of the MoD-subordinated PMCs.
Third, in West Africa, which has been shaken by military coups in Mali (2021), Burkina Faso (2022) and Niger (2023), Wagner demonstrated yet another facet in its operational capabilities (Ru.euronews.com, February 1, 2022; Mind.ua, August 16, 2022). In line with previous analysis (see War by Other Means, March 20, April 12, 2019), Russian mercenaries conducted "hybrid" campaigns throughout the region that included participation in forceful regime-change operations. While Wagner`s role in this should not be overestimated (Golosameriki.com, July 27), the organization's ability to further destabilize local political and security environments remains largely intact. In truth, even if the group is ultimately replaced by another state-sponsored paramilitary formation, some of its experience will likely inform the Kremlin's approach moving forward.
Regarding the future of Wagner in Africa, Russian experts, whose opinions appeared before Prigozhin's death, have presented somewhat controversial outlooks. Some argued that, given the nature of the missions carried out by Wagner mercenaries in Africa, Moscow is unlikely to disrupt the group's role on the continent. Others, such as the director of the Centre of African Studies at the Higher School of Economics in Moscow, Andrey Maslov, claimed that the absolute majority of Wagner's African projects were economically unsustainable, as they were heavily subsidized by the Russian state budget. Thus, Maslov pointed out that those endeavors that have proven to be economically lucrative might undergo a "considerable rebranding" while economically unsustainable but still useful initiatives could be allocated under the purview of the Russian MoD. Furthermore, Russia could become more interested in working with other countries—for example, Algeria, given its strong security ties with Moscow (Lenta.ru, July 6).
Ultimately, the Kremlin will likely seek to monopolize official state contacts with its African partners and then delegate on-the-ground operations to state-subordinated individuals and PMCs. In this, Moscow effectively seeks to centralize its African operations and take full control of Wagner's network on the continent, as well as reap the benefits of increased revenues coming from the group's mining activities. Meanwhile, paramilitary missions and operations are anticipated to be managed by those PMCs and similar elements directly subordinated to the Russian MoD.