Belarus, Russia and the 'Ukrainian Scenario'
Publication: Eurasia Daily Monitor Volume: 14 Issue: 144
By: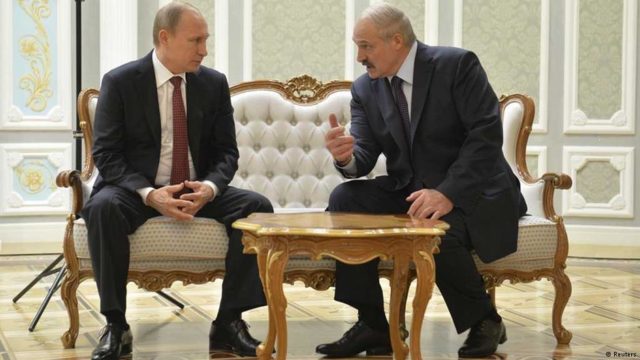 Belarusian President Alyaksandr Lukashenka has never been our genuine friend, declares the Russian media outlet EurAsia Daily. According to an article there by Kirill Nemiga, in the early 1990s Lukashenka was ready to lead the Belarusian Popular Front (BPF) but realized that its strand of nationalism is unpopular with Belarusians. Therefore, he cozied up to Russia in order to extract financial aid from it; but the Belarusian leader did not feel any true allegiance to the Russian world, Nemiga asserts (EurAsia Daily, November 3).
Meanwhile, another Russian online publication, Life.ru, reports that the European Union has just announced a construction tender to build 12 "resource training centers" in Belarus. These, the article suggests, will tutor activists of democratically oriented non-governmental organizations (NGO) and spread European values. "Against the backdrop of growing NATO [North Atlantic Treaty Organization] contingents in Poland and the Baltic States, the EU is playing the role of a good cop, effectively working to destroy the political regime in Minsk from within… As for Belarus's leadership, it flirts with local nationalists to boost its multi-directional foreign policy in order to extract as many financial […] concessions from Russia as possible." By doing so, the Lukashenka "regime" risks being overthrown in a Euro-Maidan style revolution fueled by this network of civil society coaching centers designed to nurture political opposition (Life.ru, October 31).
Regnum, the usual mouthpiece of anti-Minsk propaganda, published an interview with Artyom Agafonov, the co-chairman of the Civic Accord political movement. To "prevent Belarus from following the Ukrainian scenario," Agafonov conducted a roundtable on "Democracy and Human Rights in Belarus." No sooner had the roundtable ended, the representatives of the United Civic Party, BPF, Belarusian Christian Democrats and the movement For Liberty co-signed a petition to the Belarusian KGB, protesting "the interference of pro-Russian puppet organizations and Russia-funded agents." In Agafonov's opinion, these activities resemble the hounding of dissidents (Regnum, November 3).
It is possible the petition is overkill, much like the December 2016 arrest of three Belarusian citizens writing for Regnum (see EDM, December 12, 2016; January 18, 2017). However, both events reflect a political culture that, in the past, was only mobilized to thwart alleged Western ploys to interfere in Belarus's domestic affairs. Today, there are equal-opportunity reprisals against Russia-linked individuals as well.
Considering frequent misgivings about Belarus potentially "following the Ukrainian scenario," it is instructive to invoke Mikhail Pogrebinsky, the director of the Kyiv Center for Political Research and Conflict Resolution. A darling of Russian media, he is, nevertheless, a cerebral person whose pronouncements are scholarly and calm. The conservative online publication Russian Idea recently asked Pogrebinsky, "In Russia, there are two popular and […] mutually exclusive points of view about relations between Russia and Ukraine. The first suggests Russia itself is guilty of Ukraine's […] dropping out of the Russian civilizational realm because, after the breakup of the USSR [Union of Soviet Socialist Republics], Russia released all post-Soviet states into a free float [and] neglected to use its soft power, so Ukraine was totally seized by the Euro-Atlanticists. The second opinion is that from the very birth of Ukrainian nationalism in the 19th century, Ukrainians have always strived to liberate themselves from Russia. In that sense, anti-Russian attitudes, gradually reinforced during the post-Soviet era, were a natural extension of the trend that could not possibly express itself earlier. Which of these points of view is closer to the truth?" "I am leaning toward the second point," responded Pogrebinsky, "although the first one makes sense, too. However, the Ukrainian [national] project was oriented toward keeping Russia at bay, which is not surprising: the languages are close and the majority religion is common, so the choice is limited. Either you recoil from a close but stronger (culturally and so on) community, or sooner or later you assimilate, as it occurred […] in Kuban, where the majority of people are ethnic Ukrainians" (Russian Idea, November 1). Pogrebinsky then paid homage to the opposite point of view, acknowledging that in Russia there are more specialists on, say, Madagascar than on Ukraine and that President Vladimir Putin's insistence that Russians and Ukrainians are one people is counterproductive.
Despite all the differences between Ukrainians and Belarusians, the same reasoning applies to the latter. Not only is the majority religion in Belarus and Russia common to both, but also most Belarusians communicate in Russian. Consequently, Western influence is hardly the root cause of a potentially comparable Belarusian estrangement from Russia, although it can play its role, too. Yet another striking similarity with the actual, not imagined "Ukrainian scenario" is the deficiency of Russian specialists on Belarus.
Meanwhile, the West, too, seems to be waking up. "Belarus turns out to be better than its reputation," writes an Austrian daily (Kronen Zeitung, November 4). "Despite an authoritarian government, realities of life in Belarus are closer to Western Europe than in any other post-Soviet state," believes Bernd Bayerl, Austria's ambassador to Minsk. He specifically means that, in contrast to Ukraine, people in Belarus can rely on a functioning state. This is true for education, social services, health care and for reliably paid retirement pensions and wages, even though the latter only account for 300–350 euros ($348–406), on average. "Somehow, probably because of the huge shadow economy, Belarusians manage to live a good life… Traffic on broad avenues of Minsk involves myriads of Mercedes, Jeeps, Porsches, Volkswagens, Audis and Toyotas. Outwardly, the situation […] is no different from Vienna. There are multiple shopping malls and restaurants… There is even a Harley Davidson dealership. During our visit to the Bolshoi Theater [in Minsk], the hall was filled […] by a public that came to listen to Mozart's Requiem, among other things." As if drawing comparisons between Belarus and Ukraine were a new fad, Balazs Jarabik, a democracy promotion activist and a citizen of Slovakia, also suggested that "the West has seen in Belarus what has been lacking in Ukraine—the state" (Svaboda.org, November 3).
Suddenly, Europe is taking a closer look at Belarus, and it is noticeably surprised with what it sees. As per Gandhi, "First they ignore you, then they laugh at you, then they fight you, then you win."