BELARUS WARNS IT MAY CANCEL ITS SUBSIDIES TO RUSSIA
Publication: Eurasia Daily Monitor Volume: 4 Issue: 17
By: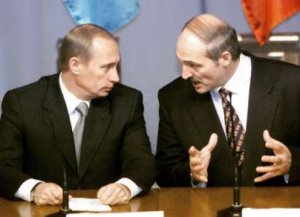 Contrary to the widespread impression, Russian economic subsidies to Belarus have been only one side of a two-way process. Belarus has in effect also been subsidizing Russia for the last decade. The mutual-subsidies system has been the only real dimension to the otherwise virtual "Russia-Belarus union state" from 1996 to date. Although politically and institutionally nonexistent, the "union state" has served to justify these arrangements, whereby Moscow and Minsk supported each other through non-cash, not-so-hidden benefits.
Now that Moscow is reneging on its side of the bargain by phasing out the energy subsidies to Belarus, Minsk warns that it could phase out its substantial, if indirect, contributions to Russia's budget. Such contributions include rent-free use of Belarus land for Russian pipelines and Russian military installations, gratis transit of Russian goods through Belarus westward, and other expensive privileges that Russia uniquely enjoys in Belarus. The notion that Moscow has been subsidizing Minsk unilaterally is a tribute to the Russian state media's ability to shape international perceptions of ongoing trends.
As bilateral relations nosedived during the recent negotiations on Russian gas and oil supplies, Minsk hinted at possible retaliation in the form of charging Moscow for some of those services and privileges. On January 14, Belarus President Alexander Lukashenka estimated their value at some $10 billion annually. While offered by Belarus "fraternally" to Russia until now, Lukashenka warned that Minsk could begin demanding compensation in order to offset the higher costs of Russian energy. Echoing him on the following day, Deputy Prime Minister Andrei Kabyakau warned, "If Moscow takes a 'market' approach [to bilateral relations], then Minsk can take a market approach as well."
Lukashenka and other officials have repeatedly hinted at charging rent for the land tracts used by Russian-owned gas and oil pipelines through Belarus. The lines potentially affected are: 1) the Yamal gas pipeline to Europe, the first trunk line of which has reached almost the projected capacity at 30 billion cubic meters annually in 2006; and 2) the pipeline for oil products operated by Russian Transneft's subsidiary West-Transnefteprodukt in Belarus.
The Belarus section of the Druzhba oil pipeline is nationally owned and operated, with Russia enjoying cost-free transit of its oil through Belarus westward. Lukashenka and other Minsk officials have clearly hinted during the recent oil-supply crisis that Belarus would be within its rights to introduce transit charges as any country would under international law.
The Belarus State Property Committee has now prepared draft legislation on rental payments for land tracts used by Russian gas and oil pipelines. Apparently reflecting the "phasing-in of market relations," which Moscow has introduced and Minsk ostensibly replicates, the draft legislation would only charge rent for the forested and other nonagricultural land along the pipeline routes.
Chairing a government session on January 23 in the oil-refining center Navapolatsk, Lukashenka announced that Belarus' annual bill for Russian energy will be higher by $2.5 billion for gas and by $1 billion for oil in 2007. Consequently, Belarus will demand compensation for its services rendered to Russia, proceeding in accordance with international law and starting with Russian pipelines, he confirmed.
The government session focused on energy security, terming it "the most essential issue of our independence and sovereignty." Energy saving and conservation measures were discussed along with diversification of energy suppliers. Failing this, Lukashenka warned, "we would become yet another region of the Russian Federation. But no one will force us onto our knees."
According to First Deputy Prime Minister Uladzimir Syamashka, talks are under way with the Switzerland-based Vitol Oil trading company to supply Belarus refineries with crude oil through Latvia's Ventspils maritime terminal. Vitol is a large oil trader with longstanding interests in the Baltic area. The scheme under discussion would involve using the Navapolatsk-Ventspils pipeline in the reverse direction, via Latvian and Lithuanian territory. Technical work for reversal would cost an estimated $15 to $20 million, according to Syamashka. Russia halted oil supplies through that pipeline to Latvia in 2002 and to Lithuania in 2006 as part of its efforts to devalue and take over the Ventspils terminal and the Mazeikiai refinery, respectively.
Russia is also using two major strategic military installations in Belarus rent-free: the Baranavichi missile early-warning radar and the Vileika naval communications center. The use of these installations is based on agreements signed in 1995 that were meant to compensate for Russian low-cost energy and other forms of economic support to Belarus. In the context of recent negotiations over energy supplies, Lukashenka and other Minsk officials have repeatedly hinted that Belarus would be within its rights to charge rent for Russia's use of those installations.
Western reactions to the Moscow-triggered oil-supply crisis in early January seem to have made a deep impression in Minsk. According to Lukashenka, "Europe and the United States behaved decently, offered support and assistance to us. We shall never forget this." While Russian media toed the official line, Lukashenka remarked, "Western media covered the events objectively" (Belapan, January 14).
In further sign of rapidly changing attitudes, the Belarus government has proposed an energy dialogue with the European Union. The European Commission has received Minsk's initiative favorably and is reviewing it at the expert level. It envisages an EU-Belarus energy dialogue, on a par with the EU-Russia and EU-Ukraine energy dialogues. With Belarus, the dialogue will initially focus on renewable sources, conservation, and energy-saving technologies.
(Interfax, Belapan, January 14, 17, 21, 23)