Belarus and the West: A Thorough Reassessment Underway
Publication: Eurasia Daily Monitor Volume: 14 Issue: 155
By: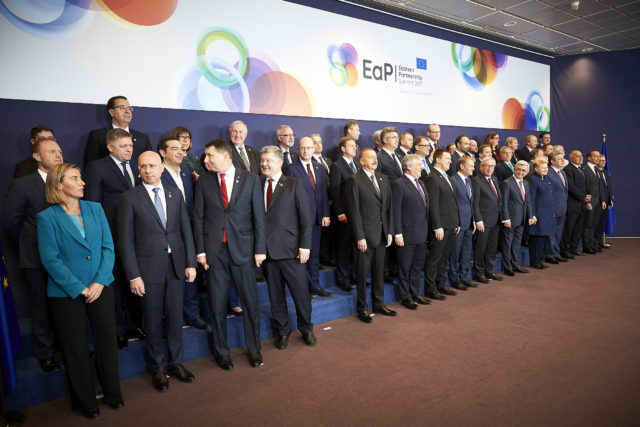 Contrary to expectations, Belarusian President Alyaksandr Lukashenka ignored a personal invitation to participate in the November 24 Brussels summit of the European Union's Eastern Partnership (EaP) and sent his foreign minister instead. Lukashenka's decision not to attend seems unusual at first glance. After all, following two decades of Western sanctions on his country, the Belarusian president could have visited the capital of Europe and be seen as a winner who managed to impose "pragmatism" on Minsk's relationship with the West and to dramatically reduce the latter's emphasis on human rights. "However paradoxically this sounds for a politician barred from visiting Brussels for 20 years," Lukashenka simply determined "he had nothing to do" there, Artyom Shraibman opined on the site of the Moscow Carnegie Center (Carnegie.ru, November 23). Shraibman dismissed the opinion that Lukashenka was leery of Moscow's wrath or of human rights demands that could be voiced yet again by his Western interlocutors.
Indeed, as the Belarusian foreign ministry's statement reads, "in diplomacy, a visit by the head of state is usually a culmination of mutual efforts to develop cooperation and a manifestation of [having achieved] profound systemic results" (Mfa.gov.by, November, 21). Few such results are apparent, however. Yes, the West has demonstrably changed its Belarus policies without serious concessions from Minsk. But at the same time, a visa simplification process between Belarus and the EU, under discussion for four years, is stuck in Brussels red tape. The new broad-based agreement about the principles of cooperation has also not been discussed. Moreover, the entire Eastern Partnership initiative has arguably lost its drive or never obtained it to begin with.
Yauheni Preiherman, who heads the discussion platform "Minsk Dialogue," believes Belarus-EU relations face three problems: a lingering deficit of mutual trust, institutional and personal interests set against the improvement of relations, and a lack of unity in the face of externally boosted geopolitical tensions (Minskdialogue.by, November 25). The gist of the third problem is that Lithuania and Ukraine are too eager to portray themselves as last redoubts in the West's "civilizational struggle" with Russia, so they do what they can to compromise Minsk as a loyal ally of Moscow. Illustratively, Lithuania's losing battle with the Belarusian nuclear power plant has received half-hearted support from Brussels in favor of Vilnius (Delfi, November 22), and Ukraine is now embroiled in a full-blown spy-scandal with Belarus (see EDM, November 28).
The second problem pertains to two kinds of actors: Belarus's secret police (KGB) and the Belarusian opposition. Both fight for influence and resources that in the former case come from the state and in the latter—from Western sponsors. Both actors doggedly oppose further improvement of Minsk's relations with the West because it would erode their own significance.
In regard to the opposition, this problem was recently invoked in interviews given by Balazs Jarabik and Joerg Forbrig to the new Belarusian online journal Reformation. Jarabik is currently with the Carnegie Endowment for International Peace and Forbrig directs the Fund for Belarus Democracy at the German Marshall Fund of the United States. For a number of years, both were
denied Belarusian visas due to their alleged role in fomenting a "color revolution" in Belarus. Today, the two men personify diametrically opposite approaches to Western policies on Belarus. To Forbrig, there is no substantive difference between "opposition" and "civil society" in Belarus; he believes that the policy of sanctions was successful and was annulled due to "pure politics." Forbrig's only concession to Minsk is his acknowledgment that Foreign Minister Vladimir Makei "is very smart" (Reformation, November 21).
Jarabik, on the contrary, comes across as a true convert from the democracy promotion creed. By his admission, since 2006, he has tried his best to change the United States' policy regarding Belarus on the grounds that a revolution in that country has a minuscule chance; but if it succeeded, it could actually be harmful. To a large extent, the authorities' December 19, 2010, crackdown on the post-election rally in Minsk and subsequent repressions are to be attributed to the opposition's fervent desire to kill a developing dialogue between Minsk and the West. When Belarusian authorities investigated the case, Jarabik related in his interview, they uncovered a shocking surprise: Certain groups in the opposition received funding from both Russia and the West. The Russian oligarch and parliamentarian Suleiman Kerimov, now under arrest in France, was one of the sponsors of the Belarusian opposition. He is the same man who stood behind the attempted raider acquisition of Belarus's state-owned potash company several years ago, which led to the Belarusian authorities' arrest of Russian potash company CEO Vladislav Baumgertner (see EDM, September 4, 2013). According to Jarabik, the West decided to resume its dialogue with Minsk because the Belarusian opposition has little public support; the Ukrainian experience has been sobering; and finally, because the West recognized that quality governance matters in and of itself, regardless of politics. As Belarus has a functioning government, there is something to reform. In contrast, in Ukraine, whose government fell prey to oligarchs, there is hardly anything to reform, Jarabik asserted. Furthermore, geography appears to be something to accept and adapt to, not fight with. Even Ukraine has realized it cannot rebuild its economy without being connected to the Russian market, Jarabik told his interviewees. Opposition and civil society are no synonyms at all, definitely not in Belarus. Opposition and KGB complement each other. They are like the wolf and rabbit characters in the famous Russian cartoon "Nu pogodi" (Just Wait), in which the former is constantly chasing the latter but the two are inseparable, Jarabik suggested. Western media and intellectuals, two opinion molders, have long decided Lukashenka is not likable, so this is now difficult to change. However, Russia's aggressive behavior provided that security interests of Brussels and Minsk have converged, he concluded (Reformation, November 18).
Just a couple of years ago, most of Jarabik's assertions were largely taboo in the West, although they are not new to academic literature. To them one might add that, unlike Vladimir Putin, whose significance has arguably been inflated by Western opinion molders (The New York Times, November 23), Lukashenka has been derided and largely overlooked. That his caliber as a politician may actually exceed that of the country he represents may be the biggest revelation of all.