Lapis Lazuli: A New Transit Corridor to Link Asia and Europe via the South Caucasus
Publication: Eurasia Daily Monitor Volume: 14 Issue: 155
By: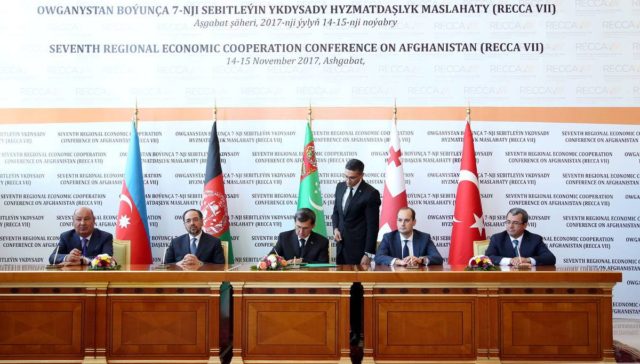 Afghanistan, Turkmenistan, Azerbaijan, Georgia and Turkey signed a new agreement dedicated to launching the Lapis Lazuli transit corridor during a pentalateral meeting at the seventh Regional Economic Cooperation Conference on Afghanistan (RECCA), held on November 15, in Ashgabat (Azernews, November 15). The finalized document was the product of three years of negotiations among the five governments. The trans-regional corridor will encompass mainly railways and highways, which will connect Herat province (Afghanistan) and Turkmenbashi port (Turkmenistan) via Ashgabat. From Turkmenbashi, goods will be able to travel further by ferry to Baku, where they would be placed on train cars and continue westward to Europe across the South Caucasus via the newly launched Baku-Tbilisi-Kars (BTK) railroad (see EDM, October 16, November 17).
Afghanistan has long championed the Lapis Lazuli Corridor as a key project to help improve the country's ruined economy and develop integrated customs procedures among its regional neighbors. "The signing of the agreement will significantly contribute to the development of cooperation between the members of the project in the areas of trade and transport and beyond. We are convinced that an important part of the region's future lies in new corridors and projects like Lapis Lazuli," noted Georgian Deputy Prime Minister Mikhail Janelidze, following the inauguration ceremony (Agenda.ge, November 16). Currently, the transit project's budget is estimated at $2 billion (Abc.az, November 16).
Negotiations over the establishment of this new corridor date back to 2012. Talks dragged on for five years due to a number of regional factors, including insecurity (growing domestic violence), a difficult economic situation across Central Asia, and a legacy of poorly developed infrastructure networks in the countries involved. Nevertheless, a November 15–16, 2016, meeting of the Lapis Lazuli Corridor working group, in Baku, inspired newfound optimism among some experts (Trend, November 3, 2016), which culminated a year later with the final document on moving ahead with the project.
The transregional transit corridor will begin in the east at Aqina (in northern Faryab province) as well as Torghundi (western Herat), both in Afghanistan. From there, the road and rail routes will lead to the port of Turkmenbashi. Goods will cross the Caspian Sea by ferry and disembark in Baku, the capital of Azerbaijan, and then be shipped westward to Tbilisi, as well as the Georgian ports of Poti and Batumi. Finally, the corridor will connect to the cities of Kars and Istanbul, in Turkey, from where goods could potentially enter European Union markets via rail (Recca.af, accessed November 30).
The newly launched Lapis Lazuli Corridor would likely compete with the China–Pakistan Economic Corridor (CPEC), which is supposed to allow Chinese goods to travel south via Pakistan and then be shipped by sea from the South Asian country's Gwadar port, thus linking up with Beijing's planned so-called "Maritime Silk Road." Although, last year, former Pakistani prime minister Nawaz Sharif stated that his country was interested in joining Lapis Lazuli as well, no formal agreement has yet been signed (Dunya News, November 26, 2016).
According to a recent statement by the Afghanistan Chamber of Commerce and Industries (ACCI), 80 percent of goods shipped from South Asia to Europe will travel by rail (and by ship when crossing the Caspian and Black seas) (Tolo News, November 16). Hence, building roads and railways and linking them into a comprehensive transport network is undoubtedly a vital goal for both Afghanistan as well as the countries of the South Caucasus, as it boosts the latter's claim to being the shortest trans-Eurasian route to Europe. Furthermore, the planned Lapis Lazuli Corridor is strategically geared toward freeing Afghanistan from dependence on Pakistani, Iranian and Russian ports for its exports. Finally, the project promises to improve and streamline regional transport infrastructure and customs procedures, increase trade, create employment opportunities and bolster economic ties between all participating countries benefitting from this trade route.
Azerbaijan, which is becoming one of the main transit hubs in the South Caucasus with the recent launches of the long-awaited International North–South (INSTC) and South–West transportation corridors (see EDM, November 9, July 17), seems to highly value the involvement of Afghanistan in regional transit projects. In fact, Azerbaijan, like its other regional partners, is interested in enhancing the wider connectivity of the entire Eurasian space. Hence, further dialogue can be expected concerning the closer synchronization of the Lapis Lazuli project with other important transregional transit corridors, such as the BTK railroad or the INSTC.
In this regard, the upcoming visit of Afghani President Ashraf Ghani to Azerbaijan, in December, will coincide with the next ministerial meeting of the "Heart of Asia–Istanbul Process" (Report.az, November 6). That initiative, formulated in Turkey, comprises leading regional countries, including Azerbaijan, China, Iran, India, Pakistan, Russia, Turkey and others, with the aim to provide results-oriented regional cooperation with Afghanistan. Therefore, the planned meeting of Azerbaijani President Ilham Aliyev with his Afghan counterpart can be expected to focus extensively on expanding bilateral cooperation in the transportation sphere.