Belarusian Elections and Geopolitical Somersaults
Publication: Eurasia Daily Monitor Volume: 17 Issue: 83
By: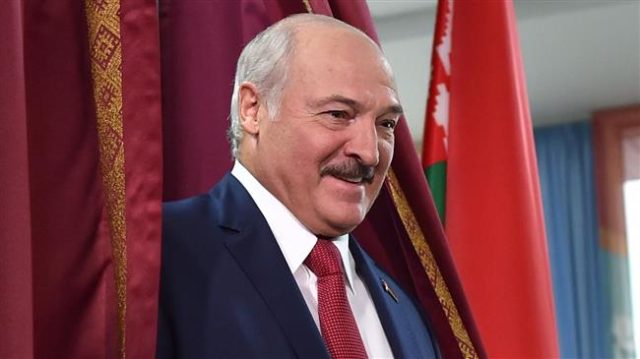 A joke has long been making the rounds in Belarus that the country has produced three times as many presidents of Israel as native-born presidents of Belarus itself. Amazingly, this joke continues to accurately reflect reality, with the country's first and only Belarusian-born head of state, Alyaksandr Lukashenka, having wielded uninterrupted power since 1994. Yet, that durable longevity may finally be turning into a liability for the incumbent, who is up for reelection this August. Lukashenka has been evincing fairly unusual electoral anxiety at this early stage of the campaign—before all the signatures in support of his potential rivals have even been collected. Meanwhile, transient factors such as the pandemic and economic decline appear to be turning portions of the electorate away from him.
That situation may help explain why, for the first time ever, two heavyweights from the Belarusian nomenklatura with more than a theoretical chance to beat Lukashenka at the ballot box have dared to run against him. To be sure, their actual chance is contingent upon, first, their successful registration by the Central Electoral Commission (CEC) and, later, on how vote-counting proceeds. However, as Victor Babariko, arguably the strongest of Lukashenka's rivals, claimed in an interview, there are limits to vote rigging. He specifically pointed to surveys by the now-defunct independent polling firm IISEPS, which revealed that the incumbent did, in fact, win all of his previous elections, albeit four of them with scores not nearly as high as officially announced (Euro Radio, June 4).
Apparently, Babariko feels that the incumbent's popularity has now sagged. Sergei Cherechen, who leads the Social Democrats and who is also running, observed that the dominant mood in the provinces is "to hell with your programs, just change the man at the top" (YouTube, June 4). Not everybody is of that opinion. Thus, Yury Shevtsov, the author of the influential book The Belarus Phenomenon (2006), thinks that the edifice of power is still stable and that the presidential hopefuls popularized by the opposition-minded media are just pulling their respective patrons' leg (Facebook.com/yury.shevtsov, June 5). To be sure, when the first signature-collection booth on behalf of Lukashenka opened in downtown Minsk, quite a few people lined up to endorse the incumbent (Tut.by, June 5).
Be that as it may, both major electoral rivals of Lukashenka, banker Victor Babariko and ambassador-turned-high-tech manager Valery Tsepkalo, evinced unusual calm when repelling personal attacks from the incumbent. Babariko even delivered a well-crafted complaint to the CEC to the effect that the incumbent is resorting to public smearing of his rivals and that the incumbent's initiative group coerces people into declaring support for him. The complaint was rejected, but its discussion popularized Babariko even more. In his turn, Valery Tsepkalo allowed himself to playfully discredit Lukashenka's allusions to some transgression on Tsepkalo's part, allegedly leading to his dismissal as the director of the high-tech park back in 2017. "Whomever Elon Musk bestowed with a Tesla certainly cannot lie," Tsepkalo said (Naviny, May 31). This was in reference to the Belarusian president's earlier bragging that Musk himself gifted Lukashenka an electric vehicle, which the Silicon Valley billionaire denied when asked.
Lukashenka subsequently doubled down on recriminations of Tsepkalo, this time claiming that selling a house, which Tsepkalo earlier said he did to fund his own campaign, would only help sustain it for a week; besides, Tsepkalo continues to live in the house he sold, which, to Lukashenka, implies the existence of external funding of his campaign (Office Life, June 4). Aside from badmouthing Tsepkalo and Babariko, other putative signs of the incumbent's anxieties have been a ban on media outlets' polling to determine his electoral rating (on the grounds that only licensed agencies can do so) (Nasha Niva, June 2) and the treatment of the vlogger Sergei Tikhanovsky, arrested earlier in Grodno (see EDM, June 3). Repeated law enforcement searches of Tikhanovsky's country house purportedly turned up $900,000 in cash (Naviny, June 4).
Some analysts suggest that the June 4 replacement of leading government figures, including the prime minister prior to—not after—the elections also reflects official anxiety. Thus, Semyon Uralov, editor of Sonar2050, an online newspaper devoted to the Union State of Russia and Belarus, proposes that the ouster of the cabinet was motivated by Lukashenka's desire to recapture public attention (Facebook.com/people/Semen-Uralov, June 4). Unlike the former head of government, Sergei Rumas, an economic liberal and a banker, newly appointed Prime Minister Roman Golovchenko is described as a champion of the dirigiste economy. A graduate of the Moscow Institute of International Relations (also Tsepkalo's alma mater), Golovchenko previously headed the Military Industrial Committee. As the Belarusian ambassador (2013–2018) to the United Arab Emirates, Golovchenko succeeded in boosting Belarus's ammunition exports to the countries of the region (Tut.by, June 4). Following the announcement of new governmental appointments, Lukashenka also issued some thinly veiled threats to the externally funded "troublemakers" aspiring to supposedly hijack Belarus's sovereignty (Belta, June 4)
The presidential race has additionally resulted in a de facto geopolitical repositioning of the incumbent. Lukashenka never allowed any pro-Russia affiliation to emerge on the political scene so that he himself would be considered the ultimate pro-Russia voice, by default painting the entire Belarusian opposition as Westernizers. Now, however, Lukashenka and his major supporters are dutifully portraying his major rivals Tsepkalo and Babariko as Russia's stooges and the incumbent himself as the major defender of Belarusian independence. Several commentators are fascinated by this repositioning, including Maxim Samorukov of Carnegie.ru (Tut.by, June 2) and Valer Karbalevich of Radio Liberty (Svaboda, June 1). One of Lukashenka's most ardent supporters, Igor Marzalyuk, who chairs the parliamentary commission on education, even shamed the Belarusian-speaking Westernizers for collecting signatures in support of the Russian-speaking banker Babariko (Belta, June 3). As commentator Kirill Ozimko noted, "[I]f 5–10 years ago someone had told me this was possible, I would have made a circling motion of my index finger at my temple" (Facebook.com/ozimko, June 1).
However intriguing the possibility of a geopolitical somersault may be in and of itself, it is clearly the result (at least in part) of previous success stories in Belarus's foreign policy. As the aforementioned pundit Shevtsov put it (Facebook.com/yury.shevtsov, May 15), look at what is going on: "[T]he United States is sending cheap oil to Europe's last dictatorship; Russia has almost completed a nuclear power plant on Belarus's soil; and China is building the largest industrial park outside its borders. So in general, the wonders of diplomacy are [not an aberration, they are] the norm in Belarus." Apparently, so is geopolitical repositioning.