Belarusian Nuclear Power Plant Proceeding Full Speed Ahead
Publication: Eurasia Daily Monitor Volume: 15 Issue: 91
By: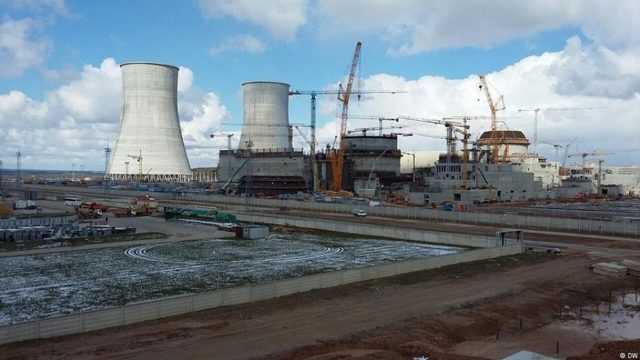 Every year, on April 26, the Belarusian opposition organizes a "Chernobyl Path Rally" (CPR), devoted to commemorating the 1986 nuclear power plant disaster, which ultimately deposited 70 percent of its leaked radionuclides on Belarusian territory. This year, no more than 500 participants marched from the Academy of Sciences to the Chernobyl chapel, near Balgalore Square, in Minsk (NashaNiva, April 26). One of the slogans of several recent CPRs has been "stop the ongoing construction of the nuclear power plant [NPP], in Ostrovets, Grodno Oblast."
The organizers of the 2018 CPR have declared they will hold protests against the construction of the Ostrovets NPP on the 26th day of every month, all the way until November, in the towns located between Minsk and Ostrovets. Zaslavl, an ancient town 12 kilometers northwest of Minsk, was chosen as the venue for the first such rally, on May 26. The venue of the last of these demonstrations is expected to be Ostrovets itself. The Zaslavl rally was attended by some 20 participants; because the authorities did not issue permission for the rally, several organizers received notes of administrative injunction (Naviny, June 3).
Due to an English-language report published by Belapan, a privately owned news agency (Belapan, June 5), information about the Zaslavl demonstration reached the West. However, when asked about it by this author, on June 5, several political commentators on both sides of the political barricade in Minsk said they were unaware of the event and doubted its significance.
In the meantime, the construction of the Belarusian NPP is going forward as planned. The first unit is expected to be commissioned in December 2019, and the second in July 2020. In late March, the former was reportedly 75–78 percent and the latter 50 percent complete, taking into account installation and wiring (Belta, March 28). At the same time, the expansion of the town of Ostrovets is proceeding as well. Prior to the start of construction on the nuclear plant, on May 31, 2012, this was a sleepy rayon (minor civil division) town, with a population of only 8,500. In 2017, 10,300 residents lived in Ostrovets, and 22,000–25,000 are expected to reside there by the time the NPP is operational. About 7,000 construction workers are currently accommodated in rented apartments, with monthly rents ranging from $400 to $600, higher than the average in Minsk. Much of the monthly rent is paid for by the contractors that hired those workers. For locals, this is a great source of income (Tut.by, April 30). About 300 military personnel will safeguard the station. In addition, an anti-aircraft missile regiment has been deployed next to Ostrovets, armed with the TOR-M2 anti-air defense system (Tut.by, April 11).
In the wake of the Chernobyl meltdown, just a few kilometers from the Belarusian border, most people grew apprehensive of the prospect of an NPP on Belarusian soil. And those fears persisted for decades. Thus, according to national surveys, only 28.3 percent of Belarusians supported the idea in September 2005, whereas 46.7 percent were opposed to it, with 25 percent having no opinion. By the time of the beginning of construction, however, 53.5 percent were in favor of it and 21.1 percent against (Shavel & Martishchenkova, 2013). A 2017 survey of 2,000 Belarusians revealed similar results, with roughly half of all respondents supporting the NPP construction, 22 percent opposed, and 28 percent having no opinion (Naviny, October 11, 2017).
Overall, the most active opponent of the Ostrovets NPP is the government of Lithuania (see EDM, June 15, 2017). On April 26, for example, the Lithuanian Ministry of Foreign Affairs handed the Belarusian ambassador in Vilnius a diplomatic note regarding an alleged February 17 fire at the NPP construction site. The Belarusian authorities described the event as a short circuit of the power cable leading to the tower crane and denied any subsequent ignition (Tut.by, April 27). The following week, on May 4, Linas Linkevičius, Lithuania's minister of foreign affairs, suggested that Belarus is not a fully sovereign state, although it does enjoy "remnants of sovereignty" (Tut.by, May 4). In response, Belarus's Foreign Minister Vladimir Makei opined that "there are no self-sufficient countries in today's world" and that "those accusing Belarus of its dependency on third countries themselves depend on Belarus" (Tut.by, May 22). What Linkevičius had in mind, besides generalities about Belarusian-Russian ties, is that the NPP is being built by a consortium of Russian firms. Makei's response, meanwhile, apparently alluded to the fact that Lithuania receives significant benefits from Belarusian transit to the Lithuanian port of Klaipeda. In turn, Alexander Glukhov, the CEO of Russia's Atomstroyexport, called Lithuanian accusations an expression of international competition. In fact, Vilnius's intransigence received only tepid support from other European Union members; and Latvia, Belarus's other Baltic EU neighbor, explicitly does not back Lithuania on this matter (Atomic-energy.ru, January 22; Tut.by, April 15).
On April 24, in his address to the parliament, President Alyaksandr Lukashenka unexpectedly asserted that "nobody had so far clearly reported to me how the NPP will be incorporated into the Belarusian economy" (Tut.by, April 26). For backers of the Ostrovets nuclear plant, this came across as alarming considering that there are still loud domestic voices strongly opposing the NPP (Svaboda.org, April 26). An explanation from the Ministry of Energy, thus, duly followed. According to the ministry, Belarus currently consumes 36–38 billion kilowatt hours (kWh) of electricity. It produces 31–34 billion kWh and imports the remainder. When the NPP is commissioned, Belarus will generate an additional 18 billion kWh. Because the possibility of export is currently questionable, the ensuing surplus will be used to further expand domestic industrial production capacity and to replace natural gas being burned at heating plants and boiler houses. New housing units will use electricity, not gas, for heating; and gas cooking stoves will give way to electric ones. Also, electricity-powered transport will expand; already today, yellow electric buses are in operation in Minsk. Finally, old and inefficient blocks at two major thermal power stations (at Lukoml and Biarozovo) will be retired (Atomic-energy.ru, April 18).
It looks like one benefit of the controversial NPP project going full-speed ahead is that, for better or worse, theoretical debates will soon give way to those based on experience.