Putin-Trump: Another 'Historic Summit' in the Works After Singapore
Publication: Eurasia Daily Monitor Volume: 15 Issue: 92
By: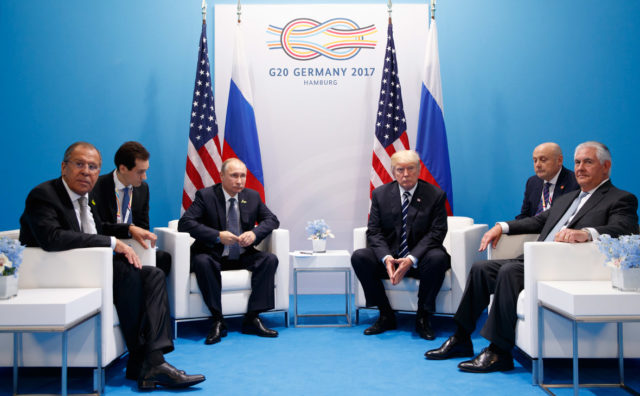 Diplomatic sources from both Russia and the United States told this author (on June 13), on condition of anonymity, that preparations for the upcoming "historic summit" between Presidents Donald Trump and Vladimir Putin have intensified. Apparently, the Kremlin and the White House administration (National Security staff) are in the lead, while the Russian Ministry of Foreign Affairs and the US State Department are playing a supporting role. Kremlin spokesperson and deputy chief of the Russian presidential administration, Dmitry Peskov, has confirmed that Putin and Trump had discussed over the phone the need to meet to talk, together contemplating "the possibility of a summit in Vienna." On June 5, while in the Austrian capital during his first foreign visit following his inauguration (see EDM, June 11), Putin reportedly asked Chancellor Sebastian Kurz to help organize and host a summit with the US President, possibly this summer. According to Peskov, preparations for a Trump-Putin summit are still not concrete, with no exact timing, venue or agenda (Interfax, June 9).
To date, Trump and Putin have met only briefly, during multinational gatherings; but both seem eager to talk face to face in a bilateral setting. During a Shanghai Cooperation Organization (SCO) summit in the Chinese coastal city of Qingdao, on June 10, Putin told journalists he agreed with his US counterpart on the need to meet. The Kremlin leader mentioned the possibility of a summit in Vienna; but the exact location is, according to Putin, "a technicality"—more important is the agenda and substance of the possible meeting. He added, "Other nations [besides Austria] are also offering to host a summit, and as soon as the American side is ready, we shall meet, in accordance with my work schedule" (Interfax, June 10).
Before, during and after the meeting, in Canada, of the leaders of the Group of Seven industrialized democracies, Trump repeatedly called for Russia to be re-invited to join the G7, insisting that, "though it may not be politically correct," it is good to have Russia at the negotiating table "because we have a world to run." Germany, France and the United Kingdom dismissed this, but the new right-wing populist Italian government agreed with Trump; and apparently, Japan was also at least sympathetic (Militarynews.ru, June 9; see EDM, June 11).
After the annexation of Crimea, in March 2014, and when a Moscow-sponsored separatist rebellion erupted in Donbas, Western leaders refused, in protest, to attend a preplanned summit in Sochi. With Russia suspended, the G8 then de facto reverted back to the G7 format. Putin responded to Trump's overture by offering to host the summit that was called off in 2014. "We did not leave the G8—our [Western] colleagues refused to come to Russia. They are welcome, we will be glad to see them in Moscow," Putin told journalists while in China, clearly enjoying the situation. The SCO summit, hosted by President Xi Jinping, was a well-organized and orderly event, while the G7 summit in Canada brimmed with controversy, with Trump publicly bashing the host, Canadian Prime Minster Justin Trudeau, and disagreeing with European allies on trade as well as on how to deal with Russia. Putin, commenting on the G7 debacle from the SCO gathering in Qingdao, told journalists, "We must be cool and not laugh; such quarrels happen, but they [the G7] clearly have serious internal problems" (Interfax, June 10).
Trump left the confounded G7 in Canada to hurry to Singapore for a summit with North Korean dictator Kim Jong-un, whom Trump described as "funny," "tough" and "very talented." The US leader hailed the "historic summit" with Kim as an unmitigated success. But most observers in Russia and worldwide did not evaluate the Trump-Kim meeting in such glowing terms. The overall opinion is that, despite some steps in the right direction, the two parties achieved little of concrete substance (TASS, June 13). The Russian press referred to the Singapore summit as a "circus" or a "reality show," during which the North Korean leader apparently gained more while giving little away. Both Trump and Kim actively sought to spin the event as a historic breakthrough, for political profit; and in the spinning, Trump and his cohorts seem to have the upper hand and the louder mouthpiece (Kommersant, June 13). Nevertheless, Russia's permanent representative to the United Nations, Vasily Nebenzya, following instructions from Moscow, has already called for the "beginning of the process of lifting UN sanctions imposed on North Korea." Moscow and Beijing hope to profit politically and economically if Pyongyang is promptly rewarded with sanctions relief and economic aid for acting cordially and somewhat moving in the direction of nuclear disarmament (Militarynews.ru, June 13).
Trump is mired in trade disputes with his own allies and seemingly in conflict with almost everyone in the world except perhaps Israel, Saudi Arabia and, at the moment, North Korea. The White House looks desperate for another foreign policy breakthrough to make the front page, as the media effect of the summit with Kim could soon wear off. A sudden game-changing rendezvous with Putin could fit the bill as another "historic summit." But for it to happen this summer, it will need to be held before the August recess brings Moscow, Washington, Europe and most of the Northern Hemisphere to a virtual standstill.
A Trump-Putin summit if it is, indeed, being hurriedly and secretly being prepared, could take place somewhere in Europe—most likely, after the North Atlantic Treaty Organization's (NATO) Brussels summit, scheduled for July 10–11. The NATO summit is expected to officially endorse plans already approved by the Alliance's defense ministers: mainly, to enhance logistics and troop battle readiness. NATO leaders are looking to be able to move tens of thousands of soldiers, heavy weapons and equipment more rapidly to the east—primarily to Poland and the Baltic States—to deter or foil a potential major Russian attack. The Kremlin is undoubtedly hoping that this summer's Brussels heads-of-state meeting might devolve to the same degree as last week's G7 summit, thus further compelling the White House to seek a "historic" (and more successful) face-to-face meeting with the Russian leader.