Putin's Visit to Austria: Implications for Energy Diplomacy in Europe
Publication: Eurasia Daily Monitor Volume: 15 Issue: 89
By: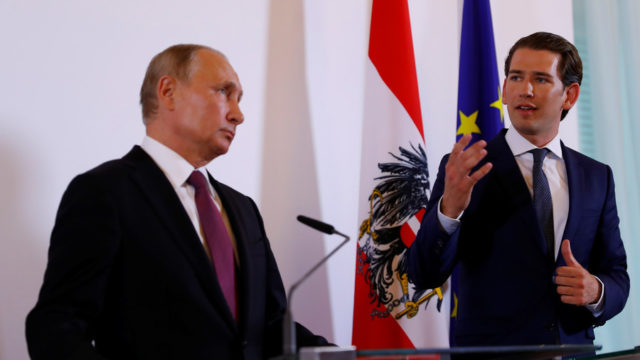 On his first Western trip since reelection to a fourth term as president of Russia, Vladimir Putin traveled to Austria—a right-leaning country he hopes will help him weaken European Union solidarity (Kremlin.ru, June 5). The June 5 visit was rife with energy diplomacy, including Putin's desire for Vienna to make good on a hint that it would push for lifting EU sanctions affecting Russia's gas business in Europe.
The timing of Putin's trip was fortuitous, given that Austria assumes the six-month EU rotating presidency next month. But Putin walked away disappointed on sanctions relief. Austrian Vice Chancellor Heinz-Christian Strache's recent call for "lifting these exasperating sanctions" had buoyed Putin's hopes (RIA Novosti, June 3). However, during his visit, Austrian Chancellor Sebastian Kurz pledged to maintain "the decisions of the EU, including on sanctions" (EurActiv, June 6).
A slice of good news for Putin was that Austria's energy giant OMV agreed to extend a contract under which it will obtain natural gas from Russia's Gazprom through 2040. Gazprom supplied a record 9.1 billion cubic meters (bcm) to Austria in 2017—93 percent of its imports (Gazprom, June 1). OMV, which has a partnership with Gazpromneft in Iran, refused to follow Italy's Total and the Netherland's Maersk in leaving the Islamic Republic when Washington imposed new sanctions on Tehran after pulling out of the Iran nuclear deal (Iran Business News, May 30).
In addition to facing United States sanctions for staying in Iran, OMV could be targeted by sanctions for investing in the Nord Stream Two pipeline, which will double the amount of gas Russia delivers directly to Germany and beyond, from 55 to 110 bcm per year. The pipeline is criticized by the US government, Brussels and most EU member states as a tool for undermining European energy security, politically splitting the transatlantic community, and harming Ukraine's strategic role as a transit country—currently Kyiv's most important remaining non-military leverage against an aggressive Moscow (see EDM, April 11, May 10). Washington is reportedly preparing sanctions against the European participants in the project, including OMV (Sputnik News, March 21).
Meanwhile, Turkey's decision to build the second string of Turk Stream—a pipeline that would send Russian gas to southeastern Europe and beyond—has prompted Moscow to intensify its energy diplomacy with the countries the pipeline will transit. And Austria is important to Russia's success in this endeavor as well. Last year, Gazprom said it wanted to extend the second, Europe-bound pipeline string from the Turkish-Greek border to Baumgarten, the Austrian natural gas hub facility that distributes 40 bcm of gas annually across the continent. On its way, this extended Turk Stream line would need to traverse Bulgaria, Serbia and Hungary (Interfax, November 24, 2017). Russia has already started talks with Bulgaria and Serbia on the matter (Rigzone, May 30, 2018; Sputnik News, February 22). Even more than with Nord Stream Two, Gazprom's energy diplomacy in Southeastern Europe stems in large part from its determination to circumvent Ukraine as a transit route for Russian gas to Europe. With talks on the fate of Ukrainian transit beyond 2019 at an impasse, Gazprom is continuing to build partnerships with European gas importers.
Last month (May), the Russian gas monopolist struck a gas deal with Hungary for 2019. In another energy development, Russia's Rosatom pledged to begin building two blocks of the Paks nuclear power plant in Hungary in 2020 (Budapest Business Journal, May 25). Meanwhile, Bulgarian Prime Minister Boyko Borissov said Turk Stream would reach his country, allowing it to import Russian gas; and Rosatom said it would bid for Bulgaria's Belene nuclear project (Rigzone, May 30).
One of the Russian energy juggernaut's few misfires in Europe came when the Ukrainian pipeline company Naftogaz announced that the Dutch government had seized Gazprom assets at its request. Naftogaz is trying to obtain a $2.6 billion settlement that the Stockholm Arbitration Court imposed on Gazprom earlier this year (see EDM, March 5) for refusing to supply Naftogaz with the full amount of gas the Ukrainian company had contracted for. Six of seven Gazprom subsidiaries in the Netherlands had refused to comply with the arbitration order (Interfax, June 6), which Gazprom is appealing (Interfax, March 22).
Ukrainian President Petro Poroshenko asked the Netherlands, the United Kingdom and Switzerland to freeze Gazprom's assets. The Netherlands and the UK themselves have seriously strained relations with Russia. London accuses Moscow of poisoning former Russian spy Sergei Skripal on British soil, while the Dutch government blames Russia for the downing of Malaysian Airlines Flight 17 over eastern Ukraine in 2014 (RIA Novosti, May 25). The Swiss connection is that Nord Stream Two AG, the pipeline project's managing company (100 percent owned by Gazprom), is registered in Zug, Switzerland (Interfax, May 30).
Russia is trying to protect its share of the European gas market in the face of the United States, Poland and the Baltic States opposing Nord Stream Two, and the EU imposing various energy-related regulations on Moscow. Although Russia's battle will not be easy, President Donald Trump's trade war with Europe and his unilateral pullout from the Iran nuclear deal—while European countries continue to try to stick to it—will undoubtedly help Russia's cause.