Russia Putting the Pieces Together to Maintain Its Gas Stranglehold on Europe
Publication: Eurasia Daily Monitor Volume: 15 Issue: 55
By: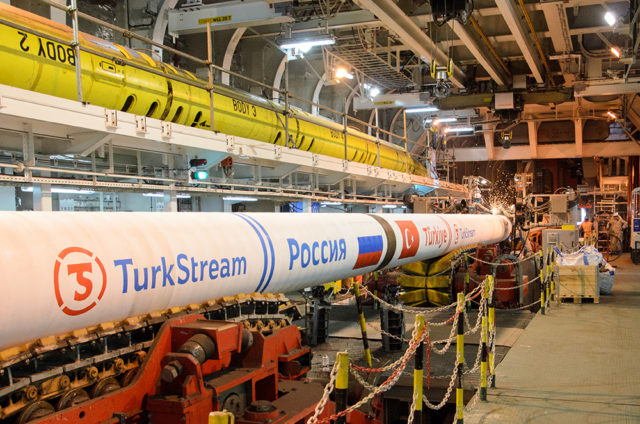 While attending a recent April 3 groundbreaking ceremony for a nuclear power plant the Russians are building in Turkey, President Vladimir Putin also spoke about natural gas. And it was apparent from his comments that Moscow is continuing to take steps to maintain its energy dominance over Europe. A key part of its plan is encircling the continent with gas pipelines in the north and south. At a joint press conference with his Turkish counterpart, President Recep Tayyip Erdoğan, following the Akkuyu Nuclear Power Plant groundbreaking, Putin declared that construction is on track for TurkStream—a gas pipeline through Turkey that will also supply Europe. "Construction of the pipeline is continuing on schedule," he said, later adding, "TurkStream will contribute to increasing Russian gas supplies to Turkey, as well as other Southeastern European states—of course, if they want the gas" (Kremlin.ru, April 3). Russian Energy Minister Alexander Novak told journalists at the event that the first segment of the TurkStream pipeline will be completed in May (RIA Novosti, April 3).
TurkStream is designed to deliver 32 billion cubic meters (bcm) of gas to Turkey, half of which will be destined for Europe. In 2015, the Russian energy giant Gazprom decided to halve TurkStream's original delivery capacity of 64 bcm after signing an agreement with several European firms on its northern European pipeline project—Nord Stream Two. The agreement committed Gazprom to building two additional pipeline strings, doubling the original Nord Stream One gas pipeline's capacity from 55 to 110 bcm (see EDM, September 15, 2015).
By that time, Gazprom had bought pipe for another piece of its southern gas encirclement strategy—South Stream. And it had also begun building a South Stream gas compressor station on the Black Sea (Argumenti i Fakti, December 11, 2013). However, the European Union's opposition to South Stream led to Russia canceling the project, which would have sent gas through Bulgaria and the Balkans to Western Europe. In fact, news organizations reported that Gazprom had decided to disassemble the pipe it had begun laying as well as the metering station intended for the third and fourth South Stream strings (Pravda, March 21, 2018).
In addition to facing regulatory challenges from the EU, South Stream's financing was up in the air. Turkey's state-owned BOTAŞ energy company announced last July that it had signed an agreement with Gazprom to co-finance the construction of the pipeline, although it failed to specify how the estimated $7 billion cost would be split (Daily Sabah, July 11, 2017). Turkey already imports almost half of its gas from Russia through the Blue Stream pipeline, which runs under the Black Sea, and the Soyuz pipeline, which passes through Ukraine (Iea.org, accessed April 11, 2018).
Along with Nord Stream Two, TurkStream is vital to Gazprom's strategy of delivering as much gas to Europe as possible through pipelines that circumvent Ukraine, with which Russia has a number of energy and geopolitical disputes. At one point, Gazprom indicated it wanted to stop sending gas through Ukraine altogether. But CEO Alexei Miller, who was among the individuals sanctioned by the United States' Department of the Treasury on April 6 (see EDM, April 9), hedged on that recently, saying Gazprom would substantially decrease gas volumes flowing through Ukraine rather than totally abandoning Ukrainian transit (Neftegaz.ru, April 4).
In late March, Germany became the first country to approve the construction of Nord Stream Two on its territory, despite pushback from EU officials, Poland and the Baltics (RIA Novosti, March 26). US President Donald Trump voiced his displeasure with the decision while meeting with leaders of the Baltic States, at the White House, on April 3: "How come Germany is paying vast amounts of money to Russia when they hook up a pipeline? That's not right," Trump asked rhetorically (RIA Novosti, April 3). Trump's criticism came after a bipartisan group of US lawmakers accused Treasury Secretary Steve Mnuchin of not doing enough to prevent Europe's dependence on Russian gas (Sputnik News, March 15).
Around the same time, the European Parliament's Industry and Energy Committee voted to extend the EU's internal energy laws to offshore gas pipelines, such as Nord Steam Two, that supply the continent (EU Observer, March 22). The European Commission had proposed changes to its gas directive last year to make offshore energy-importing pipelines subject to rules that apply to onshore pipelines. One of those rules is that transit infrastructure may not be owned by gas suppliers. Another is that the delivery charges that pipeline operators apply must not discriminate from customer to customer. Still another is that pipeline operators must make capacity available to third parties.
Russian leaders have repeatedly maintained that the European Union's efforts to scuttle South Stream and slap restrictions on Nord Stream fly in the face of free competition. They have also blamed Washington's opposition to Nord Stream Two on its desire to supply US liquefied natural gas (LNG) to Europe (Neftegaz.ru, March 19).
Despite the EU's efforts to diminish its dependence on Russian gas, Gazprom exported a record amount to Europe in 2017, which it achieved by increasing its overall production by 50 bcm (Neftegaz.ru, March 29). Declining European gas production was a key reason that Russia continued to be the continent's largest source of gas in 2017. Gazprom supplied 193.9 bcm of gas to Europe and Turkey last year, Miller said. This was 8.7 percent more than in 2016 (Platts, January 3).
Moscow is determined to actively defend its market share in Russia's continued dominance of the European gas market will depend on completion of both the TurkStream and Nord Stream Two projects. Together, these two pipeline systems will enable Russia to transport over 140 billion cubic meters of gas a year to Europe and Turkey. As an important advantage, they will give Moscow the ability to offer prices that other suppliers will be unable to meet—whether their customers are obtaining gas through non-Russian pipelines or by LNG shipments to European ports. Meanwhile, Russia is additionally taking steps to ramp up its liquefied gas export capacity as a way of undermining Europe's efforts to replace Russian gas with LNG (see EDM, March 20). European attempts to break Moscow's gas stranglehold on the continent will not be easy.