Skripal Chemical Poisoning Case Throws Spotlight on Growing Russian LNG Supplies to UK
Publication: Eurasia Daily Monitor Volume: 15 Issue: 42
By: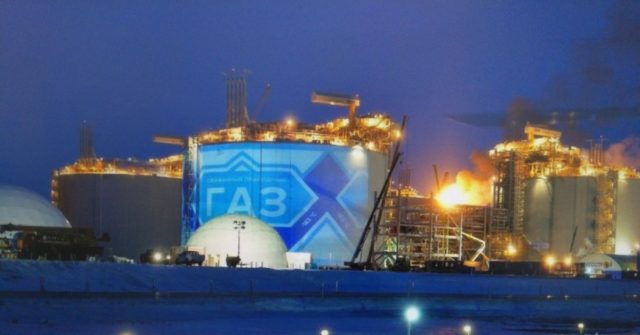 Prime Minister Theresa May issued a statement, on March 14, that the United Kingdom was evaluating other natural gas import options to decrease her country's dependence on gas imports from Russia. The UK prime minister's assurance came as a response to a comment made by Conservative lawmaker Stephen Crabb in light of escalating relations with Russia, which were triggered by the poisoning of former spy Sergei Skripal in Salisbury. "One way Russia seeks to extend its influence in Europe is by building relationships of energy dependence. Does [Prime Minister May] agree that Britain should not provide a market for Russian gas?" asked Stephen Crabb. The parliamentarian further noted the importance of importing liquefied natural gas (LNG) from allies such as Qatar, Malaysia and Australia (Parliament.uk, March 14).
According to recent reports, over the course of 2018 the UK imported half of its liquefied gas from Russia. Three of the six LNG cargos delivered to British terminals since January came from Yamal LNG terminal, located north of the Arctic Circle. The Yamal LNG terminal is operated by JSC Yamal LNG, a joint-venture of Russia's Novatek (50.1 percent), French Total (20 percent), China National Petroleum Corporation (CNPC—20 percent), and the Chinese government–funded Silk Road Fund (9.9 percent) (Yamallng.ru, accessed March 20; Financial Times, March 14). Novatek has been subject to sanctions by the United States since 2014 (Treasury.gov, July 16, 2014).
Mark Gyetvay, the Chief Financial Officer for Novatek, complained in an interview to Bloomberg that Russian gas shipments were being stigmatized in Europe. Gyetyay added that Russian companies were "being vilified" for supplying gas to the UK (TASS, March 13).
Russia's Energy Minister Aleksandr Novak called the UK prime minister's statement on a possible decrease of Russian LNG imports a politically motivated decision. He further claimed, such a move by London would contradict competition rules in the European natural gas market. "Russia is supplying gas to Europe based on absolutely competitive terms and will continue operating within these terms," Novak added (Neftegaz.ru, March 16).
The UK is less dependent on natural gas imports than much of Europe. However, domestic production from the North Sea has been declining since the early 2000s. As such, the UK has had to increasingly rely on natural gas imports via LNG terminals as well as via multiple pipelines connecting the British Isles with the European continent (Eia.gov, accessed March 20). In 2017, continental shelf production in the North Sea supplied 38 percent of the UK's annual demand, 42 percent was met by imports from Norway, and 10 percent was pumped in via pipeline. Merely 4 percent of imported supplies last year were in the form of LNG (Ofgem.gov.uk, October 2017).
The first cargo of liquefied natural gas from the Yamal LNG terminal was delivered to the UK last December (The Telegraph, December 20, 2017). The UK required sharp increases in LNG imports due to the closure of the country's largest gas storage facility, named Rough (Gov.uk, December 13, 2017). Last month, natural gas prices broke a 12-year record because of severe weather conditions coupled with technical problems observed at Norway's gas field as well as coordination problems between UK gas terminals and the domestic gas and electricity operator National Grid. On March 1, National Grid announced that the United Kingdom is experiencing gas supply deficits for the first time in 8 years (Neftegaz.ru, March 16).
Last year, the UK became Europe's second-largest importer of gas from Gazprom, behind only Germany. The UK imported 43 billion cubic meters (bcm) of gas last year, of which Gazprom supplied 16 bcm via pipeline (Gazpromexport.ru, accessed March 20). Gazprom, which is not currently subject to United States or European sanctions, supplied 37 percent of Europe's gas demand in 2017. In fact, Gazprom broke its own supply record both in 2016 and 2017, despite the European Union's efforts to decrease its dependence on Russian gas imports by adopting new laws and improving EU infrastructure (Oxford Energy, March 2).
Surging shale gas production in the United States has so far failed to serve as an alternative to Russian gas in Europe. Although the US exported a record amount of LNG last December (Energy.gov, March 2018), only 13 percent of its cargo was delivered to Europe, and only one shipment went to the UK.
Some of these US liquefied gas volumes were delivered to countries such as Poland and Lithuania, which has certainly served to alleviate Russian dominance in this region. But US supplies are still far from a serious alternative to Russian gas for the following reasons: First, US LNG faces an uphill battle to compete with Russian pipeline gas. The fact that almost 75 percent of US LNG exports in 2017 went to Asia is a clear sign the Asian market is more attractive to US LNG shippers than the European market (Energy.gov, March 2018). Second, the dearth of infrastructure in landlocked parts of Europe, namely Central and Eastern Europe, makes it impossible to physically deliver LNG to many of these consumers. And finally, Russia has been adjusting its tactics to protect its market share in Europe. These tactics have included lowering prices for its gas, working on boosting its LNG exports, investing in coastal infrastructure and development projects in northern and southern Europe, as well as actively trying to diversify its export outlets to the European continent. Thus, for now, Russia's position as a gas supplier to Europe will not be easily dislodged by international competitors.