Belarusian Opposition and the West's Belarus Policies
Publication: Eurasia Daily Monitor Volume: 19 Issue: 126
By: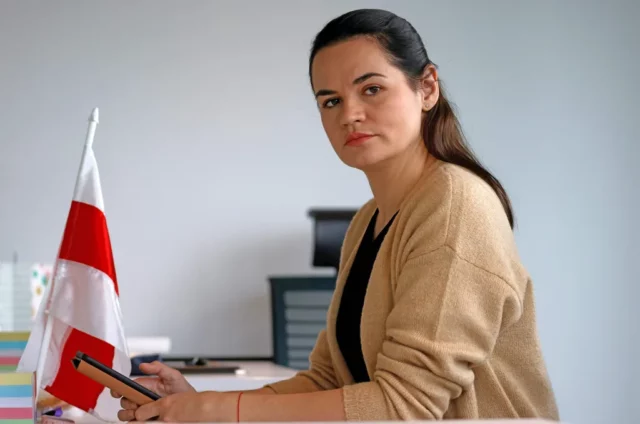 On August 8–9, in Vilnius, Lithuania, the New Belarus Conference took place. It was summoned by the office of Svetlana Tikhanovskaya, formerly a 2020 presidential hopeful, who may have won the last presidential elections—at least that is what many opposition-minded Belarusians believe.
The 18-member organizational committee selected the participants, 231 of whom confirmed their participation (Tikhanouskaya.org, August 7). Three demands generated by the opposition milieu itself have led to this event (Delfi,lt, August 12).
First, many in the opposition have begun to question the effectiveness of Tikhanovskaya's and her entourage's activities in the two years since the elections. After all, the "regime" is still in charge, more than 1,200 activists are behind bars and domestic protests are nowhere to be found. The conference itself and the creation of the so-called transitional cabinet, a sort of "government in exile," are responses to this demand. Under Tikhanovskaya's tutelage, the cabinet includes Pavel Latushko (responsible for "power transit," a code phrase meaning "regime change"); Valery Kovalevsky (foreign relations); Alexander Azarov (rule of law); and Valery Sakhashchyk (defense). Kovalevsky and Latushko are former diplomats, Azarov is a former detective, and Sakhashchyk is a former commander of the Brest Air Assault Brigade.
Second, not unlike many occasions since the mid-1990s, the Belarusian opposition has been torn apart by the internecine fight for recognition from Western financial donors. "Just stop fighting," has been a pent-up demand from the rank and file. This appeal has been partially met. On the one hand, Latushko, perhaps the most ambitious of the exiled opposition leaders, who has also been critical of Tikhanovskaya, is now a member of her cabinet. On the other, Valery and Veronica Tsepkalo, the former comrades in arms of Tikhanovskaya, have formalized their organizational divorce from her structure and accused her of usurping power. To be sure, at the conference, Tikhanovskaya's humility contrasted with Veronica's pushiness, as the former won over participants on sheer style. Judging from social networks, the opposition is far from united. Suffice it to read the opinions that Zianon Pazniak, the founding father of Belarusian "Westernizers," shares on his Facebook account, in which he trashes Tikhanovskaya in no uncertain terms and questions her policies and legitimacy. (See, for example: Facebook.com/IvanVictarovic, August 9.)
Third, some exiled opposition activists now reason that the only means of regime change in Minsk is through brute force. While it is hard to grasp how this can be achieved in the foreseeable future, Sakhashchyk's appointment was a response to this reasoning.
The leading opposition-minded commentators express restrained criticism on the event. According to Carnegie Endowment for International Peace non-resident scholar Artyom Shraibman, diplomacy, calling for more Western sanctions on Minsk and protecting Belarusians abroad are three major functions that Tikhanovskaya's office has been and will continue performing, regardless of whether a formalized "cabinet" is subordinated to her. Shraibman suggested we reserve judgment for six months—the self-imposed probation period of that structure. The Carnegie scholar commended Sakhashchyk for his non-confrontational rhetoric regarding the Belarusian military but does not see him influencing the armed forces in the foreseeable future. This is mainly because few cracks have emerged in the Belarusian ruling elite and because the military is perhaps the most pro-Russian segment within that elite (YouTube, August 11).
For his part, Alexander Klaskovsky, a veteran of opposition-minded punditry, observed that the Belarusian opposition is experiencing a "serious conceptual and organizational crisis" and recognizes that Tikhanovskaya's team lags behind real-time events in Belarus itself and even risks "immersing itself into a parallel universe" (Telegraph, August 8). Andrei Dynko, who for a long time edited Nasha Niva, the major opposition newspaper, also believes no such tasks exist that Tikhanovskaya's team could not fulfil without her new cabinet, thus creating this structure was a ploy to imitate growing activity (Gazetaby.com, August 8).
More fundamental issues abound, too, at the heart of the ongoing debate. Thus, one of ten "awkward questions" that Yury Drakakhrust of Radio Free Europe/Radio Liberty posed to Tikhanovskaya's team on the eve of the Vilnius conference was: "Now, most in the opposition declare an unequivocally pro-European choice. However, according to sociological surveys [see EDM, July 12], in spite of Russia's aggression against Ukraine (or even thanks to it), the geopolitical choice of the majority of Belarusians is not in favor of Europe. In your opinion, should the opposition, nonetheless, declare allegiance to the choice that only the minority of Belarusians adheres to?" (Svaboda, August 7).
While this question was, predictably, not addressed during the conference, it may be a proverbial elephant in the room. For decades, Western foreign policymakers have treated Belarus as merely a country-specific example of a pervasive Eastern European trend: It will suffice to remove the "regime," and then, most people will rush into the embraces of well-meaning Westerners just as happened in much of Central and Eastern Europe in the early 1990s. While some Belarus watchers warn that the country is different, policymakers persistently cling to the aforementioned orthodoxy. Hence, at times of raising tensions with Russia, relationships with the pro-Western opposition and with the "regime" are effectively deemed mutually exclusive. The United States "views its engagement with Belarus in the context of at least two broader foreign policy objectives: global promotion of democracy and containment of Russia," writes Denis Melyantsov of the Minsk Dialogue Council on International Relations. "Belarus is of no significant interest to the US in either case. Nor is it on the priority list of US foreign policymakers. Hence, the low level of country expertise and lack of any long-term involvement strategy" (Minsk Dialogue, August 5).
Indeed, it is difficult to shrug off that judgment. Consequently, Siarhei Bogdan, a Belarusian historian at the Free University of Berlin reasoned, "Given the situation in which Belarus found itself as a result of limiting its communications and transport links with the outside world, it is a miracle that the state of Belarus continues to exist and some foreign policy is still carried out" (Newbelarus.vision, August 5). Perhaps it is time to prop up this "miracle" with a modicum of Western diplomacy. Talking to the opposition alone may not be enough.