Moldova's Bizarre Neutrality: No Obstacle to Western Security Assistance (Part Three)
Publication: Eurasia Daily Monitor Volume: 19 Issue: 126
By: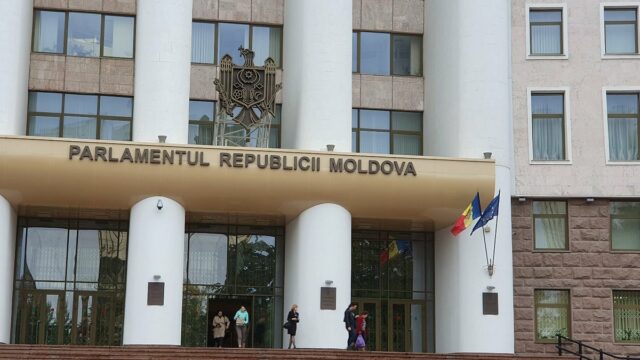 Russia resorted to military interventions repeatedly to stop Georgia (2008) and Ukraine (2014, 2022) from drawing closer to the Euro-Atlantic system. Those interventions aimed, in effect, to coerce Tbilisi and Kyiv into a nonaligned or neutral posture, without international recognition or guarantees, vulnerable to Russian manipulation and threats, akin to Moldova's situation. In Chisinau's case, however, Moscow never needed to enforce neutrality with military threats since "permanent neutrality" became Moldova's own supine option. A state deficient in national identity turned permanent neutrality into an element of state identity (see EDM, August 11, 15).
On the one hand, Chisinau never seriously attempted to deal its permanent neutrality in exchange for Russia's withdrawal from Transnistria and treaty guarantees, following the example of the 1955 Austrian State Treaty. Instead, Moldova has adhered to neutrality preemptively and unconditionally, thus forfeiting this bargaining card. Western powers certainly have not shown an interest in that kind of trade-off or in any particular solution to the Transnistria conflict. Moldova's former Russophile president (2016–2020), Igor Dodon, campaigned for international recognition of Moldova's permanent neutrality but found no support in the West or Russia.
On the other hand, neutrality (even if unrecognized) has served Chisinau well as an argument to avoid military and security relationships with Russia or the Russia-led Collective Security Treaty Organization (CSTO). In this particular respect, Russia has not contested Moldova's neutrality argument. Given its limited interests in Moldova, the Kremlin never sought to bring this country directly into its orbit until now. Russia may, however, attempt to do so if it wins the war against Ukraine and if this happens in conjunction with Russophile parties winning elections in Moldova (see EDM, August 4, 8, 9). To hedge against such prospects (and in deference to Moldovan public opinion), Chisinau and its Western partners need to continue paying verbal homage to Moldova's status of neutrality.
Moldovan governments, irrespective of political leanings, have explained that permanent neutrality is compatible with European integration since the latter does not involve defense and security dimensions. As such, all governments—including the current, pro-Western government—have avoided seeking any meaningful relations with the North Atlantic Treaty Organization (NATO) or the armies of individual NATO member states. Reciprocally, NATO and the European Union bow to Moldova's neutrality, insisting that the organizations' partnerships with Chisinau in their existing form do not affect that status. This is an easy case to make if those partnerships' defense and security dimensions remain, as hitherto, minimally relevant, or even irrelevant, to Moldova.
The EU has taken an unprecedented step offering 40 million euros to provide nonlethal equipment and related advisory services for the Moldovan army, within the framework of the EU's Common Foreign and Security Policy (CFSP, a civilian endeavor). This amount adds to the 7 million euros already approved in December 2021 (Eeas.europa.eu, December 2, 2021; June 30). Moldova, however, needs lethal military means from its partners to impose serious costs that could discourage or contain a potential Russian or hybrid aggression.
Now it befalls Moldova's pro-Western authorities to turn the relationship with NATO and some of its member states into partnerships fit to confront actual existing threats.
The current Moldova-NATO Individual Partnership Action Plan (IPAP, framework document codifying this relationship) is far from fit to that purpose, however. Similar to its earlier versions (this is the sixth Moldova-NATO IPAP since 2006), the current document is largely of a civilian nature, with some borderline civilian-military applications. Moldova is supposed to conduct an interdepartmental self-evaluation of resilience and preparedness for civilian emergency situations. As Moldovan analyst Denis Cenusa has noted (IPN, May 17), this would be a national effort, based on seven NATO benchmarks, all in the civilian sphere and dating back to 2016 and 2017. The document does not identify any financing for this endeavor; and civilian resilience is primarily an EU added-value in any case.
Apart from that, the Moldova-NATO IPAP focuses on combating "new threats" and risks in the areas of cyber, terrorism, and proliferation of mass destruction weapons. This order of priorities is obsolete, however. Russia's war in Ukraine compels NATO and its eastern partners to prioritize the threats of conventional war on land, at sea and in the air, with hybrid war as an adjunct. This IPAP further envisages assisting designated Moldovan army units to enlarge their participation in peacekeeping missions led by the United Nations, EU and Organization for Security and Co-operation in Europe (IPN, July 11). Such missions have long provided a distraction from the urgent task of building a combat-capable army, which simply does not exist today in Moldova.
The current IPAP, valid for 2022–2023, has been overtaken by international and domestic events in Moldova. Prepared in 2020–2021 by Moldova's previous government, which was politically aligned with Dodon's Socialist Party, the IPAP was inherited in that form by the new, pro-Western government.
Following its June 2022 Madrid summit, NATO initiated an addendum to Moldova's IPAP envisaging "a package of tailored support measures to help Moldova strengthen its national resilience and civil preparedness." This would "support Moldova in implementing its own, long-term development and modernization plans for security and defense, strengthening its training and logistics capacity and human resource management" (Nato.int, "Relations with the Republic of Moldova," accessed August 16). This implies that NATO is not prepared to authorize combat training and lethal equipment supplies for the Moldovan army. Similarly, NATO's Madrid summit did not authorize those types of support for Ukraine, leaving such decisions up to member states in their national capacities.
Moldova's pro-Western government has been slow and reluctant to acknowledge the imperative of adapting Moldova's national security and defense policy to Russia's evolving threats. This government's priorities are: first, rebuilding a hollowed-out state; second, being re-elected to accomplish that task without backlash from an electorate largely deferential to Russia; third (and related), not burning bridges with Russia; and fourth (not least), utter poverty, coupled with voter aversion to military expenditures and distrust of NATO.
Moldovan public support for hypothetically joining NATO has hovered at some 20 percent over the years (compared with some 70 percent traditionally in Georgia and a similar level more recently in Ukraine). The latest Moldovan opinion surveys are consistent with this longtime trend. A referendum on Moldova's accession to NATO, "if held next Sunday," would yield 24 percent in favor versus 61 percent against, as of April 2022—and 18 percent in favor versus 67 percent against, as of July 2022 (IMAS, April 22, July 20).
Moldovan President Maia Sandu and her government have recently started explaining to the population that national defense is a necessary, legitimate endeavor, as well as compatible with Moldova's neutrality. Moldova will need to seek assistance from NATO member states acting in their national capacities, outside NATO's framework, but coordinating their assistance programs in a coherent format, as an informal coalition of the willing. In this process Moldova and any willing NATO partners must continue paying verbal homage diligently to Moldova's status of neutrality, as does NATO collectively. Moldova's pro-Western civil society groups must realize that the country does not need any "national debates" about renouncing neutrality or re-interpreting it. Chisinau and willing Western partners need to act at the technical-military level without distracting and divisive political debates.
In sum, Moldova's uncodified, unrecognized neutrality need not be an obstacle to practical work to create a national defense system with Western assistance, primarily from NATO member states.