Uzbekistan Grapples With the Specter of Anti-Western Tropes in SCO
Publication: Eurasia Daily Monitor Volume: 19 Issue: 125
By: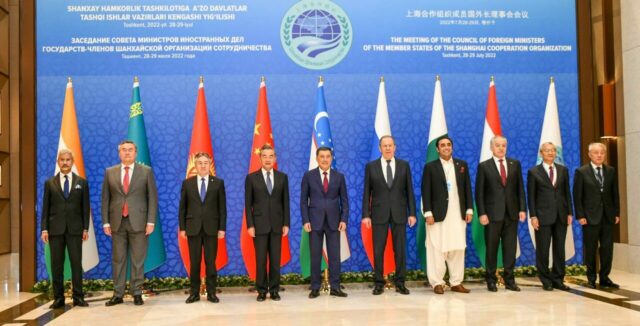 On July 28–29, Tashkent hosted the Shanghai Cooperation Organization's (SCO) Council of Foreign Ministers. This was the final rehearsal before the SCO summit scheduled to take place later this year in Uzbekistan's historic city of Samarkand on September 15–16. The foreign ministers of all member countries were in attendance, including host Uzbekistan, China, Russia, India, Pakistan, Kazakhstan, Kyrgyzstan and Tajikistan.
In addition to the ministers, Uzbekistani authorities are optimistic that the leaders of each SCO nation will also attend the summit in person. Of note are the recently travel-averse Chinese President Xi Jinping and the increasingly isolated Russian President Vladimir Putin. Both have reportedly confirmed their attendance at the upcoming summit—thus underlining the importance of this year's summit amid "heightened geopolitical tensions in the world" (Gazeta.uz, July 29). In fact, the upcoming summit is expected to be exceptionally rich with globally significant guests. Possible attendees include Saudi Arabia Crown Prince Mohammed bin Salman, whose country seeks to secure a "dialogue partner status" within this regional grouping.
In truth, many Russian commentators often envision the SCO as a possible "counterbalance to NATO [North Atlantic Treaty Organization]" or as the "OSCE [Organization for Security and Co-operation in Europe] of the East," uniting disgruntled countries protesting against "Western domination and an unjust global economic and financial system" (Rbc.ru, August 4).In contrast, Uzbekistani authorities insist the SCO does not represent a geopolitical bloc or harbor any type of antagonistic agenda. However, granting full membership to Iran this year and fast-tracking Belarus's application for full membership could indeed increase anti-Western sentiments within the organization.
In Tashkent, Russian Foreign Minister Sergey Lavrov jubilantly declared that more and more countries are attracted to the SCO's success, hoping to be associated with the multilateral organization in any way possible (Rbc.ru, July 28). But that seemed to be the only thing that made Lavrov happy, as he looked otherwise dismayed with the lack of support on other issues important to Moscow within the SCO framework. For instance, the Russian proposal to ditch "the unreliable US dollar and euro in favor of national currencies" for bilateral trade among SCO members did not elicit immediate approval or support. Later, when queried on this particular issue, Uzbekistan's national coordinator for SCO affairs, Rahmatulla Nurimbetov, explained that the use of national currencies has frequently been proposed by some member countries in the past, but a final agreement has yet to be stuck, and expert-level discussions are continuing.
More importantly, Russia's top diplomat failed to elicit any support for his country's unprovoked re-invasion of Ukraine. Instead, he repeatedly heard statements from his counterparts concerning the need to uphold the United Nations Charter principles regulating interstate relations—first and foremost, the nonuse of force against the territorial integrity or political independence of another state (YouTube, July 29).
To make matters worse for the Russian delegation, during the meeting of SCO foreign ministers with Uzbekistani President Shavkat Mirziyoyev, he observed that "the world was experiencing fundamental transformation with unpredictable consequences, coupled with an acute lack of trust and mutual understanding, the disruption of traditional cooperation and logistical networks, worsening food and energy security, a significant rise in inflationary indicators and the exacerbation of the social economic situation in many countries." One can justifiably interpret this as an implicit accusation against the Kremlin, whose aggression against Ukraine has been widely accepted as the major cause of such negative global trends (YouTube, July 29).
The SCO foreign ministers unanimously acknowledged and genuinely praised the host country for its highly productive chairmanship of the organization—admittedly, it is not customary for SCO states to openly criticize other members' stints in the chairmanship. According to Uzbekistani authorities, more than 70 important events and meetings were held during Uzbekistan's chairmanship, during which national coordinators approved 28 summit documents and agreements "designed to demonstrate the dynamic development of the SCO, the growing potential of the organization and its ability to adequately and effectively respond to modern challenges."
Uzbekistani Foreign Minister Vladimir Norov stated that the agreed-on draft text of the main political document for the upcoming summit, the Samarkand Declaration, "reflects the consolidated positions of the countries on the most important regional and global issues. These include joint approaches to ensuring regional stability, security and sustainable economic development, strengthening transport interconnectedness, as well as deepening cultural dialogue" (Gazeta.uz, July 29).
As the rotating chair of the upcoming summit, Mirziyoyev laid out his country's vision for the organization during his meeting with SCO foreign ministers. He emphasized that the organization should maintain its non-bloc status, strengthen its potential for tackling new emerging threats to member countries, maintain the Central Asian region as the geographic core of the organization, promote transregional connectivity projects and enhance efforts to more actively involve Afghanistan in the regional economic processes (YouTube, July 29).
Despite hard feelings over the recent visit of US Speaker of the House Nancy Pelosi to Taiwan and Russian attempts to goad Beijing to start a military operation there, Chinese authorities have shown a measure of restraint. They have remained largely pragmatic in their considerations (save for the overly reactive military drills surrounding Taiwan), thus seemingly demonstrating that they will not jeopardize their economic wellbeing by resorting to irrational direct military aggression that may endanger their interests elsewhere. Unlike President Putin, who seeks to base his regime's legitimacy on his bellicose foreign policy and memories of imperial glory, the current Chinese government's legitimacy has leaned toward relying on the Xi Jinping regime's economic leverage and its ability to maintain control and gradually improve the living standards of its approximately 1.4 billion people. Consequently, in the current climate, Beijing is an unlikely strategic partner for Russia in executing the Kremlin's version of the struggle against the West.
Recent heightened geopolitical tensions between Russia and the world over Ukraine on the one hand and between China and the US over Taiwan on the other, combined with plans to accept Iran and Belarus as full members, may indeed increase anti-Western rhetoric during future SCO summits. However, anti-Western and antagonistic rhetoric has yet to make it into summit joint statements. In truth, any such pretentions for bloc thinking would be surely labeled as unacceptable by some members, including Uzbekistan, India and Kazakhstan, which pursue pragmatic foreign policies and do not want to be perceived as part of the anti-West camp.