Pro-Russia Parties Resurgent in Moldova (Part Three)
Publication: Eurasia Daily Monitor Volume: 19 Issue: 121
By: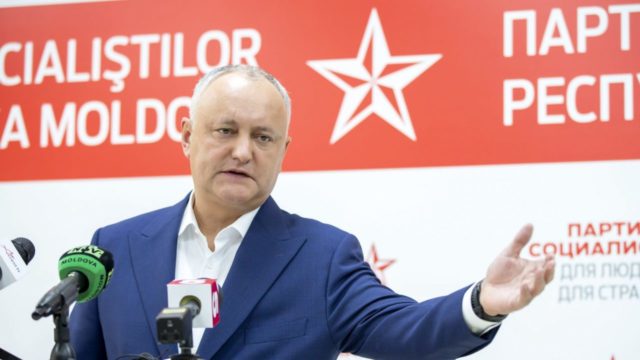 Moldova's leftist-Russophile parties are surging in public opinion polls by blaming the multifaceted economic crisis on the country's pro-Western authorities (see EDM, August 8). This ruthless demagogy is a contributing factor to the governing Party of Action and Solidarity's (PAS) deep slide in opinion polls.
Paralleling this countrywide trend, PAS is also experiencing a persistent losing streak in local-level elections. Ten such elections have recently been held in rural communities (almost all of them Romanian/Moldovan-speaking) for vacant local councils and mayors. PAS candidates won in only one locality out of the ten. Leftist-Russophile candidates won in five localities, and candidates of small extra-parliamentary parties won in the other four (Gazeta de Chisinau, June 16; Deschide.md, August 8).
In Moldova, local-level elections do not necessarily, or even closely reflect, political parties' popularity countrywide. Voters in those elections tend to choose between locally known personalities regardless of party label. Yet, at the same time, ambitious local candidates often bandwagon with the incumbent governing party, irrespective of the latter's ideology. Exceptionally, however, such bandwagoning has not happened in the case of the recent local elections, owing to the incumbent authorities' low popularity and a creeping uncertainty about their ability to retain power for much longer, after just marking one year in office (August 8). This string of local election losses should be read as an alarm signal for PAS.
The leftist-Russophile opposition's messaging falls on a relatively more receptive ground in Moldova compared with other countries in the region (see below).
The Socialist, Communist and Shor parties broadly coordinate their propaganda in terms of content themes and media outlets. Their daily messaging advances two sets of themes: domestic and geopolitical. And these two narratives are geared at two audiences: Moldovan voters and Kremlin authorities, respectively. On the domestic level, messaging is designed to lift these parties into power as the domestic crisis worsens with the cold season looming. They do not need Moscow's advice for this sort of domestic propaganda. In parallel, these parties are also speaking directly on behalf of Russia's interests, or at least adapting the Kremlin's international propaganda themes to Moldova's local circumstances.
On the domestic level, the day-to-day themes include:
Resignation of the government and the head of state, then snap elections for parliament and the presidency;
The incumbent authorities are themselves responsible for uncontrollable inflation, the unaffordable price for Russian natural gas, impending "hunger and freeze" and a cumulative "humanitarian catastrophe";
Moldovan President Maia Sandu should request an audience with Russian President Vladimir Putin to negotiate a lower price for Russian natural gas and other economic favors in the Moldovan people's interest—otherwise opposition leaders could assume this task;
Russian energy prices and access to Russia's agricultural market depend on Moldova improving its relations with Russia;
Crisis relief and budget support funding from the European Union and  international financial institutions are "plunging Moldova's future generations into indebtedness"; and
The authorities are obligated to increase social assistance payments from the state budget to the population.
The geopolitical themes, also advanced on a daily basis, include:
Moldova should continue to abstain from joining the Western sanctions regime against Russia over the latter's war in Ukraine, as participating in the sanctions would demonstrate obedience to Western interests at the Moldovan people's expense.
Chisinau's candidacy for accession to the EU puts Moldova's neutrality at risk—the EU will compel Moldova to join sanctions against Russia and is Russophobic and fights against "traditional values."
Any moves toward security cooperation with Western countries would abandon Moldova's neutrality, pave the ground for the entry of NATO troops in Moldova, turn it into an anti-Russian outpost and drag Moldova into the war in Ukraine.
Sandu and the government are a "puppet regime led from abroad" and "controlled by the United States and EU"—Sandu and the government also hold Romanian citizenship and are ready to merge Moldova with Romania.
Moldova must, despite everything, continue adhering to a "balanced" policy between Russia and the West, "balance" inherently implying a certain distance from Brussels.
This geopolitical set of messages seems designed to position the leftist-Russophile parties as, in effect, watchdogs for Russia's interests in Moldova.
The Socialist and Shor parties cumulatively control several television channels, some of them inherited from Moldova's former de-facto ruler, Vladimir Plahotniuc, who fled the country in 2019. Former president Igor Dodon (the de-facto main voice for the Socialist Party) and Shor Party leader Ilan Shor (another fugitive) actively communicate with voters through their own websites, video addresses and social media.
This type of propaganda falls on a relatively receptive ground owing, first, to a paternalist mentality and reliance on state support, predominant among Moldovan voters (the more enterprising citizens tend to emigrate to the West). The current crisis means that the concept of the "provider state" finds even broader acceptance. Second, unique to Moldova, a critical mass of voters continue to view Russia with a mixture of respect, fear and hope. Although voter majorities of more than 50 percent support Chisinau's European orientation, even these voters desire amicable relations with Moscow and would not countenance tensions with it. Any Moldovan government needs to demonstrate its willingness to work with the Kremlin on economic matters (i.e., Russian natural gas, access to the Russian market and the situation of Moldovan migrant labor in Russia) to the satisfaction of Moldovan voters. President Sandu and PAS had built their winning election campaigns on this premise; as such, the current government carefully avoids burning bridges with Russia. (In truth, it would be up to Russia to burn those bridges.). Ultimately, the leftist-Russophile opposition parties are trying to discredit the pro-Western authorities in Chisinau by depicting them as virulently anti-Russian.