Moldova's Bizarre Neutrality: No Obstacle to Western Security Assistance (Part One)
Publication: Eurasia Daily Monitor Volume: 19 Issue: 123
By: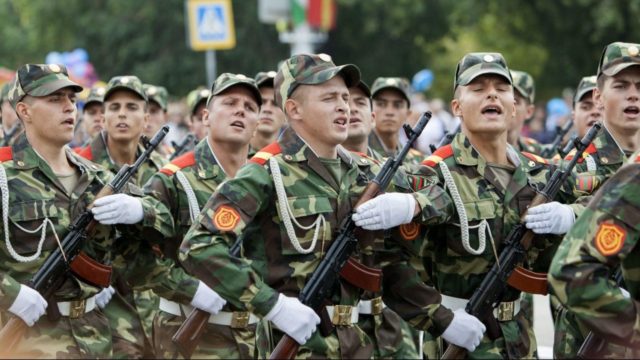 Russia's war in Ukraine, with an undisguised goal to advance on Odesa, threatens by the same token to open a corridor to Transnistria and bring Russian forces onto Moldova's and Romania's land borders. These looming threats and risks must jump-start efforts by Moldova's Western partners to secure the country against Moscow's re-expansion.
Moldova's constitutional neutrality is of a most bizarre kind: unilaterally declared and unrecognized internationally, much less guaranteed. It is protected by none, unarmed and practically demilitarized. Chisinau has no combat-capable army and no defense industry. Russian troops stationed in Transnistria have violated Moldova's constitutional neutrality on a daily basis since 1994.
In sum, neutrality per se cannot protect Moldova from military or hybrid risks and threats; it would prove just as irrelevant in the event that the Russian army forces its way through Ukraine toward Transnistria and Right-Bank Moldova.
Moldova became a permanently neutral state by its own choice, ill-advised but perhaps inevitable at the time. Under Article 11 of its constitution, adopted in 1994, "The Republic of Moldova proclaims its permanent neutrality. The Republic of Moldova does not accept the presence of any foreign military troops on its territory" (Parlament.md, accessed August 10). The second clause indirectly reveals the main purpose of the first clause: namely, to help rid Moldova of Russian troops in Transnistria. However, Moldova never found enough inner strength or external support to actually achieve that goal.
Furthermore, Article 142 of the constitution stipulates that neutrality (along with several other constitutional fundamentals) can only be revised by referendum. And since Moldova's population has been conditioned over the years to internalize the country's permanent neutrality, revising by referendum (the sole legal mechanism) seems impossible for the foreseeable future. Nor is it really necessary to revise it: The status of neutrality is subject to various interpretations in most cases, and Moldova is no exception in this regard.
For almost three decades, Moldova has relied on Ukraine to keep Russia at arm's length, at least geographically. Sheltering behind Ukraine became Moldova's substitute for a national security and defense policy of its own. From 2014 onward, Ukraine banned the transit of Russian military equipment and personnel to Transnistria, degrading the combat readiness of Russian troops stationed unlawfully there. (Moldovan troops' readiness, however, looks even worse due to lack of funding and regular military exercises.)
Russia's re-invasion of Ukraine in February 2022 has, in effect, turned Kyiv into the sole guarantor of Chisinau's independence and relative security, blocking as it does the Russian army's advance toward Odesa and onward to the Moldovan and Romanian borders (see EDM, August 4). This is a heroic effort by Ukraine but not a sustainable solution for Moldova, North Atlantic Treaty Organization (NATO) member Romania or the alliance writ large on this frontline sector.
Neutrality has not worked as Chisinau had intended it 28 years ago. Irrelevant to Moldova's security and defense, this peculiar neutrality has proved to be downright counterproductive at the psychological and political levels. Illusory expectations that this model of neutrality would keep Chisinau safe have become deeply rooted in Moldova's public consciousness (Dumitru Minzarari, "Neutrality With No Guarantees: The Evolution of Moldova's Defense and Security Policies," Black Sea Battleground Series, The Jamestown Foundation, April 1).
These factors make it politically difficult and risky for Moldova's pro-Western government to seek public acceptance of national security and defense expenditures. The political constraints add to the already insuperable financial constraints on investing in security and defense programs. Moldovan President Maia Sandu and a few senior government officials have recently started to enlighten the population at the most basic level that neutrality per se does not help. Quite understandably and justifiably though, the authorities continue paying lip service to neutrality. This sort of incipient national pedagogy on the part of the leadership will be a steep uphill effort amid the deepest and longest economic crisis Moldova has ever experienced.
Unarmed, pauper, and more vulnerable than any of Ukraine's (or Russia's) other neighboring countries, Moldova is unable to provide for its national security and defense. The country needs security arrangements to be devised, assisted and funded by its Western partners. It needs, in effect, a security protectorate under any other name.
Russia and its political sympathizers in Moldova promote a strict constructionist interpretation of neutrality. This interpretation aims to preclude any serious security cooperation between Moldova and NATO or its willing members.
Being unilaterally declared and recognized by none, Moldova's neutrality is subject to interpretation by none other than Chisinau—and least of all by Russia, which violates Moldova's neutrality by stationing troops on its territory. Under the pro-Western government, barely one year in office, Chisinau officially adheres to its permanent neutrality while interpreting it as compatible with security assistance from its Western partners, first and foremost NATO member states. Nothing prevents willing members from also adopting this interpretation.