Is Kazakhstan Going to Follow Ukraine as Putin's Next Target?
Publication: Eurasia Daily Monitor Volume: 19 Issue: 123
By: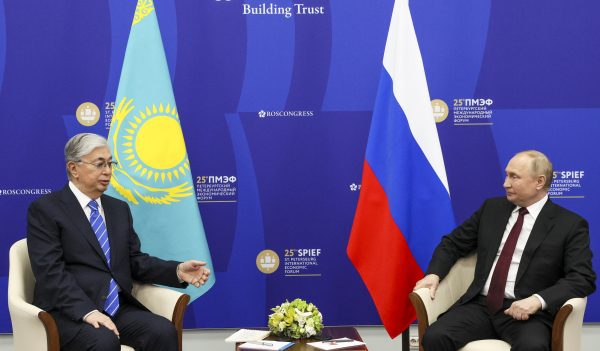 Many in Moscow are furious at Kazakhstan's leadership for its ingratitude about Russia's help in putting down a popular uprising in January 2022 (see EDM, January 20), for its increasing nationalism that is prompting ever more ethnic Russians to flee the country (see EDM, September 9, 2021) and for its efforts to attract foreign firms leaving Russia to Kazakhstan (see EDM, July 19). Additionally, the Kremlin has been bristled by Nur-Sultan's plans to bypass Russia in exporting oil and gas (see EDM, June 28), its public unwillingness to back Moscow's policies in Ukraine and, most recently, for reports that Kazakhstani firms are shipping weapons to Ukraine via third-party countries (Tsargrad.tv, August 10).
Relations between the two countries indeed appeared to have reached a new low on August 2, when a post attributed to Dmitry Medvedev, former president and current deputy head of the Russian Security Council, declared that "historically" what is today northern Kazakhstan was part of Russia—suggesting to some that Moscow would soon launch an invasion into its southern neighbor. The post itself was soon taken down, with hacking blamed for its posting in the first place. Yet, most Russian commentators have acknowledged that the now-deleted post reflects the views of many in the Kremlin—and even Medvedev himself judging from earlier commentaries he has not disowned (Politnavigator.net, August 2). As a result, increasing numbers of Kremlin analysts have suggested that Kazakhstan is likely to become Russian President Vladimir Putin's next target, if not immediately, then following the victory he expects in Ukraine (E-vid.ru, August 9).
That Moscow is angry and that Nur-Sultan is worried are beyond doubt. A veritable war of words have occurred between the two sides, with Russian writers talking about Kazakhstan becoming "a second Ukraine," and Kazakhstani commentators countering that the two countries are in the midst of "a bad divorce" (Novaya gazeta, December 21, 2021; see EDM, April 5). These comments are especially alarming because Russians have traditionally viewed Kazakhstan as one of their most reliable partners in the former Soviet space, and Kazakhstani citizens have viewed Russia as a country they cannot afford to offend because of the countries' shared lengthy border and the still large ethnic Russian component of Kazakhstan's population (see EDM, May 12). This summer, Moscow has shown its displeasure by stopping the flow of oil westward from Kazakhstan through its territory, and Nur-Sultan has countered by upgrading its military (Tengrinews, May 6, 19).
Three aspects of this situation certainly suggest the Kremlin may decide to move against Kazakhstan as it has with Ukraine. Nevertheless three others indicate that Moscow's doing so is far less likely and that, regardless of the tensions that currently exist between the two enormous Eurasia countries, the possibility of a major military clash between them is quite low.
To be sure, three primary factors are pushing Russia toward a military move: First, from Moscow's perspective, Kazakhstan has been moving along the same path as Ukraine—the result, Russian commentators say, of the fact that both represent the product of Western influence and thus must be countered in the same way (Regnum, July 29). Given Putin's view that Ukraine is less a war with Kyiv than with the West, that is no small thing and certainly would appear to push him toward considering a move against Nur-Sultan, most likely seizing the northern third of Kazakhstan where ethnic Russians still form a large part of the population.
Second, if Kazakhstan continues to move away from Russia, the danger could crop up that Russians begin to believe Moscow will lose its influence across Central Asia as a whole, with China and the West picking up the pieces. Losing to either would undermine the Kremlin's position generally, in the first case by giving China increased regional leverage and influence.
And third, in the absence of such a Russian move, Kazakhstan would likely become more similar to the rest of Central Asia and thus become a bridge, rather than a bulwark, for Islamist expansion northward into Russia itself (see EDM, November 19, 2013; August 17, 2021).
Even so, three even more compelling reasons point to why Russia is unlikely to take this action. First of all, its forces are tied down in Ukraine and likely will be for some time with an eventual resolution of the conflict. Starting a new war with a country the size of Kazakhstan would strain the military resources of the Kremlin to a breaking point. It would then have to back off somewhere else or declare an unpopular and risky general mobilization.
Second, the ethnic Russian share of Kazakhstan's population is a declining asset for Moscow—not only has its size declined radically since the end of Soviet times, but it is projected to decline even more so over the next several decades. In 1989, 38 percent of Kazakhstan's residents were ethnic Russians; now only 18 percent are, and the total is projected to fall to 10 percent or less by mid-century—both because it is an aging population dying out more rapidly than the Kazakh share of the population and because of continuing departures to Russia (Aif.ru, August 3). Absorbing all of Kazakhstan would make the Russian Federation far more non-Russian than it is today. Even absorbing only part of it would work against the "more Russian Russia" Putin wants.
Third—and by far the most important reason—Moscow has a long history of making threats and even taking actions, such as stopping the flow of oil, only to have Kazakhstan's leaders call, reassure Putin of their unquestioned support and the Kremlin then pulls back on its rhetoric and actions. In the wake of Kazakhstani President Kassym-Jomart Tokayev's disparaging comments directly to Putin at their St. Petersburg meeting on June 17, words that many saw as an act of lèse-majesté or even an occasion for a military strike, the two men exchanged phone calls and the situation calmed down with both declaring that their friendship was intact and Russia lifted its blockade of Kazakhstani oil (E-vid.ru, August 9).
That is likely to happen again in the current environment, although the question does arise: How many times can the two countries go through this dance without something worse happening?