Kazakhstan Seeks to Attract Western Companies Leaving Russia, Infuriating Moscow
Publication: Eurasia Daily Monitor Volume: 19 Issue: 108
By: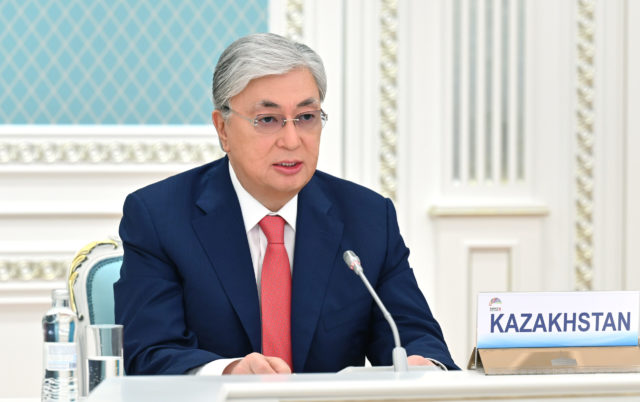 The Kremlin had expected its relationship to improve with Kazakhstan following Russia's intervention to support Kazakhstani President Kassym-Jomart Tokayev's government against violent rioters early this year. Instead, since then, relations have deteriorated seriously due to Nur-Sultan's refusal to support Moscow's policies in Ukraine (see EDM, May 12). Recently, interactions between the two countries took yet another dive as Tokayev declared that Kazakhstan will seek to attract Western businesses fleeing Russia due to the sanctions regime there. He also mentioned that Nur-Sultan will no longer consult Moscow on financial and currency matters via the Commonwealth of Independent States (CIS) and that Kazakhstan will build its own military and seek to expand ties with the West.
Moscow has reacted with fury, denouncing what it sees as an act of betrayal by a country it once viewed as a close ally and highlighting its continued leverage by again blocking the flow of Kazakhstani oil westward through Russia. Some Russian commentators have even suggested that Moscow could promote revolts in parts of Kazakhstan or threaten to seize the ethnic Russian-dominated north of Kazakhstan to bring Nur-Sultan to its knees. Even so, most analysts warn that such an aggressive posture will only push Kazakhstan further away from Russia and closer toward the West and China. For the time being, Russian President Vladimir Putin seems to agree with the latter posture.
The biggest new blow from Nur-Sultan to Moscow came on July 15 when Tokayev told his government that "we are witnesses of a global struggle for investment capital" and pointedly suggested that, in this battle, Kazakhstan would seek to benefit by attracting Western firms now exiting Russia. Half of "almost 1400 major foreign companies are stopping work or completely leaving the Russian market," he added, and Nur-Sultan "must create favorable conditions for their relocation" to Kazakhstan (Tengrinew.kz, July 14; Meduza, July 14; TASS, July 14).
Not surprisingly, the Kremlin was furious. Russian government spokesman Dmitry Peskov said that it is "completely normal" for countries to try to attract foreign investors but that it is "entirely different" when they do so at the expense of others, as Kazakhstan is clearly doing (Interfax, July 14). Some Russian commentators called for more dramatic steps, including the possible annexation of northern Kazakhstan (see EDM, April 5; Idel-ural.org, July 11; Siberia.Realities, July 14) or stirring up trouble in Kazakhstan, similar to the revolt that recently roiled neighboring Karakalpakstan in Uzbekistan (Nakanune, July 7; Stanradar.com, July 8; Vpoanalytics.com, July 19).
So far, however, Moscow has limited itself to blocking the flow of Kazakhstani oil westward, something it has blamed on technical problems but is almost certainly intended to remind Nur-Sultan of the Kremlin's remaining leverage (Versia.ru, July 10). As tensions continue to rise in both capitals, in Moscow, the situation has deteriorated to the point that the editors of Nezavisimaya gazeta recently felt compelled to caution that, just as Ukraine is not Russia, so Kazakhstan is not Ukraine. They further warned that Russia should not make the mistake of treating the Central Asian republic the same way it has treated its western Slavic neighbor (Nezavisimaya gazeta, June 19).
Meanwhile, the Kazakhstani government made three other moves that have further exacerbated relations with Russia. First, it announced that it would no longer participate in the CIS committee that regulates currency and financial relations among the member states, a move that many in Moscow will view as a step toward an exit from a Russian-dominated organization (Siberia.Realities, July 14). Second, Nur-Sultan signaled that it was intensifying its longstanding efforts to find ways for its trade to bypass Russia both eastward via China and westward via the Caucasus (see EDM, June 28; Casp-geo.ru, July 19). And third, Kazakhstan has taken new moves to modernize and otherwise reinforce its military to put itself in a position to defend against any potential Russian attack (Tengrinews.kz, May 6, 19;  Caravan.kz, May 11).
Like many of Russia's neighbors and erstwhile allies, Kazakhstan has been appalled and frightened by Moscow's re-invasion of Ukraine. Even before these latest moves, Tokayev and his government had made clear that they will not help Russia evade sanctions and that they will help Ukraine with humanitarian assistance. He also articulated that Kazakhstan will not recognize Kremlin-promoted statelets or border changes in Ukraine but that it will support an international investigation of Bucha and the crimes against humanity there. Indeed, all these issues are hard to swallow for the Kremlin (The Insider, April 15). Yet, Nur-Sultan's latest moves in the economic sector and concerning the CIS have hit Russia perhaps harder than any of the others—as these policies represent a long-term commitment to policies that will weaken Russia and reduce its ability to influence Kazakhstan and other countries in Central Asia.
Moreover, as the attraction of Western firms helps strengthen Kazakhstan, that alone will have serious consequences regarding the Central Asian republic's relationship with the Russian Federation, most likely putting even more distance between the two countries. Nur-Sultan's policies are already leading to an increase in Russian flight from Kazakhstan, thus making Kazakhstan even more overwhelmingly ethnic Kazakh than before (Vpoanalytics.com, January 20; Stanradar.com, July 3). That trend, along with Kazakhstan's recognition that Russian-speaking Kazakhs are less supportive of anti-Moscow positions than are Kazakh-speaking Kazakhs, will likely cause Nur-Sultan to accelerate its drive to promote the Kazakh language and its transition from the Cyrillic script to a Latin one—a move Moscow views as inherently unfriendly (EurasiaNet, April 9; Demos.kz, July 4).
Yet, even with Tokayev's moves and Moscow's reactions, it would be a mistake to assume that Putin will decide to use any military means against Kazakhstan anytime soon. On the one hand, Russian forces are extremely tied down in Ukraine; and on the other, few Russians, including the Kremlin leader himself, really want to absorb the millions of Central Asian migrants such a move might entail.
But the war of words is likely to escalate in the coming days and weeks. Moscow is certainly likely to use its control of pipelines, its propaganda apparatus and its ties with China to try to rein in Kazakhstan. Nur-Sultan, in response, will likely pursue a more nationalistic policy at home and seek closer relations with the West—a situation that, by itself, will alarm Moscow and set up yet another potential conflict and further breakdown in relations between Russia and Kazakhstan.