Georgian Fears of Widespread Russification Intensify
Publication: Eurasia Daily Monitor Volume: 19 Issue: 123
By: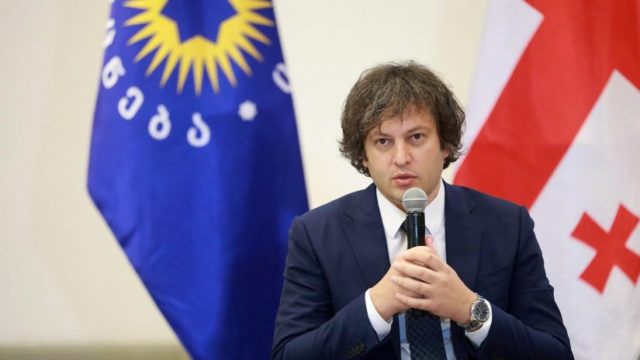 As a result of the war in Ukraine and Western sanctions on Russia, according to the latest data, about 250,000 Russians are already in Georgia at present. In Georgia, citizens of Russia and Belarus are considered one and the same. The Georgian opposition, in early August 2022, demanded that the authorities introduce a visa regime for Russia and Belarus—since such a high number of Russians (including Belarusians) in the country already pose a threat to Tbilisi's national security (Interpressnews.ge, August 4). Yet, Georgian authorities have already categorically rejected the possibility of introducing a visa regime with Russia. Moreover, chair of the ruling party, Irakli Kobakhidze, on August 5, called this opposition initiative "a shameful, targeted xenophobic campaign" (Facebook.com/KobakhidzeOfficial, August 5).
For Georgian citizens who wish to visit Russia, a visa regime has long been in place. In contrast, the previous Tbilisi government unilaterally abolished the visa regime in 2012. Thus, Russian citizens have the right to stay in Georgia without visas for 360 days. Such liberal regulation does not exist even in Armenia, which is a close ally of Moscow; in Armenia, without visas, Russian citizens can stay for 180 days, in Azerbaijan, only 90 days. The majority of the Georgian population supports the introduction of a visa-free regime with Russia. In April 2022, a public opinion poll showed that 66 percent of the population was in favor of this policy. According to the National Democratic Institute poll, opponents to a visa regime with Russia are mainly supporters of the ruling Georgian Dream party (Ndi.org, April 22).
Ukraine has already suspected that Russia is using Georgia to circumvent sanctions (Sensor.net, April 5). In Georgia, in addition to the increase in Russian "refugees," the registration of Russian citizens' private businesses is also growing catastrophically. According to the latest study by Transparency International Georgia (TI Georgia), in March, April, May and June 2022, Russian citizens registered about 6,400 companies in Georgia. According to TI Georgia a total of 13,500 Russian companies are registered in Georgia—half of which were registered after the start of the war (Transparency International Georgia, August 3).
Additionally, Russians are massively buying real estate in Georgia, especially in Tbilisi and the Black Sea resort town, Batumi, which borders Turkey. With the expansion of US and EU sanctions on Russian banks, Russian citizens are actively opening bank accounts in Georgia. Indeed, Georgian society is already worried that Moscow may resume its hybrid war and intense Russification in Georgia. Georgia's population is only about 3.7 million, and according to some data introduced by the opposition, already almost 10 percent of the population is made up of Russian citizens (Geostat.ge, accessed August 10). The Georgian authorities indicate about only 1 percent, although this is also a critical bellwether figure for such a small country (Netgazeti.ge, August 4). Practically, in Georgia, the demographic situation is changing dramatically in favor of the Russians.
Tbilisi authorities welcome the influx of Russians, calling them "tourists." In Georgia, tourism is one of the most important and profitable sectors of the economy, and its target group is mainly tourists from Russia and the post-Soviet space. Although, typically, the influx of Russian visitors has always been noticeable in the summer. But this time around, the arrival of Russians has not stopped for any season and many stay to live in Georgia. Up to now, it is not known how many of these Russians are just tourists and how many are staying long term. Although, usually, tourists do not open bank accounts, register businesses in a foreign country and buy real estate—as Russians and Belarusians are doing right now.
The opposition and civil sector accuse Tbilisi's authorities of implementing the Kremlin's agenda in Georgia and point out that the government is deliberately weakening the country's sovereignty.
Georgia is still in a state of war with Russia—20 percent of its territory is occupied by Russian troops. In such conditions, it is quite strange and illogical that Tbilisi remains so indifferent to the risks posed by the so-called Russian "refugees."
According to a public opinion poll, 90 percent of the Georgian population believes that Russia poses the greatest political threat to their country. At the same time, 83 percent of Georgians are convinced that the greatest danger to the economy also comes from Moscow. Almost 80 percent believe that Russian aggression in Georgia never stopped continues today, while 19 percent believe that the aggression has ended but is likely to resume soon (International Republican Institute, March 8). On the contrary, thanks to the current Georgian authorities' pro-Russian policies, the Kremlin removed Georgia from the list of countries considered hostile to Russia (Bbc.com/Russian, July 22). Tbilisi had occupied quite a high place on this list for many years, along with the United States and Baltic countries.
Nevertheless, Tbilisi perceives the influx of Russians as source of economic stability. The transfer of money from Russia, as well as the costs of Russian visitors to Georgia, has already strengthened the national currency. However, the Georgian government does not pay attention to the potential risks from Russia's economic expansion.
Even those countries that have a visa regime with Russia have begun to tighten control, for example, the Baltic states. Moreover, the Estonian minister of foreign affairs called on EU countries, within the framework of EU sanctions, to stop issuing Schengen visas for Russian citizens altogether (TASS, August 11).
In the current climate, even the introduction of a visa regime with Russia by Georgia will already be an insufficient response to the existing security risks, but Tbilisi is either deliberately implementing a targeted pro-Russian policy—the infiltration of Russians—or the government is afraid to introduce a visa regime so as not to irritate the Kremlin. On August 5, the leader of the ruling party said that the abolition of the visa-free regime with Russia would mean dragging Georgia into war (Facebook.com/KobakhidzeOfficial, August 5).
Georgian authorities have been silent on legislation in Russia that gives Moscow the right to use its armed forces abroad to protect its own citizens' rights, the number of which is steadily growing in Georgia. Tbilisi has already faced "the dilemma of banks and tanks"—Moscow's invasion strategy in 2008. Now, the Kremlin is trying to do something similar, this time with the help of banks and economic expansion—thanks to Georgia's Russian "tourists."