Belarusian Realities: Between Dreams and Policy Objectives
Publication: Eurasia Daily Monitor Volume: 18 Issue: 18
By: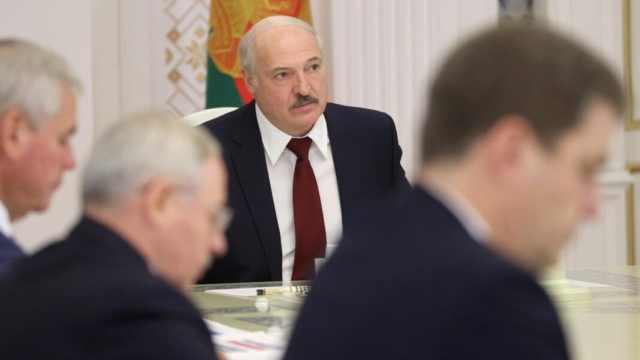 Back on August 17, 2020, shocked by a week of powerful post-election protests, Belarusian President Alyaksandr Lukashenka openly conceded he had overstayed his welcome at the helm of power and promised the workers of the rebellious Wheel Tractor Factory a new national constitution and early elections. "Listen, I have been in power for a quarter of a century. How long can I last? Obviously, I will leave one day. Maybe in a year or two—it depends on you." This phrase, "depends on you," was on target, observes Alexander Klaskovsky, a veteran opposition journalist. "The workers did not dare to go on a national strike in August, let alone in October, when Svetlana Tikhanovskaya [the former presidential hopeful] called for it. Today, the counter-revolution is triumphant, and now even legislatively the screws will be tightened so one will be able to invoke a strike." Klaskovsky also admits Lukashenka looks much more confident than a couple of months ago (Naviny, January 29). Thus, constitutional changes and the long-serving Belarusian president's retirement have been, at best, moved to the back burner.
To seemingly reinforce the above point, Lukashenka delivered two series of tough pronouncements recently. On January 26, during his meeting with newly appointed government and state-owned enterprise officials, the Belarusian leader conspicuously devoted most attention to keeping protest initiatives in check. This was the case even when he introduced the new director of the Grodno-Azot (Nitrogen) Factory, which produces ammonia, liquid nitrogen, cyclohexanone, etc. In August, this production unit was closer than many others to a strike, with a working strike committee issuing political demands (Naviny, January 26). Two days later, during a January 28 meeting devoted to new legislative initiatives, Lukashenka offered a number of highly suggestive pronouncements. First, he lashed out at "fugitive members of the opposition" (i.e., those exiled and forced to leave) who, in his words, spit on the upcoming All-Belarusian People's Assembly (ABPA). Yet at the same time, he pledged that those opposition-minded individuals willing to conduct a dialogue for the country's sake would be invited to the ABPA. Second, Lukashenka asserted that more and more people were expressing their support for him. "And they reproach me: 'Tell the president he should stop saying he does not want to be president anymore.' I heard this and I keep mum" (Belta, January 28). He further observed that although "half a million people" did not vote for him, "six million" did. That was a demonstrably false statement: even according to the official electoral count, which many reject, only 4,661,075 tallied votes were cast for Lukashenka (Tut.by, January 28).
Perhaps the most important series of pronouncements made during and immediately after this meeting pertained to the upcoming package of new regulations prepared by the Office of the General Prosecutor. Expected among those is the regulation outlawing "extremist" symbols, including the white-red-white flag. A group of 140 people petitioned the national prosecutor's office to outlaw this flag because it was a symbol used by Belarusian Nazi collaborators during World War II. On the face of it, this argument is weak and motivated by its proponents' confirmation bias. After all, the flag in question was first drawn up in 1917 and became the banner of the short-lived Belarusian People's Republic in 1918—that is, well before the rise of Nazi Germany or the Second World War. Moreover, the white-red-white flag has become a symbol of the current protest movement with no relation to any war-time experiences. A petition in defense of this flag is also being prepared and could garner thousands of signatures. In the opinion of Belarusian analyst Artyom Shraibman, should this symbol be outlawed, it will become the coveted forbidden fruit, even as the red-green official state flag becomes politically linked to the current regime. Therefore, the authorities' decision to ban it is likely to ensure that the red-white-red banner will eventually once again become the official flag of Belarus (as it was in 1992–1995) once the Lukashenka regime passes from the scene, Shraibman muses (T.me/s/shraibman, January 29).
Incidentally, similarly confirmation-bias-informed suggestions have also been advanced by some prominent Western foreign advisors committed to ostensibly peaceful regime change in Belarus. One such recent proposal reads, "The United States should refer to Lukashenka as the former president of Belarus. U.S. Ambassador to Belarus Julie Fisher should take up her post in Minsk and visit Vilnius as appropriate but not present her credentials to Lukashenka" (National Interest, January 27). Should this suggestion be implemented, the US ambassador would be confined to the embassy's mansion at the corner of Starovilenskaya and Kommunisticheskaya (Communist) streets. She would perhaps also be able to visit the nearby Opera House. But any possibility on her part to affect the situation in Belarus, admittedly not overly significant anyway, would surely be reduced to zero. Arguably, that would not be a creative response to Belarusian Foreign Minister Vladimir Makei's pledge: "we are interested in the relationships with the USA and in the arrival of the American ambassador" (Tut.by, January 28).
Indeed, there are many signs Lukashenka is not ready to leave his post yet—beyond just his tough and confident tone. One of those is Russia's reiteration that Lukashenka is a duly elected president (Tut.by, January 27). The other is Lukashenka's recent talk with Chinese President Xi Jinping, who promised full support (Belta, January 28). Even the Russian opposition-minded author Victor Shenderovich claimed in his recent interview to Radio Liberty that "Lukashenka has six more years in reserve" (Svaboda.org, January 27). Last but not least, Maxim Bogretsov, a member of the Coordination Council (headed by Svetlana Tikhanovskaya), distinguished by high name recognition and by still residing in Minsk and not behind bars, has applied to participate in Lukashenka's ABPA (Tut.by, January 26). As the first vice president of EPAM, a US hi-technology company with a campus in Minsk, Bogretsov is a no-nonsense figure.
In summary, it is not advisable to confuse dreams and policy objectives. Admittedly, the Belarusian protest movement is alive. But its members and supporters will need to brace for the battle ahead and avoid actions or policies that end up being counterproductive.