Belarus's Geopolitical Uncertainties and Its 'Civilizational Choice'
Publication: Eurasia Daily Monitor Volume: 19 Issue: 92
By: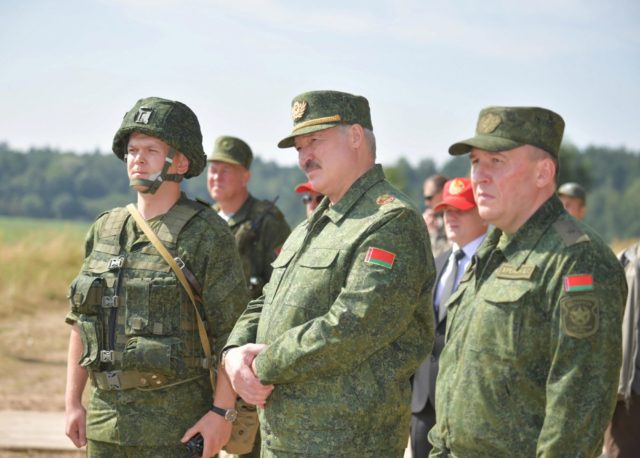 Uncertainty hangs over Belarus's geopolitical situation. Will the Belarusian army eventually join Russia's war effort? Will those issuing Western sanctions distinguish between Russia and Belarus? Are there any prospects whatsoever in mending fences with the West? Thus far, no definitive responses to these questions can be found.
Notably, during a June 13 meeting with the chair of the Belarusian KGB, President Alyaksandr Lukashenka repeatedly uttered the word "war," and the presidential administration's official Telegram Channel titled the message about this meeting "What if, God forbid, war…" (T.me/pul_, June 13). In light of this, Yury Drakakhrust of Radio Liberty was asked whether or not the premonition of Belarus entering the war is realistic. According to Drakakhrust, the likelihood of this happening has, indeed, increased. "I am afraid something is brewing. I am not saying it is guaranteed to happen… But we are exposed to certain facts: a string of military exercises is going on, one after another, while combat operations are being practiced. In addition, a new operational command, the Southern Command, was created. The Ukrainians report that some Belarusian military units have been put on alert." He continued, "Sure, the purpose of all of this may be an attempt to disorientate the Ukrainians, not fight on their own. But the same measures would be taken for the preparation for actual fighting. Just a month ago, it seemed that the Belarusian army would not fight; but today it feels like the first days of the war—when it, indeed, seemed Belarus was about to enter into hostilities" (Express.by, June 13).
On the sanctions front, on June 16, the United States Department of Commerce expanded export control measures against the Belarusian airline Belavia for using Boeing planes in violation of restrictions imposed after Russia's invasion of Ukraine. Companies around the world are now banned from servicing, repairing and otherwise using US-made parts to maintain Belavia's fleet (Svaboda.org, June 16). Needless to say, sanctions on Belarus's only domestic carrier exacerbate the difficulties of ordinary Belarusians to visit destinations abroad, most importantly in the West.
Some new information surfaced regarding sanctions on Belarusian potash exports. Thus, the head of the Minsk Dialogue Council, Yauheni Preiherman, had to revise his prediction that Belarus would be chosen as the transit country to transport wheat stuck in Ukrainian Black Sea ports in exchange for allowing Belarus to export potash (see EDM, June 8). However, he doubled down on his certainty that, one way or another, sanctions on Belarusian potash would be lifted anyway before long. Likewise, without Belarus's potash, which accounts for about 20 percent of the global supply, yields in crop farming are certain to decline and so will global food security (Belmarket, June 15). Yet it turns out that the major message Svetlana Tikhanovskaya, the leader of Belarus's opposition in-exile, conveyed to her high-level interlocutors in Latvia was to prevent Belarusian transit of the Ukrainian crop yields. "Now one of the main issues is the transit of grain, with which Lukashenka is blackmailing the European Union. And our task is to prevent this from happening. This would devalue everything that was done by the allied countries. In fact, it would be a victory for the regime," Tikhanovskaya declared in Riga (Zerkalo, June 12).
Not everyone among those adamantly resisting Russia's war is on the same page with Tikhanovskaya regarding sanctions. In the Belarusian opposition, the most devout opponents of sanctions on Belarus are the founder of the Belarusian Popular Front, Zianon Pazniak, and former Belarusian chargé d'affaires in Switzerland Pavel Matsukevich. Both have time and again asserted that sanctions make the Belarusian union with Russia even more solid than it has been so far. Incidentally, Modest Kolerov, the editor of Russia's nationalistic news portal Regnum, recently claimed that the Union State with Belarus is Russia's only Eurasian connection that is "alive," as both the Eurasian Economic Union (EEU) and the Collective Security Treaty Organization (CSTO) were "killed" by Kazakhstan (Regnum, June 15). Ivan Krastev, a founding board member of the European Council on Foreign Relations, in an interview with the aforementioned Yuri Drakakhrust, posited that "the sanctions policy toward Belarus cannot be the same as toward Russia" (Svoboda.org, June 13). In turn, Artyom Shraibman, a non-resident scholar with the Carnegie Endowment for International Peace, suggested that the removal of sanctions could well be considered in exchange for the release of all 1,000 political prisoners held by the Belarusian authorities. He also warned against the now-widespread skepticism over Belarusian protest rallies of 2020. "It is important to understand that there were many alternative scenarios whereby things could have gone much worse than they have… Who knows, maybe we really were within a millimeter of a Russian occupation. And perhaps within a millimeter from a civil war" (Intex-press, June 13).
However indirectly, the notion that a civil war was a plausible albeit barely dodged scenario recognizes the reality of the "other side" and, therefore, of Belarus as a "cleft" country—a notion put forward by the late scholar Samuel Huntington, meaning a state that contains within it multiple populations identifying with separate "civilizations." And if so, some recent arguments that Ukraine has made a "civilizational choice that Belarus has yet to make" (Svaboda.org, June 17) appear far-fetched. If "a civilization is a culture writ large" (Samuel Huntington, The Clash of Civilizations, 1996, p. 41), then a geopolitical choice that Ukraine has indeed made cannot possibly have cultural implications, especially in the short-run, and the same holds true for Belarus. This is something that foreign policymakers often overlook, leading to unattainable goals and unrealistic expectations.