Polish-Ukrainian Relations Intensify as a Result of Russian Aggression (Part One)
Publication: Eurasia Daily Monitor Volume: 19 Issue: 92
By: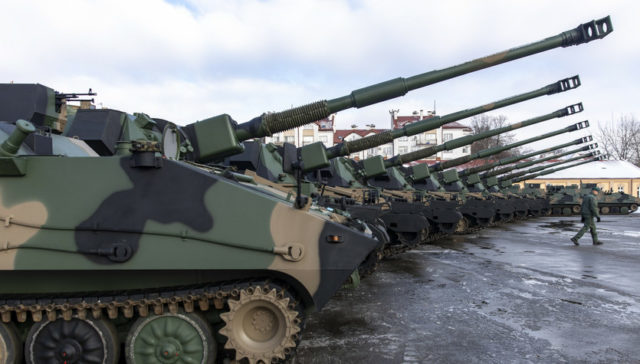 Poland proved itself to be Ukraine's crucial hinterland from the outset of Russia's large-scale re-invasion, launched on February 24. When hostilities intensified, Poland started to take in thousands and eventually millions of Ukrainian refugees and serves as a transport hub for Western military deliveries to Ukraine's defense forces (see EDM, February 25). As the war dragged on, Polish-Ukrainian bilateral relations only strengthened.
Poland has notably risen to be the second-largest source of military aid to Ukraine (Ifw-kiel.de, accessed June 21). According to Prime Minister Mateusz Morawiecki, as of late April, Poland had delivered around $1.6 billion worth of weaponry to its besieged eastern neighbor (Twitter.com/PiotrMuller, April 23). And Polish National Security Bureau head Paweł Soloch officially confirmed that Warsaw equipped the Ukrainian Armed forces with a modernized version of the Soviet-era T-72 tank from its inventory (Rzeczpospolita, April 29). Unofficially, the delivery included more than 200 of these machines. The deal to buy 250 brand-new Abrams battle tanks from the United States, which Warsaw signed in early April, likely had an influence on the decision to transfer the aging T-72s to Ukraine.
Total Polish deliveries to Kyiv consist of various types of weaponry, including domestically manufactured, relatively low-cost equipment like Piorun man-portable air-defense systems (MANPADS), Grot rifles, Fly Eye or Warmate unmanned aerial vehicles (UAV), as well as more expensive machinery, such as transporters, various types of fire systems, and the above-mentioned T-72 tanks (Defence24.com, May 24). Most recently, Poland donated to Ukraine 18 AHS Krab self-propelled artillery gun-howitzers, which already entered battle on June 9, Ukraine's Defense Minister Oleksii Reznikov informed on his Facebook page (Facebook.com/reznikovoleksii, June 9). That transfer was followed by the largest Polish arms export contract in 30 years (worth around 3 billion złoty or $680 million), when Ukraine decided to purchase another 50 AHS Krabs (PAP.pl, June 7). To fill the gap and accelerate new deliveries, Poland has had to appeal to South Korea, since the self-propelled Polish howitzer is built on top of a Korean K9 Thunder chassis. During his recent visit to Seoul, Poland's Defense Minister Mariusz Błaszczak revealed that Warsaw is urgently negotiating import contracts on both South Korean tanks and fighter jets (Gov.pl, June 1).
Yet Polish-Ukrainian wartime cooperation has not been confined solely to the military sphere. In late May, during Polish President Andrzej Duda's visit to Kyiv, his Ukrainian counterpart, Volodymyr Zelenskyy, announced he would submit a draft law on enhanced opportunities for Polish citizens so they receive the same rights that Ukraine's citizens enjoy in Poland (including residence and work permits, social care and access to the local education system) (Cg.gov.ua, May 22). On June 1, the two countries held a wide-ranging inter-governmental meeting in Kyiv, which resulted in seven declarative documents on priority sectors of bilateral cooperation that ought to be developed, including energy, natural resource extraction, border security, regional policy, trade and some symbolic issues. The signed declarations are seen as a prelude to a future Polish-Ukrainian treaty on cooperation (Gov.pl, June 1).
Since Ukraine is still highly vulnerable to energy blackmail—even more so after Russia's capture of the Zaporizhzhia nuclear power plant—the two governments want to boost cross-border natural gas and other energy flows. Ukraine's Prime Minister Denys Smyhal confirmed that both states agreed to rebuild the energy transmission line that connected the Khmelnytskyi nuclear power plant with the Polish city of Rzeszów so that Ukraine can also export electricity to Poland (Ukrinform, June 6). Additionally, Poland has for years contributed to the institutional development and building up of the expert know-how of Ukrainian regions and cities receiving external funding, including from the European Union, in order to improve their levels of entrepreneurship and investment (Gov.pl, accessed June 21). The Polish minister for development funds and regional policy, Grzegorz Puda, explained that Poland aspires to become a "know-how hub" for Ukraine when it comes time to implement the expected "post-war" financial assistance from the EU (Twitter.com/GrzegorzPuda, June 1). Poland, as one of the greatest beneficiaries of EU funding with essentially no history of embezzlement, can serve as a well-experienced and reliable partner in this matter. One day after the inter-governmental consultations, Michał Dworczyk, the head of the Polish Prime Minister's Office, announced that Polish companies would be engaged in the rebuilding of the Kharkiv region, once the situation in Ukraine stabilizes (Polska Times, June 2).
Furthermore, the two countries finally seem ready to move on from their shared historical and symbolic disputes, which for a long time constituted the main bone of contention in bilateral relations. This dramatic and steady improvement was exemplified by the unprecedented enthusiasm expressed by Polish citizens toward their embattled Ukrainian neighbors. But it can also be seen in President's Zelenskyy's decision to award the southeastern Polish city of Rzeszów the special honorary title of "Savior City" for its help to the Ukrainian nation, and the fact that the long-covered-up monuments of Lions at the Polish cemetery in Lviv have been unveiled. This trend significantly thwarts Russia's provocative attempts to raise the specter of Polish-Ukrainian historical disputes as a means to thrust a wedge between them (Ies.lublin.pl, March 2020).
The large-scale support Poland provides Ukraine, while unprecedented, is still insufficient for Ukraine to effectively contain the Russian offensive. Polish military equipment that can be transferred to Ukraine without causing a large decrease in the capabilities of this crucial North Atlantic Treaty Organization (NATO) frontline state has its limits. Thus, an urgent need exists to quickly replace all of its and other NATO allies' already-transferred equipment. Intensified economic cooperation between the two Central Eastern European countries is no less important. Polish-Ukrainian capacities, when combined, have much to offer when it comes to both wartime efforts and post-war economic development. This will require, however, further difficult undertakings, including expanding trans-border infrastructure. In particular, the "Polish harbor," combined with Ukrainian military production know-how and other domestic assets, could help support stable future deliveries to Ukraine. Such an improvement in Polish-Ukrainian relations is viewed positively by a large part of Polish commentators, even though some of them remain skeptical (Facebook.com/witold.jurasz.16, June 15). Still, those most enthusiastic have proposed that the continuation of the rapprochement be modelled on post–World War II German-French cooperation, while others have even envisioned a future Polish-Ukrainian federation (wPolityce.pl, June 6)—all of these ideas are now being widely debated in Poland.