Belarus's Lukashenka as a Mediator?
Publication: Eurasia Daily Monitor Volume: 20 Issue: 112
By: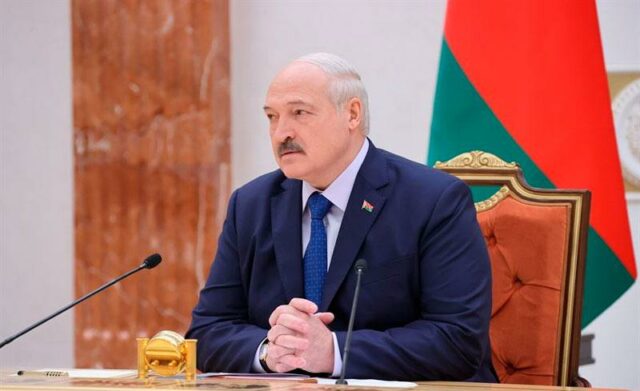 On July 6, Belarusian President Alyaksandr Lukashenka held a three and a half hour–long press conference with domestic and international journalists hailing from Russia, the United States, the United Kingdom, France, Saudi Arabia and Qatar (President.gov.by, July 6). Apparently, the most anticipated themes were the current situation on the Ukrainian frontlines, potential prospects for conflict resolution, as well as circumstances and implications of possible accommodations of Russia's Wagner Group in Belarus.
On the former, Lukashenka expressed the view that Ukrainian President Volodymyr Zelenskyy has realized he does not stand a chance of winning the war; thus, he is shifting the blame to those who allegedly pushed him to fight Russia. According to the Belarusian president, Zelenskyy's ultimatum was that he would not attend the North Atlantic Treaty Organization (NATO) summit on July 11 and 12 in Vilnius unless Ukraine's accession to NATO was guaranteed (President.gov.by, July 6). Lukashenka expressed the view that, should Ukraine decide to demonstrate its strength on the eve of July 11 by sending its best units into battle, the remaining Ukrainian combat capability will be sacrificed. As a result, when Russia subsequently advances in the south, along the Black Sea coast, Ukraine will not be able to defend itself. Following that, Russia will no longer be interested in negotiations, and Ukraine should not miss this window of opportunity. According to Lukashenka, Europe is already ripe for negotiations; Zelenskyy is intransigent and vows to fight until all of Ukraine is liberated, whereas the US stance is intermediary—that is, they will be ready for negotiations after Ukraine's counteroffensive. In this vein, Lukashenka repeated his view that Europeans lose the most from the ongoing war, with the only country benefiting from it being the US.
On Wagner, Lukashenka did not share any certainty regarding its fate and activity in Belarus. Earlier, Yury Drakakhrust of the Belarusian service of Radio Free Europe/Radio Liberty noted that, whereas Putin labeled Yevgeny Prigozhin's mutiny as "treason," Lukashenka appeared to be referring to the domestic "turmoil," never emphasizing the motif of betrayal (Svoboda, July 5). And Lukashenka's press conference has only magnified this disparity. "As for 'traitors' and 'turncoats,' it was President Putin's first reaction on Saturday [June 24]," and "I think that with the passage of time his assessments may not have changed, but they have calmed down quite a bit," insinuated Lukashenka.
He also praised Wagner as the most combat-ready unit in Russia: "God grant that the whole army fought like this!" The Belarusian leader acknowledged that some opinion-makers in Russia feel jealous regarding his role in deflecting Russia's crisis, and, as a result, they are trying to drive a wedge between him and Putin. Indeed, according to the Levada Center's national survey that was conducted from June 28 to July 2, the rating of trust in Lukashenka in Russia is now second only to Putin and slightly exceeds the trust vested in Russian Foreign Minister Sergei Lavrov. Over 70 percent of Russians now trust Lukashenka, with Putin enjoying 76 percent in this regard and Lavrov 68 percent (Levada.ru, June 4). Such an explosive growth of trust in Lukashenka in Russia may indeed concern some opinion-makers. Indeed, the Levada Center has been designated as a "foreign agent" in Russia, which may actually add to its credibility.
According to Lukashenka, nothing has been decided on Prigozhin and Wagner's whereabouts in Belarus. Prigozhin is currently in Russia, while his mercenaries were offered accommodation in certain abandoned military campgrounds in Belarus, but they reportedly declined the offer. Should the Wagnerites indeed relocate to Belarus, their stay and activity will be governed by certain rules, assured Lukashenka, who also repeatedly mentioned that he does not consider it a problem. He dismissed the possibility that Wagner would turn their guns against Belarusian authorities and concluded that "you have got to work with the people" (President.gov.by, July 6).
As for the storage of Russian nuclear weapons in Belarus, a significant portion of these missiles have already been airlifted to Belarusian territory. The remaining weaponry assigned to Belarus will reportedly arrive before the end of 2023.
Lukashenka shared his view that the end of the unipolar world headed by the US is preordained, and the pillars of the ensuing multipolarity will be the US, European Union, China and India. He was unsure whether the post-Soviet space would become one of those pillars but expressed his preference for such an outcome.
Lukashenka denied that he yielded part of Belarusian sovereignty to Russia. Yet, to the question of whether he will take part in the United Nations session in September 2023, the Belarusian president responded that, while he has not yet deleted this session from his schedule, he will consult the "elder brother" (i.e., Putin) in due course. "If he would not go, what would I do there without him!," asserted Lukashenka (President.gov.by, July 6).
Whereas most analysts of the Belarusian opposition are fixated on downplaying Lukashenka's role in bringing Prigozhin's mutiny to an end and on portraying Lukashenka as a puppet without agency, Western journalists keep on soliciting his interviews. Divergent opinions exist on the opposition's side as well. For example, Pavel Matsukevich, former Belarusian chargé d'affaires in Switzerland, believes Lukashenka's mediation of pending talks between Ukraine and Russia is possible: "though Lukashenka sides with Moscow, he is not interested in expanding the conflict and in driving Belarus into it, and that matches Ukrainian interests." Matsukevich acknowledges "that this would strengthen the position of Lukashenka, who has already been written off so many times with the stamp of a Kremlin puppet" but still thinks that his mediation would be in the interest of Belarus (T.me/pulslenina, June 30). Finally, Matsukevich refers to the reported (by the German ARD television channel) Copenhagen-based June 24 meeting between Western diplomats and those from the BRICS (loose grouping of Brazil, Russia, India, China and South Africa) countries other than Russia, devoted to finding common ground on Ukraine.
To Matsukevich, this event signifies that Russian-Ukrainian negotiations may not be far away, something that Lukashenka, too, has hinted at. Apparently, reported secret talks that former US officials have held with prominent Russians also lay the groundwork for potential negotiations to end the war (Forum Daily, July 6). If Lukashenka proves helpful as a mediator yet again, it will not mean that the proverbial bad guys are becoming good; rather, it will reflect the urge to find lasting solutions.