Belarus's Situation: Is Fear an Explanatory Variable?
Publication: Eurasia Daily Monitor Volume: 19 Issue: 152
By: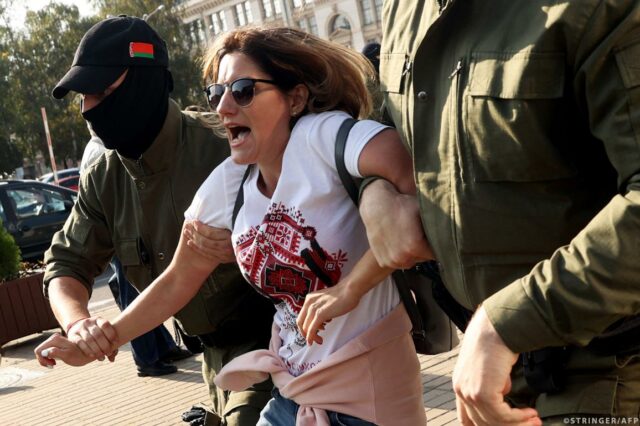 It is exceedingly difficult to cobble together a rational formula to explain the current state of affairs in Belarus. Nevertheless, the idea of fear, and its underpinnings, may serve as a key indicator here—that is, fear of further involvement in the war against Ukraine, which is increasingly being perceived as a wider struggle between Russia and the West.
In his interview with Russian political commentator Fyodor Lukyanov, the former director of Moscow's Carnegie Center, Dmitry Trenin, now a loyalist of Russian President Vladimir Putin, suggested that Moscow's red lines have been neglected by US policymakers who do not take the nuclear threat emanating from Russia seriously. Furthermore, the war in Ukraine will end only if the United States itself (not Europe or Ukraine) begins to seriously consider the potential of being directly targeted and only if the widespread specter of fear during the Cold War returns (Globalaffairs.ru, September 26).
But this fear, which is allegedly missing in Washington, seems to be palpable in Minsk. One Belarusian media outlet, now active as a British Indian Ocean Territory domain (i.e., ".io"), recently reminded its readers that, in 2016, the US National Security Council held a war game simulating a Russian attack on the Baltic countries. The optimal response, according to that game, was a US retaliatory strike on Belarus (CityDog, September 30).
Fear has multiple expressions, both direct and indirect. One manifestation is using the utmost care in word and deed. Thus, according to Yury Drakakhrust of Radio Free Europe/Radio Liberty (RFE/RL), Belarusian President Alyaksandr Lukashenka visited Georgia's separatist pocket of Abkhazia on September 28, simply because, after visiting Putin in Sochi, Lukashenka had to showcase his loyalty but did not want to go as far as recognizing Russia's "referendums" in Ukraine (Svaboda, September 29). Yet even a trip to Abkhazia by the Belarusian leader is not tantamount to its recognition as an independent state. The official Belarusian news agency titled its account of the president's visit, "Lukashenka Visited the Historical Places of the Northeastern Coast of the Black Sea and Met With Aslan Bzhaniya" (Belta, September 28).
On October 7, Andrei Vardamatski, Belarus's most seasoned active sociologist, now in exile in Poland, shared the results of his September 2022 telephone survey. According to Vardamatski, in May, 50.3 percent of Belarusian respondents sympathized with Ukraine, whereas in September just 33.9 percent did. Also in May, 21.1 percent of respondents sympathized with Russia, whereas in September, 32 percent did. "This data bleakly speak for itself," concluded the researcher (Svaboda, October 7).
Predictably, opposition-minded Belarusians cast doubt on Vardamatski's findings, as under current conditions in Belarus, a perfectly representative sample is difficult to achieve. In all fairness, though, opposition-minded Belarusians have always doubted the outcome of polling that was not to their liking. The Belarusian service of RFE/RL, Svaboda, interviewed a random associate of an information technology company in Minsk, named Sergei, who expressed disbelief in Vardamatski's survey results. "People around me were against the war and remain against it," said Sergei. "Except for a relative who watches Russia24 … we do not quarrel with him because he is not a very intelligent person. In general, I would say that those who used to have an opinion stick to it. Those who did not little by little became afraid of Russia. After all, the 'friendship of fraternal nations' began to include a certain tax burden."
But is fear of the known more paralyzing than that of the unknown? Perhaps. Thus, according to Ryhor Astapenia, yet another sociologist conducting surveys on behalf of Chatham House, 40 percent of Belarusian citizens have relatives living in Russia. According to the opinions of Astapenia's September 2022 online survey respondents, the influence of Russian culture in Belarus far outweighs the influence of Western culture. Among the respondents, 38 percent would like to live and work in the West and only 33 percent would like to do the same in Russia. However, the choice in favor of the West is conditioned by a high assessment of prosperity and democracy, whereas the choice in favor of Russia is conditioned by cultural, mental and emotional closeness to it (Svaboda, October 7). This result matches what Oleg Manaev, a sociologist with 25 years of polling experience in Belarus, repeatedly wrote about.
Perhaps this can also explain why during the Russian-Belarusian forum in Svetlogorsk, Kaliningrad Oblast, conducted on October 4 and 5, statements from Belarusian officials were qualified as perfectly matching the official Russian position: that the current war in Ukraine is being actively waged against Western neocolonialism (Aif.ru, September 28). On that basis, more active participation by Belarus is expected in the war, though still stopping short of the Belarusian army's direct participation (T.me/ru_global, October 6).
Facilitating a still higher level of Belarusian-Russian convergence is Moscow's decision to issue yet another $1.5 billion loan to Minsk, this time for the sake of import substitution (Svaboda, October 6).
While fear has multiple dimensions, it is altogether absent in a number of lacunas. For example, relations between Belarus and the West are virtually nonexistent, thus there is no fear of Western reactions to harsh prison sentences for political prisoners. For example, on October 6, a group of managers from former non-state news agency BelaPAN were sentenced to prison terms ranging from four to 14 years. The longest term was meted out to Andrei Alexandrov, former deputy director of the agency, who is accused of creating an extremist group, participating in the 2020 postelection rallies and tax evasion (Svaboda, October 6).
The absence of relations with the West also explains Belarus's response to the decision of the Nobel Prize Committee to award a 2022 Nobel Peace Prize to Alex Bialiatski, a long-time leader of Viasna, a human rights watchdog based in Minsk. Bialiatski has been held without formal charges since his detention more than a year ago. Much like the BelaPAN associates, he is accused of organizing extremist actions. "Minsk has long lost any interest in the decisions of the Nobel Prize Committee," stated Anatoly Glaz, press representative for the Belarusian Ministry of Foreign Affairs. He emphasized, "In recent years … their decisions have been so politicized that Alfred Nobel has been turning over in his grave" (Mlyn.by, October 7).
Apparently, chances are extremely slim for the optimal dosage of fear in Belarus to normalize Minsk's position between Russia and the West soon.