Will Georgians Decide in Referendum to Fight Russia?
Publication: Eurasia Daily Monitor Volume: 19 Issue: 152
By: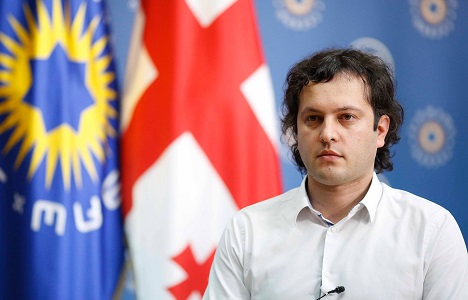 During his September 13 briefing, ruling Georgian Dream (GD) party chairman Irakli Kobakhidze noted that Georgian authorities had presented the idea of ​​holding a plebiscite wherein the Georgian people will be asked if they want to open a "second front" against Russia in Georgia.
Kobakhidze pointed out, "We can hold a plebiscite and ask people whether they want to open a second front in Georgia or not. Do they agree with the top leadership of Ukraine, or with our position not to open a second front," He explained that the referendum will be valid under conditions where "Ukrainian government is trying to drag Georgia into the war. High-ranking Kyiv officials cannot hide their desire to open a second front in Georgia so that it becomes involved in the war" (Tabula.ge, September 13).
The pretext for this extraordinary initiative was the statement of Fyodor Venislavsky, member of the Verkhovna Rada (Ukrainian parliament), who, on September 12, advised Georgia to take advantage of the successful offensive carried out by the Ukrainian Armed Forces in Kharkiv region and "take concrete steps to liberate Abkhazia and South Ossetia" (Rustavi2, September 12).
In March 2022, the secretary of the Ukrainian National Security and Defense Council, Oleksiy Danilov, remarked that Georgia would "greatly help" Ukraine by opening military fronts against Russia to forcefully regain control over the occupied breakaway regions of Abkhazia and Tskhinvali (South Ossetia) (Netgazeti, March 27).
The GD leaders interpreted these statement as a ruse by Kyiv and Mikheil Saakashvili's United National Movement (UNM) opposition party to "draw Georgia into a war against Russia." The ruling party's "logic" was based on an overly "complex structure": Saakashvili, who is in a Georgian prison after his arrest on October 1, 2021, remains a Ukrainian politician—he formally chairs the executive committee of the Ukrainian National Council of Reforms. Furthermore, other UNM leaders are also quite friendly with influential politicians, including Ukrainian President Volodymyr Zelenskyy. Referring to these "dangerous liaisons," Kobakhidze warned several times: "Those who are in opposition to the Georgian government, here in Georgia, have power in Kyiv" (Netgazeti, March 25).
But the majority of Georgian politicians and experts consider the GD's idea of a "referendum on war with Russia" to be a completely inadequate response to statements by Ukrainian politicians—especially against the backdrop (ამ ფონზე) of "conspiracy theories" regarding secret contacts between the Georgian opposition and Zelenskyy's Servant of the People party to open a "second front" in Georgia (Kommersant, September 14).
In a September 15 interview with this author, David Avalishvili, an expert with the independent analytical outlet Nation.ge, noted that Kobakhidze's statement "is not even a political stunt, but an unacceptable speculation of an existentially dangerous Russian aggression in the circumstances where Russia occupies 20 percent of Georgian territory."
Avalishvili underlined that the Georgian people "are still in shock from the many tragedies of the last quarter-century of its history, especially the Russian aggression of 2008," and "talking in these conditions about a 'military referendum' means putting the entire nation in front of a terrible dilemma."
Opposition politicians unanimously condemned Kobakhidze's statements. Georgian parliamentarian Teona Akubardia claimed that the "referendum idea" is a continuation of GD disinformation and anti-West propaganda being openly waged. Akubardia asserted, "I do not expect that it [the referendum] will be held, but it is empowering the current trend and overall strengthens Russian interests against Georgia. Why? Because it increases the fear of Russians in Georgia society who went through three wars with Russia and targets the people's positive attitude toward Georgia's pro-Western foreign policy interests."
She further argued, "The overall goal of this is to maintain power even it contradicts Georgia's declared national interests" (Author's interview, September 15).
Furthermore, not everyone in Tbilisi is ready to take Kobakhidze's statement seriously. Tornike Sharashenidze, head of the international relations master's program at the Georgian Institute of Public Affairs, emphasized in a September 14 interview with this author, that the "referendum initiative" is purely "technology for maintaining power" and a "calculation on the absolute unwillingness of the majority of Georgians to face a new war."
Faced with a violent reaction, Kobakhidze himself characterized his statements as "only sarcasm" (Netgazeti, September 14). But to fully understand the complexity of this situation, we must keep in mind the latest negative trend in relations between Georgia and the United States.
Pro-government deputies of the Georgian Parliament have accused not only Ukrainian politicians but also the US ambassador to Georgia, Kelly C. Degnan, and the European Union delegation in Tbilisi of seeking to drag Georgia into the war against Russia. According to the Georgian deputies, their logic is simple: Since Ambassador Degnan often communicates with Georgian opposition leaders, who, in turn, are friends with the Ukrainian authorities, this means that the US also wants Georgia to be drawn into the war against Russia (Radio Tavisupleba, August 17).
Ambassador Degnan responded to these accusations quite harshly: "In recent weeks, I have received questions from senior Washington officials questioning the motives of those who continue to repeat conspiracy theories and lies based on Russian disinformation" (Interpressnews, September 15).
The ambassador added that confusion is growing considerably among senior Washington officials as to why the Georgian government is not distancing itself from this more sharply. "If the ruling party and the government do not agree with the above-mentioned, obviously false accusations against Georgia's strategic partner, the United States, then there is an expectation that they would sharply and clearly distance from it," Ambassador Degnan stressed in an interview with pro-government Imedi TV (Jam-news.net, September 17).
The senior diplomat continued, "It is really appreciated that the [Georgian] prime minister expressed his position about this about a week ago." (That the head of the Georgian government does not support anti-American conspiracy theories.) "This positively indicated, that, at least at the highest level, there is an awareness of how harmful pro-Russian disinformation is. Repetition of such conspiracy theories only sows confusion, deepens polarization and raises questions among Georgians and Americans about the motive behind the current attacks," the ambassador concluded. Indeed, the intensity of Ambassador Degnan's statement is relatively unparalleled in the 30 years of US-Georgian relations and highlights the importance of repairing relations between Tbilisi and Washington.