Belarus's Sovereignty and Political Opposition Risk Losing Relevance
Publication: Eurasia Daily Monitor Volume: 19 Issue: 118
By: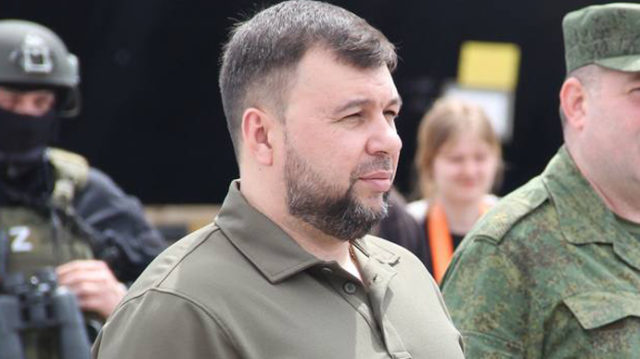 On July 27, Denis Pushilin, head of the self-proclaimed Donetsk "people's republic," paid a visit to the city of Brest, Belarus. He laid a wreath at the eternal flame in front of the Brest Fortress commemorating its defenders' feats at the start of the Nazi German invasion of the Soviet Union in 1941. "Today it is time to liberate Russian cities founded by Russian people: Kyiv, Chernihiv, Poltava, Odesa, Dnepr, Kharkiv, Zaporizhia, and Lutsk," Pushilin declared during the ceremony. Interestingly, Belta, Belarus's official press agency, made no mention of Pushilin's visit. Perhaps more importantly, no national-level official accompanied Pushilin on his trip. Instead, he was accompanied by the Russian ambassador to Belarus, Boris Gryzlov, and United Russia party chair, Andrey Turchak. Yury Drakakhrust of Radio Free Europe/Radio Liberty believes that these circumstances constitute "yet another step in reducing and foiling Belarus's sovereignty" (Svaboda, July 27).
Maxim Samorukov, expert with the Carnegie Endowment for International Peace, shared an even more categorical opinion on the issue. Specifically, he observed that the Russian state apparatus generated a number of ideas on how best to tie Belarus to Russia after August 2020, the time of postelection protests in Minsk. These approaches ranged from the imposition of a parliamentary republic along with setting up a powerful pro-Russian party to eventually establishing a Russian military base that Belarusian President Alyaksandr Lukashenka has rejected since 2015.
The presented ideas, however, were not endorsed by Russian President Vladimir Putin. Instead, Putin tied Belarus to Russia more effectively by making it an accomplice of Moscow's aggression against Ukraine. "We see that this method works," argued Samorukov. "The West no longer perceives Belarusian authorities as independent subjects despite their efforts to show the opposite and accuses Belarus of aggression along with Russia. In a situation whereby no invitation comes from the West to Belarus to change its foreign policy vector, there are no opportunities for it to be changed by Belarusian forces only." When the interviewer observed that exiled opposition leaders cherish the hope of making a geopolitical choice favoring the West, Samorukov opined that raising the issue of geopolitical choices at this point does not make sense as it presumes that Belarusian authorities, and even more so, Belarusian society, can make things happen. The Carnegie analyst underscored, "I do not see such an opportunity now. Any drastic undertaking will cause a predictable reaction from Russia. … Therefore, if we talk about how not to repeat the fate of Ukraine, making sudden movements is not a good idea at all" (NewBelarus, July 29).
From this perspective, the internecine fight within the opposition, still the major theme of opposition-minded media outlets, not to mention appeals to create a national liberation military force, come across as surreal. Not only does this supply Belarusian state-run television with particulars to further discredit the opposition, but even the most popular analysts speaking on the opposition's behalf are not hiding their skepticism (YouTube, July 24).
Thus, Artyom Shraibman, a nonresident scholar of Carnegie, observed that, by focusing on squabbles with each other, the exiled opposition leaders severely undermine their audience and support within Belarus, as the true interests of ordinary Belarusians are far from those squabbles and rather focus on the flagging economy. Shraibman, who is now based in Warsaw, Poland, acknowledged that he would not travel to Vilnius, Lithuania, to participate in the opposition's "congress" on August 8–9, which has now been demoted to a "conference," reflecting sentiment that its decisions will hardly be meaningful.
Shraibman also made a point that the verbal attacks on Sviatlana Tikhanovskaya's right-hand adviser, Franak Viachorka, or "Dr. Evil" as he is portrayed by rival factions in the opposition, are couched in verbiage rather reminiscent of Lukashenka. Shraibman, however, evinces a modicum of ambiguity as to whether military groups such as the Kastus-Kalinowski regiment, fighting on the Ukrainian side, can form a core for the national liberation movement by crossing back over the border and initiating an armed struggle with the current Minsk regime. On the one hand, he observes that Belarusian society itself is not ready for such a turn of events and that Western partners of the Belarusian opposition are unlikely to render support either. On the other hand, the Carnegie scholar thinks that Tikhanovskaya's office cannot stop debating the issue because it corresponds to the aspirations of some opposition activists (YouTube, July 26).
Drakakhrust, however, issued a stern warning by likening this militancy to the October 1944 cross-border raid undertaken by 8,000 armed Spaniards who had been fighting the Nazis as members of La Résistance in France. The group then decided to return to their homeland and begin an assault on the Francisco Franco regime only to be thoroughly routed by the government's army in the Val d'Aran, a valley in northern Catalonia (Svaboda, July 28).
A curious viewpoint on the opposition's internecine fight was shared by Viacheslav Bobrovich, a philosophy professor at the Belarusian State University. Bobrovich believes that, back in 2020, a common impulse (i.e., disposing of Lukashenka) united Belarusian citizens with different outlooks, as well as those without any distinct political outlook at all. However, as time passed, it became clear that really only two "geopolitical and cultural vectors" are at play in Belarus, pro-Russian and pro-Western. Now that the opposition's political prospects are exceedingly murky, this duality has come to the forefront of public debate. In truth, this still would have happened even in the case of an opposition victory (Facebook.com/VBobrovich, July 27).
While such a perspective deserves attention, a long interview with Valery Tsepkalo, former head of Belarus's High-Tech Park and the former Belarusian ambassador to the United States, presents a much more mundane reason behind the opposition's squabbles: Tikhanovskaya's office appropriates funds that Western donors contribute to the opposition's fight against autocracy, and some activists feel they have not received their "fair share," or anything at all. Tsepkalo represents one such activist (Zerkalo.io, July 28).
Nevertheless, regardless of the true reason behind the settling of scores, the Belarusian opposition now stands at risk of becoming irrelevant—not a desirable outcome for a country whose statehood itself may be in jeopardy.