As Ukraine Focuses on Retaking Southern Territories, Moscow Raises Stakes
Publication: Eurasia Daily Monitor Volume: 19 Issue: 118
By: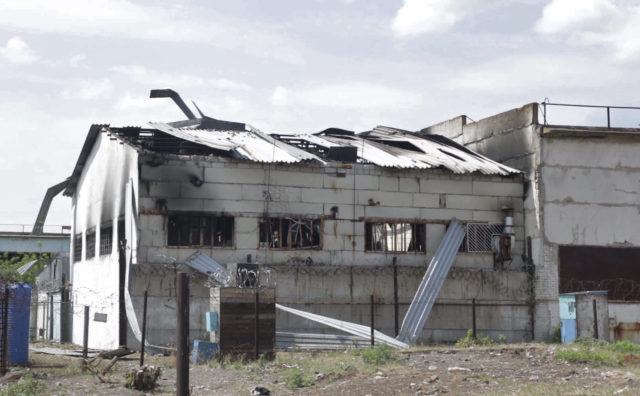 The war in Ukraine is gaining momentum as neither side is ready for reconciliation, as the conflict continues to escalate. On July 29, the Kremlin claimed that 53 Ukrainian prisoners of war (POWs), including those captured at the Azovstal steel plant in Mariupol, were killed and dozens were wounded by shelling from the Ukrainian side. The prison where the POWs were held is located in Olenivka village of Donetsk region, currently occupied by Russian military forces (Pravda.com.ua, July 29).
The General Staff of the Ukrainian Armed Forces (UAF) stated that the Armed Forces of the Russian Federation carried out a targeted artillery shelling of the penitentiary facility, where, among others, Ukrainian prisoners were being held. The General Staff added that, thanks to high-precision weapons received from partner countries, Ukrainian artillery is inflicting exceptionally accurate strikes only on Russian military targets (Ukrinform, July 29). Many officials and locals have already reacted to the tragedy, comparing it to the Katyn massacre when 22,000 captured Polish troops were executed by the Soviet People's Commissariat for Internal Affairs (NKVD) in 1940.
Ukrainian Presidential Office advisor Oleksiy Arestovych stated that the attack was launched to hide evidence of the torture of Ukrainian POWs, to direct the anger of relatives and sympathizers of the Azov Regiment against the authorities in Kyiv, to physically eliminate the prisoners and to discredit HIMARS and other modern multiple launch rocket systems (MLRS), which were recently provided by Western partners (Facebook/Alexey.Arestovich, July 29).
On the Day of Ukrainian Statehood, President Volodymyr Zelenskyy stated that the country will never surrender and will continue to fight until the last meter of its lands are retaken from the Russian aggressors (Censor.net, July 28). In a recent statement, Zelenskyy declared that Ukraine must reclaim the occupied territories in southern Kherson and Zaporizhzhia regions within the next three to six weeks; otherwise, it will be a much more difficult task once winter arrives (Armedservices.house.gov, July 23). If Moscow retains control over these territories, Ukraine will be blocked from access to both the Black Sea and Sea of Azov, which will led to further significant economic losses for Kyiv (Trans.info, April 29).
Ukrainian National Security and Defense Council (NSDC) Secretary Olekisy Danilov was more conspicuous claiming that the UAF will foster the "decolonization," "de-Russification" and "denuclearization" of Russia. He also emphasized that, since the full-scale re-invasion of Ukraine on February 24, conditions are forming in Russia for the organization of liberation movements in the national republics of Tatarstan, Ichkeria, Sakha, Siberia, Ural and the Far East, among others (Liga.net, July 28).
Along with Russian regional elections, Moscow scheduled "referendums" for September 15 in the occupied Ukrainian territories, which may be followed by outright annexation (The Moscow Times, July 21). If this happens, then it will be comparable to the Crimea scenario in March 2014, when the Ukrainian peninsula, with about three million inhabitants, was illegally annexed after a similarly staged "referendum" by the Kremlin (Crimea.suspilne.media, March 16, 2021).
It remains to be seen whether Moscow plans to annex all occupied Ukrainian territories, including the so-called Donetsk and Luhansk "people's republics," or if it will do this separately state by state without creating additional "republics" in areas where Russian forces have not experienced significant military successes, such as in Kharkiv or Zaporizhzhia oblasts. Another scenario could be the creation of a single quasi-state, Novorossiya; this idea has been widely promoted by the Russian government since its military invasion of Ukraine in 2014 (Bbc.com, November 10, 2014).
However, once "referendums" are staged on Russian conditions, this will preclude further negotiations with both Kyiv and its Western partners, including the United States. Such a scenario may lead to further escalation, as all sides will have to respond to the heightened stakes.
To attain the victory Kyiv urgently needs, further US military assistance is needed. Ukrainian officials have placed special emphasis on acquiring additional HIMARS, MLRS artillery and, as recently requested by the head of the Ukrainian Office of the President, Andrii Yermak, MGM-140 Army Tactical Missile Systems (ATACMS), a surface-to-surface missile system with a range of 190 miles, nearly quadruple the reach of other missiles already provided by the US (Armyinform.com.ua, July 28).
Although Kyiv has promised not to use these missiles to hit Russian territories, it is not yet clear whether US President Joe Biden's administration will decide to ship the additional supplies, as such a move could escalate tensions even further. Moreover, Danilov stated that the Crimean bridge over the Kerch Strait, which is the primary link connecting Crimea with the Russian mainland, will be destroyed as soon as the necessary equipment is obtained and an opportunity opens up to deliver this blow (Slovoidilo.ua, July 28).
To defend the occupied territories, especially in the south where Ukrainian forces recently achieved a significant success by knocking out the Antonovsky bridge in Kherson (Kyiv Independent, July 27), the Kremlin may escalate the nuclear option as Putin infamously hinted, Moscow "has not started anything serious yet" (24tv.ua, July 7). Indeed, it is critical to understand that Moscow's leadership, including Putin himself, cannot afford to lose the territories they already occupy in Ukraine, as such a defeat would threaten the Kremlin leader's political and possibly physical survival.
According to recent polling, 89 percent of Ukrainians believe that the only acceptable scenario for ending the war is the return of all territory that was controlled by Ukraine before 2014, including Donbas and Crimea; only 7 percent agreed with ceding the territories to Russia (Novoye vremya, July 1). This puts Kyiv authorities and Zelenskyy personally in a position where they cannot seek for any agreement with Moscow without these concessions, even if this approach is at odds with some Western partners (Eurointegration.com.ua, July 29).
In truth, now many, especially in Kyiv, share the sentiment that signing another document with Moscow similar to the Minsk-1 and Minsk-2 ceasefire agreements from 2014–2015 will only lead to a more protracted war. Undoubtedly, Moscow's staging of the planned "referendums" in September will further complicate the situation and make it nearly impossible for Kyiv to resolve anything with the Kremlin diplomatically.