BERDIMUKHAMEDOV MOVES TO ELIMINATE RIVALS AFTER FOREIGN POLICY VICTORIES
Publication: Eurasia Daily Monitor Volume: 4 Issue: 98
By: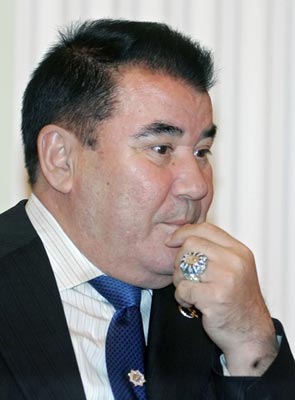 Central Asia watchers were surprised by the May 16 announcement from Ashgabat that the chairman of Turkmenistan's National Security Council, General Akmurad Redzhepov, was being transferred to "other," unspecified duties. Redzhepov had been one of the late president Saparmurat Niyazov's closest advisors, and many analysts believe that Redzhepov's support had been crucial in Gurbanguly Berdimukhamedov's easy victory in the February presidential election.
Redzhepov had a long career in the Soviet KGB and its Turkmen successor. After finishing his studies at the Turkmen Polytechnic Institute, Redzhepov went to Moscow in 1974 and spent five years studying at the KGB's Dzerzhinsky Higher School. Following graduation, Redzhepov served in the KGB's regional division and was eventually sent to Ashgabat, where he served in the KGB's Ninth Division, providing security to Soviet leaders. Beginning in 1985 Redzhepov's responsibilities included providing personal security for Niyazov, then chairman of the Council of Ministers of the Turkmen SSR and later First Secretary of the Communist Party of Turkmenistan. Beginning around 1990 his security detail for Niyazov had grown to about 2,000 men (Politicheskii zhurnal, April 2). Redzhepov did not trust Turkmen to man the security detail; consequently, the majority of its members were Slavs, Turks, Arabs, or men from the northern Caucasus.
More than any other development since the death of Niyazov in December, Redzhepov's transfer to other work indicates that, after 17 years of devoted service to the former dictator, Berdimukhamedov feels quite secure in his new position. Along with the former chief of the presidential administration, Alexander Haden, Redzhepov was one of Niyazov's two closest confidantes; both wielded considerable influence on both Turkmen foreign and internal policy. Haden disappeared the night before Niyazov died and has not been seen since; some reports place him in Israel.
Rampant cronyism and corruption may have also contributed to Redzhepov's downfall, as the day before his transfer was announced Turkmen television reported the arrest of 36 year-old Murad Agayev, owner of the "Oriental Company" and a close business associate of Redzhepov
One overlooked and obscure element in Turkmen politics is the importance of the clan — both Niyazov and Berdimukhamedov are members of the Tekke tribe, while Redzhepov was not, having been born in the Sakarsk region of Chardzhouskoi oblast (Lenta.ru, May 17). It will be interesting to see if Berdimukhamedov appoints a Tekke clan member to replace Redzhepov.
Redzhepov's firing comes as Berdimukhamedov has racked up several recent foreign policy successes. During Berdimukhamedov's visit to Moscow on April 23-24, the major item on the agenda was natural gas. The two countries agreed to expand their cooperation in the gas sphere, which bore fruit on May 12 during a summit in Turkmenbashi, when Russian President Vladimir Putin, Kazakh President Nursultan Nazabayev, and Berdimukhamedov agreed to a Russian proposal to expand a natural gas pipeline that runs along the eastern coast of the Caspian Sea, a stinging rebuke to Western efforts to enter the Turkmen gas market. At a April 27 cabinet meeting, Berdimukhamedov characterized discussions with Putin as the beginning of a "new stage in traditionally friendly relations based on the principles of equality and good neighborliness as well as the continuity of the policy of strategic cooperation established 15 years ago" (Turkmenistan.ru, April 27).
In an even more unsettling development for Washington, Putin and Berdimukhamedov discussed reopening some Soviet-era military airbases that had been mothballed since the 1991 collapse of the USSR. Following his return to Ashgabat, Berdimukhamedov reportedly ordered the Ministries of Defense and Civil Aviation to coordinate the routes of international passenger airlines with the work of military installations, according to a source in the Turkmen Defense Ministry. The facilities are shuttered underground testing sites beneath Serkhatabad and west of the city of Mary and several other complexes with military cities, airfields, and missile silos. Prior to Berdimukhamedov's Moscow visit Redzhepov had assured his Russian security agency counterparts that he would closely cooperate with them (Deutsche Welle, April 29).
In light of the rapidly deepening Turkmen-Russian economic and military cooperation Berdimukhamedov may well have concluded that Redzhepov had turned into a liability as a hangover from the Niyazov era, as well as a potential threat. As Redzhepov was a faithful adherent to the former president and his quixotic unilateral foreign and economic policies, Berdymukhammedov's initiatives in opening up Turkmenistan's energy sector and his abandonment of Niyazov's foreign policy neutralist stance in favor of renewed ties with Moscow could well have led him to conclude that Redzhepov could be a figure around which opposition could coalesce. Redzhepov's demotion removes the final remaining significant holdover from the Niyazov era and one who commanded a praetorian guard that might have conceivably been able to mount a coup.