Bickering Between Erdogan and Baykal: A Race to the Bottom for Turkish Democracy?
Publication: Eurasia Daily Monitor Volume: 6 Issue: 42
By: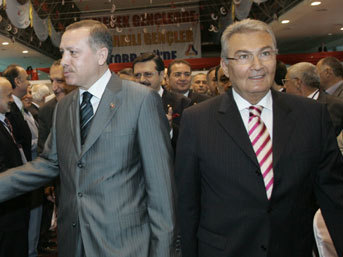 The quality of political discussions in Turkey is hitting the bottom as local elections, slated for March 29, approach. Although candidates will be running for municipal posts, the aggressive campaigning by political parties has turned the election race into a national referendum on the governing Justice and Development Party (AKP)'s performance in power (EDM, December 3). The importance attached to the election results has, in turn, heightened the debate between not only the mayoral candidates but also party leaders, leading to an exchange of harsh verbal attacks. The latest row in this war of words was between Deniz Baykal, the leader of the main opposition Republican People's Party (CHP), and Recep Tayyip Erdogan, the leader of the AKP and the current prime minister.
Determined to win a decisive victory in the municipal elections, Erdogan's AKP began the election marathon earlier than its rivals. Talking to large crowds at election rallies, Erdogan challenged the leaders of the opposition parties and accused them of being afraid to go to the people. In response, Baykal and Devlet Bahceli, the leader of the Nationalist Action Party, started to appear in election meetings organized by their parties. Bahceli rejected Erdogan's charges and maintained that his party was always in harmony with the people. He claimed, moreover, that Erdogan was using the state's resources, including planes and helicopters, to mobilize support for his own party's candidates (Milliyet, March 2). Similar charges against the government are being made by other parties as well, as the AKP's use of state resources puts opposition candidates at a disadvantage (Radikal, February 24; EDM, February 2).
In the last week of February, the bickering between Erdogan and Baykal took a confrontational and nasty turn, with both leaders using very harsh words. Baykal maintained that the crowds Erdogan talked to were brought together by state resources, and he invited Erdogan to a TV debate so that they both could discuss everything openly. Erdogan declined the invitation and challenged Baykal to meet people on the ground (ANKA, February 22).
Against this background, at an election rally on February 28, Baykal lambasted Erdogan's indifference to criticism and maintained that by constantly bashing the opposition and the media in the election rallies, Erdogan avoided talking to the people about the real economic and social problems. Baykal also maintained that although his party had used a cooperative approach and proposed a package of suggestions about how to deal with the economic crisis in response to Erdogan's earlier challenge, Erdogan ridiculed Baykal and simply responded to him by saying "mind your own business," implying that Baykal would never come to power. Baykal went on to say that "this demeanor is maganda style. This is not the demeanor expected from a prime minister… We are used to seeing the elegance, kindness, and respect of past leaders. This kulhanbeyi style, this maganda style may look good on Erdogan [as a person], but it does not look good on [Erdogan as] the Prime Minister of the Turkish Republic." In addition to his use of the words maganda (a pejorative term in Turkish to describe crass, rude and uncultured persons) and kulhanbeyi (rowdy), Baykal quoted a popular Turkish saying to disparage Erdogan: "You have become a prime minister, but you could not become a man (adam). You will hardly become a man, because you don't know what you are talking about. You say one thing today, quite another thing tomorrow" (www.nethaber.com, February 28).
Speaking at his own party's rallies in other towns on Sunday, Erdogan said that although he knew very well how to respond to Baykal, his code of ethics and upbringing would not allow him to use such words in office. He said that he would remain a gentleman and seek redress in the courts. Maintaining a polemical tone, however, Erdogan says that after he quits politics, he might respond to Baykal with similar language. "My nation chooses a real man as its prime minister," Erdogan added (Cihan Haber Ajansi, March 1; Aksam, March 2).
On March 2 Erdogan's attorneys filed defamation lawsuits against Baykal and Mustafa Ozyurek, the speaker and chief accountant of the CHP, who also used the word maganda during a press conference on February 27 to describe Erdogan's conduct. The attorneys maintained that Ozyurek "aimed to attack Erdogan's personal rights and [make] completely erroneous accusations of the most insulting nature" that could not be considered freedom of speech (Anadolu Ajansi, March 2; Today's Zaman, March 3).
Responding to these developments in an address to the CHP's parliamentary group, Baykal defended his remarks and maintained that he had not insulted Erdogan personally in any way. Citing several instances in which Erdogan had insulted him and others, Baykal said that although Erdogan had sued him several times in the past for minor things, he himself had avoided resorting to the courts as a means of resolving their disputes. He noted that he had only criticized the prime minister's behavior and words and would continue to do so as long as Erdogan acted in a this manner. Referring to Erdogan's words that he would watch his deportment as long as he was prime minister, Baykal added that his reaction to Erdogan might have served a purpose after all by reminding the prime minister of his responsibilities in office (www.cnnturk.com, March 3).
This case of bickering between Erdogan and Baykal is neither the first nor the last one. The history of Turkish political life is rich in similar episodes of political leaders engaging in a war of words against each other. This recent row, however, perhaps more than any previous one, amounts to a race to the bottom for Turkish democracy. The entire election campaign has been dominated by calls for duels, charges of corruption, and mutual accusations about the leaders' demeanor—all overshadowing substantive public deliberation on political issues. It is, moreover, ironic that local election campaigns are being hijacked to such a great extent by national political considerations and populism. Regardless of which party wins the next elections, Turkish democracy might being the biggest looser.