Bilateral Ties Between Georgia and Belarus Take a New Turn
Publication: Eurasia Daily Monitor Volume: 12 Issue: 79
By: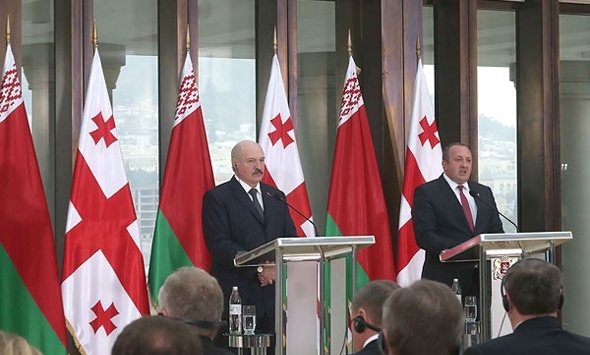 On April 22–24, Belarusian President Alyaksandr Lukashenka paid his first ever official visit to Georgia. The visit was filled with pageantry and emotional declarations, as President Lukashenka met with Georgian President Giorgi Margevlashvili, Prime Minister Irakli Garibashvili, and the head of the Georgian Orthodox Church, Catholicos-Patriarch Ilia II. During his trip, President Lukashenka repeatedly emphasized the "eternal" and deep-running friendship that he said exists between Georgia and Belarus. On several occasions, he assured his hosts that Belarus remained a strong supporter of Georgia's territorial integrity (Channel I TV, Rustavi 2 TV, Imedi TV, April 22–24).
Belarusian-Georgian ties have not always been quite so exemplary, however. In 2006, then–Georgian president Mikhail Saakashvili and his administration strongly condemned the falsification of the March presidential elections in Belarus and called the Belarusian leadership a "dictatorial regime." Although, in 2007, the tone in bilateral relations became somewhat warmer, ties remained strenuous. In 2008, Lukashenka hailed the Russian recognition of Abkhazia and South Ossetia. In the following year, Minsk was itself seriously considering, albeit as a result of Russian pressure, to recognize Georgia's breakaway regions. In March 2009, President Lukashenka even met with Abkhazian separatist leader Sergey Bagapsh, referring to him as "the President of Abkhazia" in an official statement. Moreover, that same year, three groups of Belarusian parliamentarians visited Georgia to study the situation on the ground and decide whether or not to recognize the two regions (Civil Georgia, March 17, 2006; March 23, 2006; September 17, 2007; August 28, 2008; March 24, 2009; November 18, 2009). Bilateral relations, however, did not worsen and, over time, even somewhat improved. Belarus never recognized the breakaway regions as independent countries; and President Saakashvili strongly and continuously advocated in Europe not to isolate Belarus and, hence, avoid pushing it more toward Russia.
Nevertheless, the question is why Lukashenka came to Tbilisi now. And what was his goal? Various rumors are currently circulating in Georgia about the real purpose of the Belarusian leader's visit. In private conversations, average Georgians speculate that Lukashenka actually delivered a message to the Georgian leadership from Russian President Vladimir Putin that if Georgia will not join the Russian-dominated Eurasian Union, the country will experience an even worse calamity than it endured during the 2008 Russian-Georgian war. Others argue that Lukashenka came to act as a mediator between Georgia and Russia in order to hold high-level bilateral talks in Minsk about the future of the breakaway regions (Author's interviews, April 24–26). The truth however, is likely much simple and more mundane: The Belarusian president is merely seeking to strengthen ties with Georgia. And the question of timing can be linked directly to the ongoing Russian-Ukrainian conflict.
Undoubtedly, Russian aggression in Crimea and then in Ukraine's east put fear in Lukashenka that sooner or later he and his country might become targets of Russia's current revanchist regime. Moreover, Lukashenka probably realizes that if democratic Ukraine received only limited help from the West in its struggle against Russia, then he—Belarus' authoritarian ruler—should not expect much, if any, help at all if Moscow tries to depose him or take over Belarus by some other means. Consequently, as Europe and the wider West continue to shun Lukashenka, he is seeking diplomatic alliances within the former Soviet space. Hence, Georgia—a recent victim of Russia's reviving imperialism—is the Belarusian president's natural choice.
Moreover, Lukashenka might actually be trying to use Georgia as a conduit to seek a rapprochement with the West, realizing that he cannot remain indefinitely isolated from Europe, as the threat from farther east is quite real. In his quest, however, Lukashenka has been very careful. Though he probably felt a potential threat from Russia in the past, he never dared to visit Georgia as long as it was ruled by President Mikheil Saakashvili—Vladimir Putin's arch nemesis. This way, Lukashenka avoided the wrath of the Kremlin and has visited Georgia only now, when Saakashvili is out of office and the country is run by a more Moscow-friendly government.
Whatever Lukashenka's goals are vis-à-vis Georgia at this point, it certainly benefits Tbilisi, at least in the short term. First of all, Lukashenka's visit means that the cool relations between the two countries are improving. Moreover, it means that the potential of Belarus recognizing Abkhazia and South Ossetia—a very real threat that existed in past years—is almost gone now. Subsequently, Russia's policy of pushing other countries to recognize Georgian breakaway regions certainly suffered a setback, even if it is only temporary.
However, in the short and medium term, Belarus and Lukashenka's regime in particular, remain highly vulnerable to Russian pressure. Hence, based on Belarus's and Lukashenka's precarious geopolitical position, for now it is more likely that the Belarusian leader will react to this Russian pressure with obedience rather than defiance. Consequently, Georgian-Belarusian bilateral relations could take another negative turn in the not so distant future.