Bitter US-Russian Standoff in Syria—More Hot Words Than Real Harm
Publication: Eurasia Daily Monitor Volume: 14 Issue: 84
By: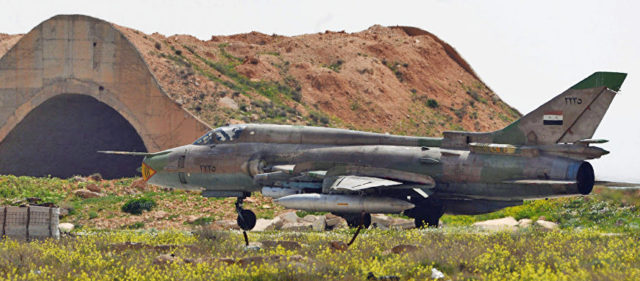 A series of military incidents involving the United States, Russia, and their allies in Syria and the Baltic region have additionally hurt already strained US-Russian relations. As sign of its acute displeasure, Moscow canceled high-level talks between Russian Deputy Foreign Minister Sergei Ryabkov and US Undersecretary of State Thomas Shannon, which were planned for June 23, in St. Petersburg. Ryabkov lambasted the US for adding 38 individuals and organizations to its list of sanctions "as a political gift" to Ukrainian President Petro Poroshenko, who visited Washington this week (June 20) and met with President Donald Trump at the White House. According to Ryabkov, "There is nothing to discuss fruitfully with Washington today." Ryabkov accused the Trump administration of supporting "the party of war in Kiyv" and of "following the lead of prominent Russophobes in the US Congress" (Mid.ru, June 21). The cancelation of the St. Petersburg round of Ryabkov-Shannon talks calls into question plans for the first face-to-face meeting between Trump and President Vladimir Putin, on the sidelines of the upcoming (July 7–8) G20 summit in Hamburg, Germany.
The Russian foreign ministry's spokesperson, Maria Zakharova, denied the Ryabkov-Shannon talks were called off specifically because of the new US sanctions. Rather, she said, Moscow canceled the meeting as a "response to the overall atmosphere created by the Americans." According to Zakharova, Russia is not cutting all lines of communication or permanently abandoning the Ryabkov-Shannon format of consultations—"but just this particular meeting" (Interfax, June 22). Zakharova also denounced the US military for shooting down a Syrian Su-22 jet, south of Raqqa, on June 18. Russia declared the Su-22 attack by a US Navy F/A-18E Super Hornet "a violation of international law and an act of aggression." According to the foreign ministry spokesperson, Russia demands that the US military command investigate the incident and give assurances that such attacks never happen again. Russia is also concerned with the US expanding its base in southern Syria, near al-Tanf, close to the Jordanian border. In al-Tanf, US Special Forces train local opposition forces and have recently reinforced the base with High Mobility Artillery Rocket Systems (HIMARS), which may be used against the Syrian Army and Iranian-backed Shiite militias. During the past month, US jets have shot down two Iranian drones in the al-Tanf area and twice bombed armored columns of pro-Damascus, pro-Iranian forces that were moving into what the US military command considered a closed zone around the base (TASS, June 22).
The Syrian Su-22 jet was downed after allegedly bombing the Syrian Democratic Forces (SDF), an umbrella group of Kurdish and Arab militias supported by the US-led coalition. The SDF has moved to attack Islamic State (IS) forces in Raqqa from the west, east and north. SDF forces have also crossed the Euphrates River to close in on Raqqa from the south, where they are encountering Syrian government forces that have been moving along the southern bank of the river from Aleppo, in pursuit of retreating IS fighters. As IS's zone of control contracts, its differing opponents race to grab territory and resources; consequently, the possibility of intermittent clashes among them increases. The Syrian military and the Russians deny the Su-22 was bombing the SDF. The Russian defense ministry, on June 19, suspended the memorandum of cooperation with the US military to avoid air incidents over Syria. Moscow announced that Russian anti-aircraft assets "will be following US and allied aircraft west of the Euphrates River as targets" (Militarynews.ru, June 19).
In Russia and internationally, this was interpreted as a threat to attack coalition jets, which is not true. The Russian military were threatening so-called "radar lock-on," which in Russian is called "target following"—a change of operational radar mode from scanning to "locking in" on a target before or during the launch of an anti-aircraft missile. "Radar lock-on" is, indeed, a potentially hostile move, but it turns out the Russian military was already doing this in Syria for a long time, even before the Su-22 incident. Last week (June 15) Lieutenant General Viktor Gumenniy—the chief of Russia's air and missile defense forces—told the defense ministry's Zvezda TV channel, "When on combat missions in Syria, if coalition jets came anywhere close to Russian air defenses, their indicators flashed as we locked on our radars, and they fled in panic out of range of our S-400 [anti-air missile systems]." Under an agreement with the US military, the Russian S-400 radars locked on allied jets within 60 kilometers of the Russian Hmeimim Air Base (Militarynews.ru, June 15).
Now, it seems, the Russian air defense units may be allowed to lock their radars on allied jets farther out. But the Russian bases are on the Mediterranean coast in Latakia and Tartus, separated from the Euphrates River valley by a mountain chain. The Russian military's capabilities in Syria to "follow" or "lock on" allied jets anywhere close to the action near Raqqa or al-Tanf is, therefore, quite limited. Moscow is certainly angry the US downed the Syrian Su-22 jet, but no one is ready to start a war with America over the issue.
Last week (June 15), Putin described Russian operational plans in Syria: "We will further enhance the battle readiness of the Syrian Armed Forces so they may fight their battles on their own, while we calmly retreat to our established bases in Tartus and Hmeimim, maybe sometimes supporting them from the air" (Militarynews.ru, June 16). This strategy of extracting Russian soldiers from harm's way absolutely depends on the Syrian military maintaining total and effective air supremacy, which has helped turn the course of the Syrian civil war after the Russians arrived in a combat role in September 2015. Russia has heavily invested in rearming and reinvigorating the previously mothballed Syrian military. Moreover, Moscow had brought the Syrian Air Force back to life, and now the US—by its recent actions—is apparently attempting to undermine the Russian strategy and efforts. But still, Russia, while high on rhetoric, is careful in action—threatening to retaliate by taking actions it had already been carrying out before. Trump and Putin will most likely meet in Hamburg and have the opportunity to drastically reduce the artificially whipped-up tensions, even if they do not achieve any real progress on issues of substance. Even that would seem like a great success that both leaders need and want: a PR war of mostly hot words, corrected by a PR detente.