Naftohaz Ukrainy Hopes for Final Victory Over Gazprom in International Court
Publication: Eurasia Daily Monitor Volume: 14 Issue: 83
By: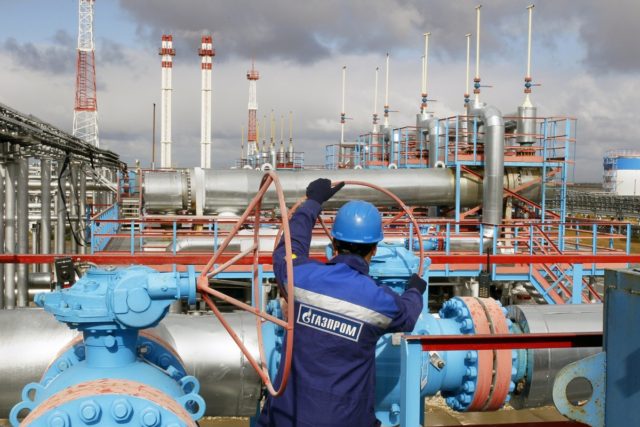 The Arbitration Institute of the Stockholm Chamber of Commerce has preliminarily ruled in favor of the Ukrainian state-owned oil and gas firm Naftohaz Ukrainy over Russian Gazprom's claims regarding its natural gas supply. The same court is yet to rule on another contract between Naftohaz and Gazprom—on gas transportation via Ukrainian pipelines to the European Union. Both were signed for ten years in January 2009. Irrespective of the final ruling on the gas supply, expected later this year, Naftohaz has avoided bankruptcy. Naftohaz now might resume buying gas from Gazprom if prices are suitable, in spite of the Kremlin's ongoing "hybrid" war against Ukraine.
In 2009, Gazprom blackmailed Kyiv into signing a gas supply contract with a take-or-pay clause, obliging Ukraine to purchase more gas than it could consume, while at the same time forbidding Ukraine from re-exporting gas bought from Russia. Ukraine also has been unhappy with the prices set by the contract. Naftohaz, in spite of buying less gas from Gazprom than prescribed by the take-or-pay clause, had not been punished by Gazprom until the anti-establishment (EuroMaidan) revolution in Kyiv and the subsequent annexation by Russia of Crimea (with the port city of Sevastopol) from Ukraine in 2014.
Russia canceled the discount from the contract price that Ukraine had been granted in exchange for agreeing, in 2010, that the Russian Black Sea Fleet would stay at the Sevastopol base until 2042, rather than 2017. As a result, the price for Naftohaz soared by 80 percent as of spring 2014. This prompted Naftohaz to sue Gazprom in Stockholm; and Gazprom sued Naftohaz for bills unpaid in 2013–2014, as well as for breaching the take-or-pay clause. Later on, Naftohaz sued Gazprom over the gas transportation contract, requesting higher gas transit fees and complaining that Russia pumped less gas to the European Union via Ukraine's pipelines than agreed in 2009, although the contract did not specify penalties for that. Ukraine stopped buying gas according to the 2009 contract, although it bought some gas from Gazprom in line with the one-off deals mediated by the EU in 2014–2015. Since November 2015, Ukraine has not been buying any gas from Gazprom, relying on domestic production and imports from the EU (see EDM, February 11, 2016).
The Stockholm court forwarded its interim ruling on the gas supply contract to the litigating parties on May 31. The judges turned down Gazprom's main claims over the take-or-pay clause, which exceeded $47 billion and could have bankrupted Naftohaz. Indeed, Ukraine's annual GDP is only around $100 billion. The ruling also envisages Gazprom revising the 2009 contract price as of 2014, in line with EU gas hub prices, and allows Naftohaz to re-export gas (Naftogaz.com, May 31; Kommersant, June 1). With revised prices, which may turn out to be lower than those paid by Naftohaz to EU-based suppliers at present, Naftohaz might resume buying gas from Gazprom. Naftohaz head Andry Kobolev said he wanted to make Russia's Gazprom one of the regular gas suppliers to Ukraine on par with others (5 Kanal TV, June 5). The Stockholm court is still expected to specify, in its final ruling, which of the EU hubs it had in mind because the final new gas price for Naftohaz will depend on that detail.
Ukrainian Foreign Minister Pavlo Klimkin hailed the interim arbitration ruling, writing on Twitter that it was a victory for Ukraine and European regulations over Russian aggression and Gazprom's monopoly status. Russia has tried to play down the defeat, with Gazprom representatives saying that it would take time to analyze the court ruling which, they said, did not contain any concrete figures (Interfax, May 31). The Stockholm court has yet to rule on Naftohaz's claims to Gazprom over the gas transportation contract, which exceeded $12 billion. In this case, Naftohaz does not stand to lose anything, but may win moneywise, while Gazprom has to build up defenses.
Gazprom recently also lost a multi-billion-dollar case in Ukrainian courts. Last year, the Ukrainian Anti-Monopoly Committee fined Gazprom the equivalent of $3 billion for pumping less gas via Ukraine than prescribed by the 2009 contract. Gazprom lost several appeals, and last March a court in Kyiv ruled that Gazprom owed Naftohaz the equivalent of $6.5 billion, including penalties. The Ukrainian authorities in May froze the shares of Gastransit, a small local company linked to Gazprom. Luckily for Gazprom, it does not have any other property in Ukraine, and it would be hard to enforce the Ukrainian court's verdict abroad (Vedomosti, June 1).
The victory over Gazprom may become a factor in Ukraine's domestic politics ahead of the elections scheduled for 2019, when President Petro Poroshenko and his party are likely, according to opinion polls, to run head to head with the populist Fatherland party and its leader, Yulia Tymoshenko. She was the prime minister when the aforementioned gas contracts were signed in 2009. The leader of the Poroshenko Bloc faction in the parliament, Artur Herasimov, has urged the state's anti-corruption bodies to look into Tymoshenko's role related to the contracts. Herasimov said his party suspected Tymoshenko of corruption and treason (Pravda.com.ua, June 6). Ironically, Poroshenko's predecessor, Viktor Yanukovych, had imprisoned Tymoshenko for her role in securing those same contracts several years ago. She was freed when Yanukovych fled Ukraine in February 2014; and the early elections that followed brought Poroshenko to power.