Ukraine Cuts Russian Gas Imports to a Minimum
Publication: Eurasia Daily Monitor Volume: 13 Issue: 29
By: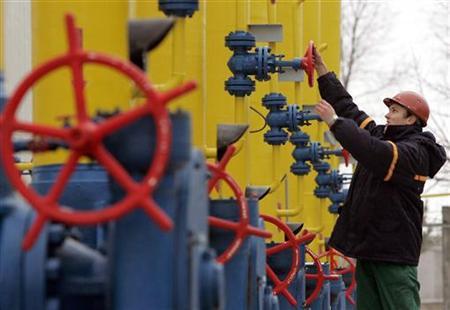 Ukrainian gas consumption fell significantly last year, as GDP declined by more than 10 percent, and the output of the domestic industry in particular, which is heavily depends on natural gas, plunged by more than 13 percent. This allowed Ukraine to reduce gas imports from Russia to a minimum. Moreover, Ukraine is going to further reduce consumption and imports this year, while gas production could grow thanks to tax cuts. As a result, Ukraine may be able to avoid purchasing any gas supplies from Russia in 2016.
Ukraine's gas consumption plunged to 31.0 billion cubic meters (bcm) last year, from 38.9 bcm in 2014, according to the national oil and gas company Naftohaz Ukrainy. Gas consumption fell across the country, most significantly in the war-affected industrial provinces of Luhansk and Donetsk, said Naftohaz. Domestic gas production decreased less significantly, to 19.9 from 20.5 bcm (Naftogaz.com, January 29). As a result, gas production exceeded imports for the second straight year. Imports fell to 15.3 bcm in 2015, from 19.5 bcm in 2014, and imports from Russia in particular plunged to only 6.1 bcm, from 14.5 bcm a year earlier. For comparison, Ukraine imported 45 bcm of gas from Russia in 2011. At the same time, Ukraine almost doubled gas imports from the EU to 9.2 bcm last year (Naftogaz.com, January 29).
Ukraine has not been buying gas from Gazprom since last November, as no agreement was reached on prices. The CEOs of Gazprom and Naftohaz, Alexei Miller and Andriy Kobolev, respectively, discussed gas prices for the first quarter of 2016, in Berlin, on December 23, but no agreement was reached again (Apostrophe.com.ua, December 24). Having diversified its import sources, mainly thanks to reverse gas flows from Slovakia, Ukraine is now free to choose between various suppliers. Given the virtual state of war with Russia and Gazprom's reluctance to amend the contract with Naftohaz, which was signed for ten years in 2009, but has not been adhered to for the last several years, Ukraine prefers gas from the European Union. Furthermore, gas from the EU is cheaper. In early January, Ukrainian Prime Minister Arseniy Yatsenyuk announced that no gas would be imported from Russia for a certain period. He said Russia set its price for Ukraine at $212 per 1,000 cubic meters of gas for the first quarter of 2016, while Ukraine could import gas from the EU at some $200 (Pravda.com.ua, January 10).
Moscow has been dropping hints that Kyiv simply has no money to buy gas from Gazprom. "We understand that they do not buy gas not because the price is high, but because there is no money," Russian Energy Minister Aleksandr Novak said (TASS, January 14). However, Kyiv has secured international loans for gas purchases at lower prices than Gazprom's. Naftohaz concluded agreements to buy gas at prices up to $211 in December–March, using a $300 million loan from the European Bank for Reconstruction and Development (EBRD). Contracts were awarded to Noble Clean Fuels Limited, Engie SA, Axpo Trading AG, E.ON Global Commodities SE and Eni Trading & Shipping S.p.A, said Naftohaz (Naftogaz.com, January 14). Ukraine also expects $500 million from the World Bank for gas (Rian.com.ua, January 13).
Kyiv is going to cut gas imports further to 11–13 bcm in 2016, Ukrainian Energy Minister Volodymyr Demchyshyn announced on January 27. He said Ukraine could do without Russian gas imports this year, pumping in gas from the EU only. At the same time, he said Kyiv wanted to reach a new agreement on prices with Russia by the end of March, in order to have a wider choice of gas suppliers (UNIAN, January 27). With the help of recent tax cuts for gas producers, Kyiv hopes to increase domestic production this year, so there will be less need for imported gas. From January 1, rent rates for non-state-owned gas producers were cut to 29 percent from 55 percent for wells up to five kilometers deep, and to 14 percent from 28 percent for deep wells. For the state company Ukrhazvydobuvannya, a subsidiary of Naftohaz, the tax rate will fall to 50 percent from 70 percent from April (Zn.ua, December 24). The lower tax rates are likely to prompt gas producers to renew investment programs abandoned after tax hikes in 2014 and may attract new investors into Ukraine's gas industry, thereby further reducing the significance of Russian gas for the national economy.
Ukraine's moves to reduce gas imports naturally provoke dismay in Russia, which planned to sell at least 42 bcm of gas to Ukraine per annum, in line with the 2009 contract. Gazprom has billed Naftohaz $2.5 billion for the third quarter of 2015, when Naftohaz did not buy its gas at all. Gazprom argues that Naftohaz has to pay for 10.5 bcm of gas (a quarter of the 42 bcm) according to the take-or-pay clause in the 2009 contract (Newsru.ua, January 19). Ukraine is not going to pay the bill, while it is awaiting a verdict on the contract from the Arbitration Institute of the Stockholm Chamber of Commerce late this year or next year, in the hope that it will be possible to amend the contract in Ukraine's favor. Irrespective of the outcome of the dispute, it is possible to say that Ukraine no longer depends on Gazprom's gas.