Black Cats in a Dark Room: Moscow's Denials of Military Involvement in Eastern Ukraine
Publication: Eurasia Daily Monitor Volume: 11 Issue: 75
By: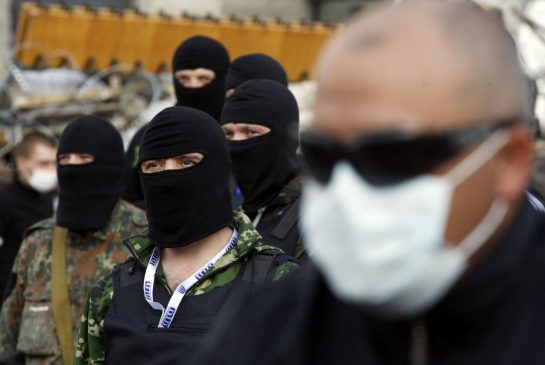 Denials by Russia's political-military leadership concerning alleged military involvement in eastern Ukraine are unsurprising and bear a resemblance to the official line on Crimea, until President Vladimir Putin recently confirmed their use. However, certain aspects of these official denials may shed some light on Moscow's wider strategy in the Ukraine crisis. In each case, both in Crimea and in eastern Ukraine, Moscow has had to issue public rebuttals over the allegations of military involvement partly in order to minimize the risk of conflict escalation (Interfax, April 22, 17).
On April 17, during his annual live broadcast "phone-in" (see EDM, April 17), Putin issued strong denials of military activity within Ukraine. Putin said there were no Russian military units, special services, or instructors in eastern Ukraine, and ridiculed the suggestion that Moscow had sent such forces into mainland Ukraine. "All this is nonsense. There are no Russian units in the east of Ukraine, there are neither special services, nor instructors there. All these are local citizens, and the fact that people have literally taken off masks, is the best proof of that. I told our Western partners: there is nowhere that they could go, they will not go anywhere. They are the masters of that land and it is them that we should talk to" (Rossiya 1 TV, April 17).

On the same day, Defense Minister Sergei Shoigu also rejected claims that Russian forces were already operating in eastern Ukraine. His denial was different in content and style from a previous one by the Ministry of Defense to counteract Kyiv's claims. On April 14, the Russian defense ministry offered "ironic" comments on the release of audio by the Ukrainian Security Service (SBU), which claimed to have recorded conversations between personnel of the Main Intelligence Directorate (GRU) of the Russian Armed Forces' General Staff in Slovyansk, Donetsk Region (Interfax, RIA Novosti, April 14).

This audio was released on the SBU's official website, and the SBU claimed the recording showed that "a large-scale military aggression of the Russian Federation carried out by forces of reconnaissance and sabotage groups of the Main Intelligence Directorate of the Russian Armed Forces' General Staff" had begun in Ukraine. However, a Russian defense ministry source told RIA Novosti that "it looks like this audio compilation contains an error in the name of the organization in question. It is probably caused by great emotion and fear in its authors. It is not about the Russian military intelligence service, but about the main directorate of intelligence (GUR) of the Ukrainian General Staff" (RIA Novosti, April 14).

Nonetheless, by April 17, Shoigu went much further in his expression of "surprise" caused by statements from the head of the SBU, Valentyn Nalyvaychenko, about Russian special forces units' involvement in the events in southeastern Ukraine. "After high-profile revelations about the involvement of 'Russian special forces' in the events in Ukraine, one gets the impression that today the only combat-ready divisions in Ukraine are press centers." The defense minister then stated, "Instead of constantly looking for the 'hand of Moscow,' Kyiv should stop calling the inhabitants of the southeast of Ukraine separatists or terrorists, and start a constructive dialogue with them. As for allegations about the use of Russian special forces in the events in Ukraine, I can only say one thing: it is difficult to look for a black cat in a dark room, especially when there is no cat. All the more so if the cat is smart, brave and polite" (Interfax, April 17).

It is particularly intriguing to note that in alluding to the "black cat" theme, Shoigu should choose to use an odd phrase about the difficulty in locating it if the creature is "smart, brave and polite." A key factor in the use of Russian special forces (spetsnaz) units in Crimea was their cover as "friendly green men," and in this sense, Shoigu may have inadvertently given his assessment of these specialist units at the disposal of the defense ministry. Indeed, their covert use in Crimea is quite different from the apparent use of some special forces and intelligence assets in southeastern Ukraine. And those differences are important (https://www.kommersant.ru/doc/2421632).

The Russian military force mixture in Crimea resembled the concept announced last fall to create new rapid reaction forces. These small units, which operated in Crimea in late February and early March, most likely mixed GRU Spetsnaz units, Naval Spetsnaz, as well as other special forces units from the elite Airborne Forces (https://www.novayagazeta.ru/politics/62614.html). Whereas, to date as the destabilization has spread across southeastern Ukraine, it is likely that Russian military and security involvement is more limited to GRU, Russian intelligence officers/agents and spetsnaz, which combined provide a force mixture to work alongside so-called "separatist" elements and thus orchestrate this latest phase of the crisis. Indeed, one Moscow-based defense analyst told Jamestown that the most striking evidence of Russian special forces operating within Ukraine came when Kyiv's anti-terrorist operation in eastern Ukraine fell apart. An additional advantage that Moscow holds as the crisis unfolds is its highly likely intelligence penetration of the SBU.

Putin's statement on April 17 that he has the "right" to send troops into Ukraine, but wants to avoid having to do so, suggests that what amounts to a full-fledged invasion remains on the table. Nonetheless, the force mix, small in scale, already unofficially deployed within Ukraine appears to maximize Moscow's leverage in the crisis (see EDM, April 17). Any trigger to conflict escalation may result in Putin authorizing an operation that would differ in size, composition and scope from what he used in Crimea. Key to Moscow's strategy is clearly the extent to which Putin wants to keep Kyiv and the West guessing about his next move.