The Olympic Truce Between Russia and Georgia
Publication: Eurasia Daily Monitor Volume: 11 Issue: 74
By: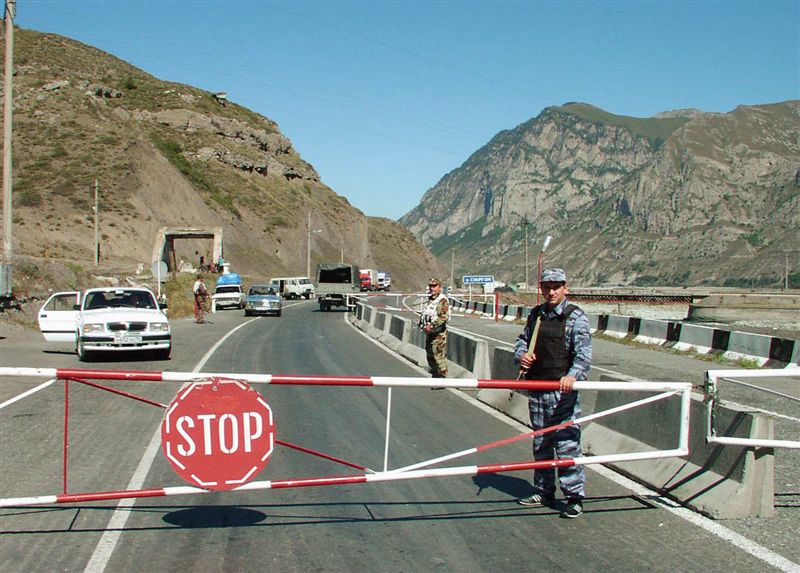 The chief of the Federal Security Service of Russia (FSB), Alexander Bortnikov, stated at an April 9 meeting of the Russian security services and law enforcement agencies that the FSB thwarted a terrorist attack during the Winter Olympics in Sochi. "The prevention of the attack was possible thanks to the FSB's cooperation with the security services of the United States, France, Germany, Austria and Georgia," Bortnikov said (https://pronedra.ru/weapon/2014/04/09/terakt-sochi-fsb/). The Russian official's rather ambiguous-sounding statement made it difficult to deduce whether he meant that an actual terrorist attack had been prevented or he was simply praising the successful exchange of information and general cooperation of the security services of the different countries.
Georgia was one of the first countries that offered to help Russia provide security at the Olympic Games. The ruling Georgian Dream coalition, which came to power in 2012, regarded sending a national Olympic team to Sochi as an important conciliatory step toward Moscow, even though many non-governmental organizations (NGO) and opposition politicians from Mikheil Saakashvili's United National Movement (UNM) were fiercely opposed to Georgia's participation in the Olympics (https://eng.kavkaz-uzel.ru/articles/26019/). "We have always held the opinion that while Abkhazia and South Ossetia are occupied by Russian forces, our Olympic team should not take part in the [2014 Winter Games], thereby giving Putin the opportunity to demonstrate his peacefulness and adherence to Olympic ideals, even though he breaks these ideals in both Georgia and Ukraine," UNM parliamentarian Shota Malashkhia told Jamestown on March 29. In the end, Georgian athletes were sent to Sochi, but no Georgian official was present in the VIP-box of Fisht Stadium during the Games' opening ceremony.
At the same time, Georgian authorities noted they were prepared to assist Russia actively in providing a safe environment during the Olympics and promptly received gratitude from Russian Foreign Minister Sergei Lavrov (https://www.civil.ge/rus/article.php?id=25606).
Nonetheless, on the ground, the Georgian attempt to apply more stringent security controls at the borders translated into increased ethnic profiling, including the profiling of ethnic Chechens from Georgia who reside in Pankisi Gorge at the border with Chechnya (see EDM, February 13).
Residents of Pankisi complained that they were not allowed to leave the country, and the Georgian government failed to provide any explanations (https://www.kavkaz-uzel.ru/articles/238156/). Georgian border guards did not explain their actions either. "They [the Georgian authorities] want to show to Russia that they are prepared to violate the rights of their own citizens just to confirm their loyalty to Russia," the former chairman of the parliamentary committee for ties with the peoples of the North Caucasus, Nugzar Tsiklauri, told Jamestown in an interview held on March 29.
Chechens from other countries also complained about the negative or overly cautious attitude toward them by the Georgian police and border guards. On March 26, journalist Magomed Toriev nearly missed his flight when he was extensively questioned at Tbilisi airport about the reasons for his visit to Georgia. Toriev was not even entering Georgia, but leaving for Europe (https://www.ekhokavkaza.mobi/a/25314693.html).
The head of the organization Former Political Prisoners for Human Rights, Nana Kakabadze, told Jamestown (March 29) that such practices were "outrageous" and the Georgian NGOs intended to inform international human rights organizations about those cases.
At the same time, Georgian officials at various levels in the government told Jamestown, on condition of anonymity, that these excesses were caused by the fear of repetition of the incident at Lapota Gorge in summer 2012 (see EDM, September 7, 2012). At the time, a group of Chechens, including citizens of Georgia from Pankisi Gorge who originally came from Europe, set up an armed group to infiltrate Russia, but their attempt ended in clashes with Georgian security forces, with casualties on both sides (https://connections-qj.org/node/5907). Tbilisi's fear was that any incident involving ethnic Chechens, especially during the Olympic Games, could have provided Russia with an excuse for further aggression against the South Caucasian country.
Ambassador Zurab Abashidze, the special representative of the prime minister of Georgia for the normalization of relations with the Russian Federation, told Jamestown on April 12 that he was not surprised by the FSB's grateful remarks regarding Georgia's security cooperation with Russia. "We cooperated with Russian colleagues, including providing safety for Georgian athletes during the Olympics. The Georgian consulate dispatched an officer to Sochi. Security was stepped up on Georgia's own territory at the airports and other sections of the border during the Olympic Games. We carefully checked everyone who entered the country or exited it," Abashidze said. According to the ambassador, the government carried out only preventive operations. In response to the Russian FSB head Bortnikov's remarks from April 9, "I have not heard anything about thwarting any particular terrorist attack during the Olympiad—especially not anything tied to Georgia. Everything that was done was done as preventive measures," the diplomat said.
Regarding the issue of the violations of the rights of ethnic Chechens during "preventive operations," Zurab Abashidze confirmed there were such cases. "We have looked into the reports [of such incidents]. I think it was not state policy, but rather excessive zeal by some officials that sometimes materialized as an overindulgence in watchfulness and caution. Georgia's [security] cooperation with Russia pertaining to the Sochi Olympics was part of an international effort to provide safety… Overall, these efforts resulted in a safe Olympiad," Abashidze said (Author's interview, April 12).
This week (April 16), Ambassador Abashidze and Russian Deputy Minister of Foreign Affairs Grigory Karasin held another bilateral meeting in Prague (https://www.civil.ge/eng/article.php?id=27143). This meeting had been postponed several times at Moscow's request (https://dfwatch.net/abashidze-karasin-meeting-postponed-again-55071)—at least in part out of anger at the Georgian parliament's resolution against Russia's annexation of Crimea (https://www.georgianews.ge/politics/26537-georgian-parliament-adopts-resolution-on-ukraine.html). Following the Prague meeting, Abashidze told journalists that Moscow "does not intend in any way to exert any kind of [political or economic] pressure on Georgia" even though Tbilisi plans to sign an Association Agreement with the European Union in June 2014, and despite the two governments' differences over Ukraine (https://www.civil.ge/eng/article.php?id=27143). Zurab Gogoberidze, an analyst with the Georgian daily newspaper Premier, ascribes this to Moscow's desire to maintain Georgia's cooperation on trans-border security matters. "Russia has not resumed the embargo on imports of Georgian produce—wines, fruit and mineral water—because the loyalty of the Georgian security services is very important to Putin," Gogoberidze said (Author's interview, April 12). How tenable such security cooperation will be over the coming months, however, especially as Georgia continues to take tangible pro-European steps, remains to be seen.