Boko Haram's Expansionary Project in Northwestern Nigeria: Can Shekau Outflank Ansaru and Islamic State in West Africa Province?
Publication: Terrorism Monitor Volume: 18 Issue: 15
By: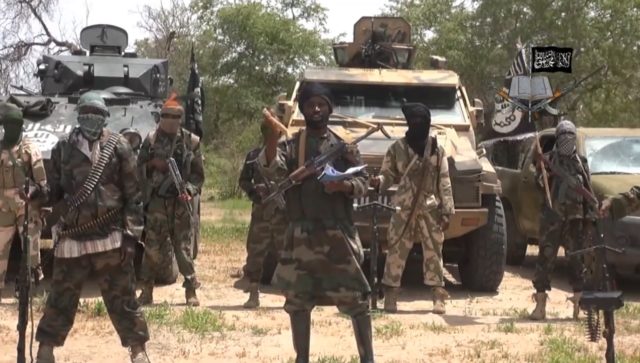 On June 15, Boko Haram released a video featuring English, French (Cameroonian), Fulani, and Hausa-speaking fighters "greeting" fellow fighters in Zamfara and Niger states. [1] Three weeks later, on July 7, Boko Haram released another video of fighters in Niger State returning "greetings" to Boko Haram leader Abubakar Shekau and "brothers" in Zamfara, which is one of Nigeria's northwestern states; Lake Chad, which is the Boko Haram Bakura faction's base; and Sambisa, Borno, which is Shekau's base. [2] These back-to-back videos recall the process of the Bakura faction's pledge to Shekau one year earlier. Bakura's joining Boko Haram turned Nigerian jihadism's tide in Shekau's favor vis-à-vis his rivals in Islamic State in West Africa Province (ISWAP) and Ansarul Muslim Fi Biladis Sudan (Ansaru).
On September 23, 2019, Shekau had issued "greetings" to fighters on Lake Chad, which was reciprocated one day later in a video from an imam surrounded by two armed fighters near Lake Chad who claimed they were "commanded" by Bakura and "greeted" Shekau. [3] [4] These two videos followed a series of Boko Haram-claimed attacks around Lake Chad using styles copying Islamic State (IS), despite only ISWAP being formally part of IS. These actions heralded Boko Haram's resurgence in Lake Chad. Since Shekau's August 2016 ejection from ISWAP, Lake Chad had been exclusively ISWAP's area of operations, but by 2019 Boko Haram was also operating in the region. It was also only six months after those two videos that Boko Haram conducted the massive March 2020 raid in Bohoma, Chad that killed 92 Chadian soldiers stationed on Lake Chad. Shekau claimed responsibility for the raid. [5]
Theses signaling videos are not exclusive to Boko Haram. In 2010, al-Qaeda in the Islamic Maghreb (AQIM), for example, released videos featuring Nigerian Hausa, Guinean, Malian Tuareg, and Fulani fighters to demonstrate AQIM's expansion from Algeria to the Sahel (Al-Andalus, August 2010). This coincided with AQIM training Boko Haram members and preceded AQIM controlling territory in Mali in 2012 through local affiliates (Al-Andalus, April 2017). Despite French-led counter-insurgency operations escalating from then onward, the Sahel has remained a jihadist hotbed.
Thus, the question remains whether Boko Haram's June and July 2020 videos about northwestern Nigeria will, like the group's September 2019 Lake Chad videos and AQIM's 2010 sub-Saharan African-oriented videos, lead to Boko Haram opening a new front in northwestern Nigeria or whether it will falter there like it has before.
Failed Forays and Recent Comebacks in Northwestern Nigeria
Neither ISWAP nor Boko Haram have attacked northwestern Nigeria with any consistency since ISWAP's November 2015 attack on Nigerian Shias marching between Kaduna and Kano. However, Boko Haram's efforts to expand to north-central and northwestern Nigeria from its northeastern Nigerian bases in Borno and its borderlands predate that 2015 attack. After Shekau declared jihad in July 2010, AQIM-trained Boko Haram members—including future U.S.-designated terrorists Khalid al-Barnawi and Abubakar Kambar—led cells in Kaduna, Kano, Plateau, and Kogi, from where Boko Haram conducted over 20 suicide bombings from June 2011 to 2013. [6] Shekau also commanded Boko Haram's attacks on Kano government buildings in January 2012 that led to nearly 200 civilian deaths. Al-Barnawi and Kambar's formed Ansaru with AQIM's approval as a separate faction from Boko Haram (Al-Andalus, April 27). Ansaru opposed Shekau's killing of Muslim civilians. This combined with Boko Haram's loss of civilian support, security forces' dismantling Boko Haram and Ansaru cells in Kaduna and Kano, and the inability of Boko Haram's predominantly Kanuri fighters to integrate into Hausa areas, meant Boko Haram's jihad in north-central and northwestern Nigeria ceased in 2014.
Boko Haram, and ISWAP after its March 2015 formation, both concentrated only on Borno and neighboring Yobe and Adamawa states and borderland areas in Niger, Chad, and Cameroon after 2015. Meanwhile, Ansaru went into dormancy in 2015 following Shekau's loyalists executing some of its leaders for betraying their loyalty to Shekau, while other members defected to ISWAP (Al-Haqaiq, June 2018). Nevertheless, Ansaru retained sleeper cells in northwestern Nigeria from 2015 onward, where it quietly developed hideouts and recruited among Fulani bandits. Khalid al-Barnawi's deputy, for example, was a Fulani from Zamfara, which would have helped Ansaru recruitment there, and al-Barnawi kept arms stockpiled in Kaduna before his April 2016 arrest in Kogi (The Cable, April 13, 2016).
Despite Boko Haram's fraught foray into northwestern Nigeria from 2011-2014, Shekau attempted to expand there again. This was evidenced by an internal Boko Haram video Shekau called "Message to Fulanis," specifically in Niger and Katsina states, in late 2014. However, the video was found in a Boko Haram camp and only released online by Nigerian media agencies in 2016. [7] Subsequent reports emerged that Boko Haram member Adam Bitri was arrested in Niger State in 2017 with two other Boko Haram members and that he had collaborated with Bakura to kidnap for ransom the elderly former minister Ali Monguno in Maiduguri, Borno as early as 2013 (Punch, May 26, 2017). Bitri had also been reported in Boko Haram-controlled territories in Borno in 2014 and was again reported in 2019 to have left Boko Haram, joined ISWAP, and worked to connect ISWAP with Ansaru in northwestern Nigeria (Vanguard, May 5, 2015). However, Bitri became disillusioned by Ansaru's excessively long-term approach and returned to Borno with no deal made (Premium Times, February 27). Bitri subsequently clashed with ISWAP leadership and allied with Bakura, who became loyal to Shekau again in 2019 after having been with ISWAP since August 2016. Bitri apparently disapproved of ISWAP's comparatively moderate leadership. Shekau and ISWAP's bids in northwestern Nigeria from late 2014, therefore, failed amid factional squabbles, but neither group ceased trying to gain a foothold there.
ISWAP, for its part, finally claimed it launched an attack on Nigerian police in Sokoto, northwestern Nigeria in October 2019 from a base across the border in Niger (Al-Naba #205, October 24, 2019). However, because ISWAP also encompasses the Mali, Burkina Faso, and northwestern Niger-based Islamic State in Greater Sahara (ISGS), which the United Nations and Nigerian "insider" journalist Ahmed Salkida's media agency, among other sources, reported as operating in northwestern Nigeria in 2019, it is possible ISGS was involved in launching that attack (UN Security Council, July 15, 2019; HumAngle, May 19, 2019). Moreover, despite Bitri's failed attempt to bridge ISWAP to Ansaru in northwestern Nigeria, the fact that some Ansaru members defected to, or collaborated with, ISWAP means it also cannot be discounted that jihadists operating in northwestern Nigeria and involved in the Sokoto attack had dual or overlapping affiliations to ISWAP and Ansaru, but not Boko Haram. Shekau's faction is despised by both ISWAP and Ansaru because of his declaring takfir (excommunication) on them. The United Nations notably asserted Ansaru "reactivated" in October 2019, which makes one question whether Ansaru was actually involved in the Sokoto attack that month (UN Security Council, July 23, 2020
Meanwhile, in February, villagers in Niger State also reported that bandits operating in their vicinity told them they were from ISWAP (Daily Trust, February 10). This indicates ISWAP remained around northwestern Nigeria after October 2019, albeit without publicizing its presence in videos or other media. Like Ansaru, it was maintaining a low-profile in northwestern Nigeria to avoid attracting extra Nigerian military pressure, if not also foreign intelligence agencies' reconnaissance. In July, the Nigerian Air Force announced it killed ISWAP members in a Zamfara airstrike, but, according to Ahmed Salkida's colleague, Yusuf Anka, Ansaru members were killed in the airstrike (HumAngle, July 12). This nonetheless again indicates the ISWAP-Ansaru overlap in northwestern Nigeria and confusion about how distinct they actually are in northwestern Nigeria.
Ansaru also demonstrated its presence in north-central and northwestern Nigeria by carrying out its first claimed attack in five years on a Yobe emir's convoy in Kaduna in January 2020 and then withstanding Nigerian security forces' retaliation on its hideouts (The Cable, January 19; Punch, February 6). Although Ansaru stated on Telegram it was not "ripe" for publicity yet, the ambush was claimed by al-Qaeda's semi-official media outlet, al-Thabat, in the name of "al-Qaeda in Biladis Sudan (Black Africa)." The attack occurred after several Ansaru members had traveled to Libya to train with IS, which again indicated Ansaru's ties to IS/ISWAP were not antagonistic. [8] Meanwhile, other Ansaru members arrested before Khalid al-Barnawi's own arrest had also intended to train in Sudan. At least one Ansaru member from Sudan was arrested in Niger State in June (Punch, March 5, 2016; HumAngle, June 30). That member's military fatigues and another slain "bandit's" similar military fatigues in Zamfara in July resembled ISWAP's uniforms. The uniforms suggested northwestern Nigeria's "bandits" were professionalizing, whether or not they affiliated with Ansaru or ISWAP, or both (Twitter.com/ankaboy, July 16).
Friends With What Benefits? Shekau's Calculations in Northwestern Nigeria
Boko Haram's latest attempts to enter northwestern Nigeria reflect several trends. First, after seeing ISWAP and Ansaru gaining ground there in 2019, Shekau had to match his rivals. Shekau has already succeeded in defending southeastern Borno and neighboring parts of Cameroon from ISWAP's encroachment. However, if ISWAP or Ansaru established cells in northwestern Nigeria and Boko Haram did not, it would indicate Shekau's falling behind them and losing prestige as the top jihadist in Nigeria.
Moreover, after conducting the major Bohoma, Chad attack in March, Chad's army launched significant offensives against ISWAP and Boko Haram around Lake Chad. Both groups retreated, but ISWAP has rebounded in Chad more effectively than Boko Haram, including revealing high-grade Israeli weapons and other ammunition taken from Chadian soldiers in a July ambush several miles from Nigeria's border (al-Naba, July 16). Thus, Boko Haram's Bakura faction around Lake Chad is weakened and adding new Niger and Zamfara state factions would compensate for Boko Haram's struggles around Lake Chad.
Shekau has also remained more "Nigerian" than ISWAP or Ansaru. ISWAP has drifted from narratives related to condemning Nigerian government-aligned Salafists or Nigerian Muslim rulers not implementing sharia and now focuses predominantly on IS' global narratives. Ansaru, for its part, was always conciliatory toward Nigerian Salafists because it sought to win their support, but promised to "defend" Nigerian Muslims from Christians, represent al-Qaeda in Nigeria, and revive Usman dan Fodio's jihad. Dan Fodio was an 18th and early 19th century Fulani religious teacher and revolutionary jihadist. While dan Fodio-related narratives may resonate among some northwestern Nigerian Fulanis, albeit incongruously because dan Fodio was Sufi, Ansaru's top leaders' arrests and deaths have meant its ties to al-Qaeda's nearest affiliate, AQIM, are weakened. Moreover, the reduction in Nigerian Muslim-Christian clashes in the past decade means Ansaru's original raison d'être is also less pertinent.
Shekau and his Boko Haram loyalists, in contrast to ISWAP and Ansaru, scrutinize Nigerian Muslim discourses. In his videos, Shekau stalks Yobe-origin, but London-based, lawyer and analyst Bulama Bukarti, who opposes Boko Haram on Twitter and in other writings. Shekau also still threatens Nigerian Salafist and Shia leaders like Isa Ali Pantami and Ibrahim al-Zakzaky, as well as Salkida's media agency, HumAngle (HumAngle, July 14). Boko Haram's reference points might, therefore, have more common ground with rank-and-file northwestern Nigerians, including bandits, than more globally-oriented ISWAP or Ansaru.
Lastly, through kidnapping-for-ransom operations and village raids in Borno and its borderlands, Boko Haram has accumulated significant wealth over the past decade. The group, therefore, can certainly offer financial resources, military training, and 'Islamic' credibility to bandit groups that are competing not only with each other, but also fighting the Nigerian Army and Air Force, which has bombarded bandit camps. Such support would improve the bandits' battle preparedness and professionalization and recruitment. In turn, bandit-turned-Boko Haram members' loyalty to Shekau and attacks in northwestern Nigeria would boost Shekau's prestige and his ideological goal of spreading jihad throughout Nigeria, just as the Bakura faction did for Shekau in Lake Chad. Boko Haram could also charge the bandits fees or a "tax" for its military assistance to them in a win-win deal.
Conclusion
Abubakar Shekau may appear 'crazy' in videos, but he is the longest-lasting jihadist leader globally. He became the leader of Boko Haram in 2010, one year before Aymen al-Zawahiri took over leading al-Qaeda. Boko Haram's latest videos affirm Shekau remains Boko Haram's undisputed leader and intends to create a hub-and-spoke organizational model with the Sambisa base being the hub and Zamfara and Niger states, Lake Chad, and Cameroon being spokes. Notwithstanding Shekau's Nigerian orientation, one cannot discount his ambition. If his new expansionary project succeeds in northwestern Nigeria, Salkida's suggestion that Shekau would attempt to create his own "African jihadist caliphate" project to compete with al-Qaeda and Islamic State also cannot be ruled out (HumAngle, Jul 12). Senegal, whose citizens fought with Boko Haram in Borno, would be one such location where Shekau has loyalists who could orchestrate attacks or at least help him fundraise (See TM May 4, 2018).
That said, Shekau's expansionary project and related Boko Haram videos should be seen as a reaction to ISWAP's and Ansaru's prior entrenchment in northwestern Nigeria. Moreover, while the latter two groups have slow, steady, and surreptitious projects, Shekau's is full of bluster. In the long-term, the other two groups' more patient and civilian-centric approaches will help them win over bandit groups, professionalize them so they can withstand increasing pressure from security forces, and guide them in administering villages and towns from which the government is absent, or retreat in an 'Islamic' way that legitimizes their rule. Although ISWAP and seem more likely to succeed than Boko Haram, Shekau has historically overcome all odds to survive multiple attempts to kill him and even won over the Bakura faction in 2019. Thus, his eccentricity, reported Kanuri favoritism, and other vices might not preclude Boko Haram from gaining a northwestern Nigerian foothold.
In the short-term,  Boko Haram, ISWAP, and Ansaru will likely compete for the loyalty of northwestern Nigerian bandit groups and clash similarly to fights between ISGS and al-Qaeda loyalists in Mali and Burkina Faso However, one key dynamic is the potential for ISWAP and Ansaru to overcome their conflicting loyalties to IS and al-Qaeda and instead cooperate to keep Shekau out of the northwestern Nigerian frontier and harm the reputation of the jihadists like they accuse of him of doing elsewhere in Nigeria. Boko Haram and ISWAP brigades in Borno will nevertheless both benefit from the Nigerian Army and Airforce's diverting resources from Borno, where Boko Haram is actually targeted with airstrikes more frequently than ISWAP, to northwestern Nigeria.
Nigeria should approach Boko Haram, ISWAP, and Ansaru in northwestern Nigeria as the most serious security crisis since the insurgency began in the northeast in 2010. As detrimental as the crisis there has become, Boko Haram and ISWAP are relatively contained in Borno and its borderlands; the groups have struggled to break out of predominantly Kanuri areas into majority Hausa-Fulani areas. However, if these jihadist groups gain a foothold in northwestern Nigeria, there are few physical or socio-cultural boundaries that will prevent their continued expansion until northern Nigeria becomes overwhelmed and possibly inextricably linked with rising insecurity elsewhere in the neighboring Sahel region. In such a case, Nigeria's territorial integrity will become even more gravely threatened.
Notes
[1] The video can be seen at this weblink: https://unmaskingbokoharam.com/2020/06/19/boko-haram-learn-a-lesson-for-those-who-have-eyes-video-including-to-northwestern-nigerian-bandits-june-15-2020/
[2] The video can be seen at this weblink: https://unmaskingbokoharam.com/2020/07/10/boko-haram-greetings-to-the-mujahideen-from-niger-state-video-july-7-2020/
[3] The video can be seen at this weblink: https://unmaskingbokoharam.com/2019/09/24/boko-haram-abubakar-shekau-message-of-glad-tidings-and-advice-to-my-brothers-in-allah-in-lake-chad-september-23-2019/
[4] Ibid.
[5] Shekau's claim can be seen at this weblink: https://unmaskingbokoharam.com/2020/04/02/boko-haram-abubakar-shekau-special-message-to-chadian-president-idris-deby-audio-april-1-2020/. The group's attack video can also be seen at this weblink (graphic): https://unmaskingbokoharam.com/2020/05/10/boko-haram-and-that-our-hosts-they-verily-would-be-the-victors-video-on-bohoma-chad-operation-may-8-2020/.
[6] For a list of these suicide bombings, see the Appendix of Zenn, Jacob. "A Primer on Boko Haram Sources and Three Heuristics on al-Qaida and Boko Haram in Response to Adam Higazi, Brandon Kendhammer, Kyari Mohammed, Marc-Antoine Pérouse de Montclos, and Alex Thurston." Perspectives on Terrorism 12, no. 3 (June 2018): 74–91. https://www.universiteitleiden.nl/binaries/content/assets/customsites/perspectives-on-terrorism/2018/issue-3/06—special-correspondence-a-primer-on-boko-haram-sources-and-three-heuristics-on-al-qaida-and-boko-haram-in-response-to-.pdf
[7] The video can be seen at this weblink: https://unmaskingbokoharam.com/2019/04/09/iswap-investigate-video-march-31-2016-and-march-24-2016-surrender-video/
[8] See page 267-270 of Zenn, Jacob, Unmasking Boko Haram: Exploring Global Jihad in Nigeria, Lynner Rienner: Boulder, CO, April 2020.