Boko Haram's Growing Presence in Niger
Publication: Terrorism Monitor Volume: 10 Issue: 20
By: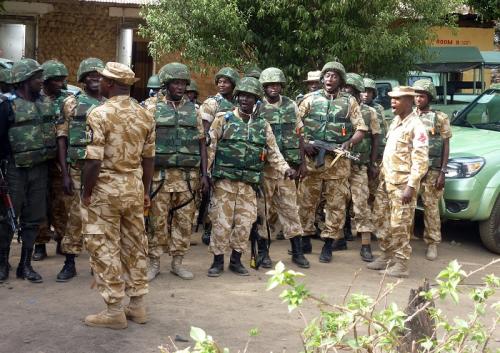 The recent arrests of Boko Haram members in the Niger town of Zinder come at a time when the Islamist movement's fighters are taking advantage of the porosity of the Nigeria-Niger border region to avoid security crackdowns in Yobe, Borno and other states of northeastern Nigeria. On September 27, a Nigerien security official reported that five Boko Haram members were arrested in Zinder, one of the rare times that Boko Haram members have been arrested outside of Nigeria since Boko Haram launched an insurgency in September, 2010 to dismantle Nigeria's secular regime and "entrench a just Islamic government" (Vanguard [Lagos], September 27; AFP, May 29, 2010). The only similar case in Niger occurred last February, when 15 suspected Boko Haram members were arrested in Diffa, Niger's easternmost city, allegedly planning to plant bombs in several of the city's public places (IRIN, February 20). Diffa and Zinder (the largest city in southern Niger) both border Nigeria's Yobe State, where Boko Haram—then popularly known as "the Nigerian Taliban"—established a base nicknamed "Afghanistan" in a village three miles south of the border with Niger in 2003. Diffa is believed to be a principal refuge for Nigerian Boko Haram fighters.
On both sides of the Nigerian-Nigerien border, as well as in northern Cameroon and western Chad, Sunni Islam and the Hausa language are predominant. However, there are sizable minorities of Shuwa Arabic and Kanuri speakers in Diffa, western Chad and Nigeria's far northeastern Borno State, which has been Boko Haram's main area of operations since the start of the insurgency. These cross-border ties help unite the peoples of the border region.
The movement of Boko Haram members into Niger follows a series of blows inflicted on the movement by Nigerian security services in recent weeks:
On September 24, Nigeria's Joint Task Force (JTF) killed 35 Boko Haram members and seized ammunition and weapons in house-to-house searches in Yobe;

Also on September 24, the Special Security Squad launched "Operation Restore Sanity" in Mubi, Adamawa State, which borders Borno to the south. 156 Boko Haram suspects were arrested, four of whom were believed to be unit commanders. A top commander, Abubakr Yola (a.k.a Abu Jihad) was killed in the operation (

This Day

[Lagos], September 25);

On October 15 the Joint Task Force in Borno State killed 24 Boko Haram members during a series of night raids in Maiduguri (

This Day

, October 17); and

On October 20, security forces arrested a wanted Boko Haram leader, Shuaibu Muhammad Bama, in Maiduguri at a house owned by his uncle, Senator Ahmad Zanna, who represents Borno Central (

Vanguard

[Lagos], October 21).
Nigeria shares approximately 2,000 miles of border with Niger, Cameroon and Chad, but, according to the Nigerian Immigration Service, only 84 border points are staffed by immigration officials (Reporters 365.com [Lagos], August 9). Nigeria has previously closed the border after major Boko Haram attacks, such as the Christmas Day 2011 church bombings in Madalla, a city outside of Abuja. The Borno State National Service Immigration Comptroller said at the time that such measures were the only way to "prevent the entry and exit of suspected Boko Haram sect members and illegal aliens that have no travel or residence permit documents to remain in the country" (Guardian [Lagos], January 7).
Due to the linguistic and cultural ties along the 950-mile Nigerian-Nigerien border, Nigerien Muslims can easily cross the border and assimilate into Boko Haram's ranks. According to local reports in Niger, many Nigeriens have joined Boko Haram because of economic rather than religious or ideological motives (Africa Review [Nairobi], February 24). Unlike northern Nigeria, Niger does not have a legacy of religious extremism, but it is one of the world's least developed and most impoverished nations.
With an estimated 200,000 herdsmen and farmers in Niger subsisting on Red Cross food rations due to severe drought, the $30 that Boko Haram offers its members for killing Nigerian security officers—or the $60 it offers for also stealing the officer's weapon—can be an effective recruiting tool (Vanguard [Lagos], October 26). The hundreds of thousands of dollars that Boko Haram has acquired in several dozen bank robberies in the past two years, can provide additional economic motivation for the poor to join the insurgency, whether or not they share the same motivations as Boko Haram leader Abu Shekau. If such reports are true, the poor Nigeriens who are taking up arms for Boko Haram may join other illicit economic activities such as selling black market gasoline and cigarettes. In February, captured Boko Haram spokesman Abu Qaqa told interrogators that Nigeriens were among the groups commonly chosen by Boko Haram to carry out suicide bombings (The Nation [Abuja], February 9; for Abu Qaqa's interrogation, see Terrorism Monitor Brief, February 10).
Boko Haram's infiltration of the immigration service also facilitates its operations in the border region. Two days after the arrests of the five Boko Haram members in Zinder, the Nigerian Army announced it had arrested a Nigerian immigration official posing as an army officer. Under interrogation, the official confessed to having been trained along with 15 other Boko Haram members in weapons handling, assassinations and special operations in Niger, and named other officials who were conspiring with Boko Haram (This Day, September 29). The October 19 killing of a customs official and his son in Potiskum, Yobe State, by Boko Haram members was likely intended to coerce other officials to comply with – or at least not obstruct – Boko Haram's efforts to infiltrate the immigration service (Daily Trust [Ikeja, Lagos State], October 21). Boko Haram has similarly assassinated dozens of Islamic clerics, politicians and journalists who disagreed with Boko Haram's ideology and militant activities in order to deter other influential figures from speaking out.
Since April, there have been reports of several hundred Nigerian and Nigerien Boko Haram members helping al-Qaeda in the Islamic Maghreb (AQIM), Ansar al-Din and the Movement for Unity and Jihad in West Africa (MUJWA) consolidate control of northern Mali after the three militias expelled the National Movement for the Liberation of Azawad (MNLA), the ethno-national secular Tuareg militia (Vanguard [Lagos] April 9). As a result, the territory of Niger separating northern Nigeria from northern Mali—only 300 miles across at its shortest point, Sokoto to Gao—is becoming an important area of transit for the insurgents. Niger is the one country of these three that has thus far avoided an Islamist insurgency on its territory, but Niger has a restive Tuareg population in the northern Agadez region bordering northern Mali and an increasing Boko Haram presence in its southern border cities—both representing potential sources of instability. Given this pressure, Niger and Nigeria agreed on October 18­—after four years of discussion­—to deploy joint patrols along their border in order to prevent the Boko Haram presence in southern Niger from growing into a cross-border insurgency (This Day, October 18).
Jacob Zenn is a legal adviser and international affairs analyst who focuses on the Boko Haram insurgency in northern Nigeria.