What is Hezbollah's Role in the Syrian Crisis?
Publication: Terrorism Monitor Volume: 10 Issue: 20
By: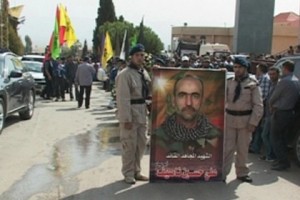 Recent reports of an increase in Hezbollah's involvement in Syria's civil war as combatants alongside the Syrian military represent a potentially sharp escalation in the regional impact of the ongoing conflict. Accusations concerning Hezbollah's military support for the Assad government leveled by the party's Lebanese political opponents, the Syrian opposition and pro-opposition states have been persistent since the outbreak of the Syrian revolution in March 2011. Hezbollah's leadership has replied that it is protecting Lebanese Shi'a villagers living along the Lebanese-Syrian border from attacks by Syrian rebels and that the Syrian opposition is actively being funded and armed by anti-Assad international actors, including Hezbollah's Lebanese opponents in the March 14 political bloc (Daily Star [Beirut], October 15).
On October 3, Free Syrian Army (FSA) chief Colonel Riyad Musa al-As'ad stated that the FSA had killed a senior Hezbollah military commander named Ali Hussein Nassif (a.k.a. "Abu Abbas") and two of his bodyguards near the restive city of Qusayr on the Lebanese-Syrian border. Colonel al-As'ad further asserted that Nassif's activities in the area had been monitored for two weeks, and that his death was the result of a carefully planned FSA targeted assassination intended as part of a larger FSA offensive against Hezbollah in and around Qusayr (The Daily Star, October 3). Hezbollah officials simply stated that Nassif had died "performing his jihadi duties" (AP, October 2). Several weeks after Nassif's death, the FSA claimed it had killed an additional 60 Hezbollah fighters and captured 13 in the vicinity of Qusayr (al-Mustaqbal [Beirut], October 12).
Lebanese newspapers (some of them antagonistic to Hezbollah) have recently begun publishing stories describing a deeper military commitment by Hezbollah to the Syrian regime. According to one such report, an agreement between the Syrian Defense Ministry and Hezbollah calls for the latter to provide over 2,000 "elite" fighters to Syria in the event of a foreign invasion. The report also claimed that Hassan Nasrallah offered the Assad government the full use of Hezbollah's military capabilities in the event that "urgent assistance" was needed (al-Jamhouria [Beirut], July 26).
Another Lebanese publication claimed that Unit 901, an alleged elite Hezbollah military unit, had crossed into Syria to fight in the cities of Qusayr, al-Rastan, Talbiseh, and Homs, all near the Lebanese-Syrian border (An-Nahar [Beirut], July 27). This movement of Hezbollah troops into Syria was reported to be the result of the Syrian military's need for assistance in the campaign to defeat rebels in Aleppo (Majalla, August 23). Hezbollah, along with the Iranian Quds Force, was also alleged to be training a 60,000-person Syrian military division modeled after the Iranian Revolutionary Guards to protect the Alawite-majority Latakia Governorate of Syria (Asharq Al-Awsat, September 30).
Hezbollah's soldiers were recently reported to have been participating as shock troops in several of the most intense battles of the conflict, including in and around Homs, Hama, suburbs of Damascus such as Zabadani and in the vital northern city of Aleppo (al-Sharq al-Awsat, October 20). FSA units operating in Qusayr claim they have killed over 300 Hezbollah and Iranian fighters (AFP, October 7). A defected member of the powerful Syrian Air Force Intelligence Branch has asserted that Hezbollah has 1,500 fighters supporting the Syrian military inside the country (Times UK, October 6).
Sayyid Hassan Nasrallah, Hezbollah's Secretary General, has refuted these allegations, stating that his party only supports the al-Assad government politically and that it was assisting 30,000 Lebanese Shi'a villagers living in 20 villages in Syria near the Lebanese border. [1] The villagers, in close vicinity to Qusayr and the city of Hermel in Lebanon, had, according to Nasrallah, been the victims of targeted assaults by the FSA and deserved the right to self-defense and support from the party (Ahul Bayt News Agency, October 12).
Shi'a refugees from the embattled villages claimed that over 5,000 armed men, the majority with ties to Hezbollah, were protecting the villages from attack (AFP, October 17). Hezbollah is alleged to have used Katyusha rockets against Sunni villages on the Syrian side of the border (Independent, October 26).
In spite of Hezbollah's strong support for the al-Assad government, the presence of thousands of Hezbollah fighters actively participating in Syrian battlefields would be a significant departure from the established understanding of the party's force capabilities. At present, the most consistent reports of direct Hezbollah military involvement in Syria occur in regions of the country that border Lebanon and have a significant Shi'a population, or in areas that are of strategic interest to Hezbollah because of their use as routes for moving weapons from Iran through Syria, such as the route through the Zabadan District of the Rif Dimashq Governorate.
Hezbollah's active-duty military force is widely estimated to stand at between 2,000 and 4,000 fighters. These fighters are thought to be deployed mainly in southern Lebanon as a deterrent to Israeli invasion and throughout Hezbollah-controlled or monitored areas of Lebanon to guard the party's exclusive "security zones" and weapons caches. Predominately Shi'a regions of Lebanon, such as in the southern suburbs of Beirut, southern Lebanon, and the Beka'a Valley, are secured by a mix of Hezbollah full-time fighters, auxiliary village-level militias and armed members of the Lebanese Shi'a AMAL movement [2]
A Lebanese Army source with extensive knowledge of Hezbollah's war-fighting abilities states that any large-scale deployment of Hezbollah forces in Syria would most likely be the result of a severe strain being placed upon the Syrian military's ability to overcome rebel activity in the larger cities of Syria, such as Aleppo and Homs. [3] Hezbollah's specialization in reconnaissance and intelligence operations and doctrinal emphasis on the use of guerilla warfare would be of limited use in the current context of the Syrian theater of operations and its demand for mechanized capabilities that Hezbollah does not possess. Hezbollah Special Forces, such as the "Scorpions," could be used in limited engagements to disrupt the Syrian rebels' lines of support near the Turkish border or to perform rural ambush operations.
As a result of Hezbollah's limited resources and specialized doctrine of warfare, deploying a large force in active combat alongside the Syrian military would present an enormous strain on the party's ability to combat Israel and overcome its internal enemies inside of Lebanon. The presence of thousands of Hezbollah fighters in Syria would indicate either that the party has far more active-duty fighters than was previously believed, or that in order to execute a strategy of supplementing the Syrian military, Hezbollah is drawing significantly from its village-level reserves.
Potentially, Hezbollah could also convince its March 8-bloc allies in Lebanon, particularly AMAL, but also the Free Patriotic Movement, the Syrian Socialist Nationalist Party and the Marada Movement, amongst others, to provide armed support for the Syrian military to supplement its efforts. Although this is a possibility, there is no convincing evidence at this time that Hezbollah's Lebanese allies are mobilizing for combat duties in support of the Syrian military. This type of broad, March 8-bloc deployment would indicate that the parties in the bloc are confident in their ability to resist Israel in the event of another invasion of Lebanon and to overcome internal Lebanese rivals such as the Future Movement and Salafist militant groups in the event that an internal conflict were to erupt.
Further, the Syrian civil war presents anti-Hezbollah factions in Lebanon with a convenient opportunity to strike at the party and potentially minimize the risk of Hezbollah's retribution against them. Reports indicate that more than 300 Lebanese fighters, mainly Sunnis, have been actively supporting the Syrian rebels in Homs Governorate, including an all-Lebanese military unit (Daily Star, May 31). Some of these Lebanese fighters state that they have fought with veteran rebel units such as the "Standard of the Free Orontes," which claims to have faced Hezbollah soldiers in action in and around Homs (NOW Lebanon, October 19).
Areas of the Syrian governorates of Homs and Rif Dimashq that border Lebanon are now a battlefield where the Syrian military and Hezbollah are arrayed against fighters from the FSA and Lebanese anti-Hezbollah factions. The March 14 Bloc, frustrated in its ongoing efforts to reduce the political power of Hezbollah inside of Lebanon and to force the party to relinquish its heavy weapons, would benefit if the defeat of the Assad government forced Hezbollah to renegotiate its armed presence in Lebanon.
Nicholas A. Heras is an M.A. Candidate in International Communication at the American University (DC) and a former David L. Boren Fellow.
Notes:
1. The United States Department of Treasury designated Hezbollah Secretary General Sayyid Hassan Nasrallah as a sponsor of terrorism for "providing training, advice, and extensive logistical support to the government of Syria; directly trained Syrian military personnel and facilitated training efforts by the Iranian Quds Force; coordinating efforts with the Syrian military and the Quds Force to expel Syrian rebels" (U.S. Department of the Treasury, September 13, 2012, https://www.treasury.gov/press-center/press-releases/Pages/tg1709.aspx).
2. The author would like to thank Dr. Carl Anthony Wege, professor at the Coastal College of Georgia, for his insight into the structure of Hezbollah's military forces.
3. Interview conducted by the author with a Lebanese Army source with extensive operational experience throughout Lebanon who requested anonymity due to being on active duty. Interview conducted on October 24, 2012.