Bomber Strikes Chinese Embassy in Bishkek; China Announces New Defense Transportation Law
Publication: China Brief Volume: 16 Issue: 14
By: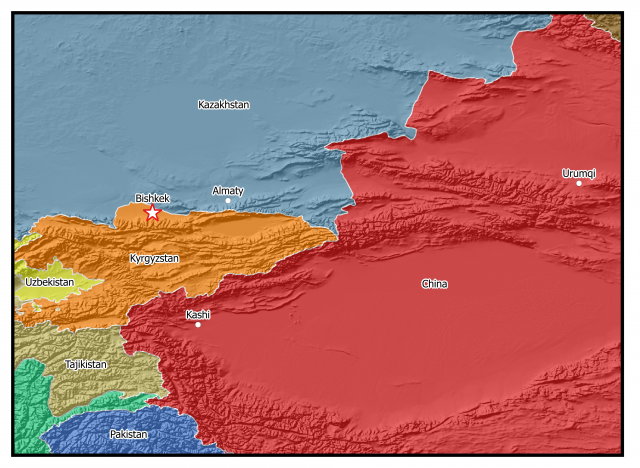 Bomber Strikes Chinese Embassy in Bishkek
On August 30, a car bomb exploded outside the Chinese embassy in Bishkek, Kyrgyzstan. Three people were injured in the explosion. Fortunately the car bomb was not able to directly ram the embassy, though the explosion was strong enough to destroy the facade of one side of the building. One report described finding glass 300 meters from the site of the blast (Global Times, August 30).
The bombing demonstrates that despite crackdowns by Central Asian states and vigorous cooperation with their Chinese counterparts, Uygher militant groups with ties to Syria continue be able to successfully carry out operations and channel funds and people throughout the Eurasian space. Recently released videos indicate that top leaders within the Turkistan Islamic Party (TIP) have managed to elude U.S., Chinese, and Pakistani authorities and continue to urge Uyghers in China to carry out jihad—if necessary by traveling abroad (Militant Leadership Monitor, August 31).
The bomber was identified the Kyrgyzani media as an ethnically Uygher citizen of Tajikistan (CCTV, September 7). Kyrgyz authorities have also arrested a militant named Shamo Mamedov who was involved in helping militants get to Syria (AKipress [Kyrgyzstan], September 7). The car used in the attack belonged to a woman who is part of a broader network with strong links to Syria-based groups (AKIpress, September 6). The attack follows a pattern of attacks shifting to "soft" targets outside of mainland China. The Kyrgyz Security Council confirmed the bomber and other suspects are members of the TIP (Guancha, September 9).
Kyrgyzstan itself does not have a significant Uygher minority (Chinese Embassy in Bishkek, July 4). However, after the breakup of the Soviet Union the newly independent states in Central Asia had difficulty securing their borders. Many Uyghers took advantage of this to leave China and settle in the region, often bringing their radicalized ideology with them (China Brief, September 10, 2014). China's Xinjiang Province and Kyrgyzstan share an 850 kilometers border largely dominated by the Tianshan Mountains with only two official border crossings. China and members of the Shanghai Cooperation Organization (SCO) regularly carry out anti-terror exercises, featuring long-range bombing and, more recently cyberwarfare components. China and the other SCO members will carry out this year's "Peacemission-2016" during the latter half of September (Observer, September 12).
The attack in Bishkek demonstrates that the training and experience gained by Uyghur fighters in Syria will have repercussions for Central Asian states. While China's own vast state security apparatus may be capable of detecting and preventing such attacks, weaker Central Asian or Southeast Asian states will be prime targets. Furthermore the connections between the attackers and their supporters to Syrian based groups may further strengthen Chinese stated resolve to stabilize Syria and militarily support the Syrian government (China Brief, August 22). On the side-lines of the G-20 Summit held in Hangzhou at the beginning of September, China and Turkey vowed to further deepen their counter-terrorism cooperation (Xinhua, September 3), perhaps further indicating that China is hoping to place additional pressure on money and people transiting between Syria, Central Asia, and its own borders.
Defense Transportation Law
The National People's Congress (NPC) has issued a new Defense Transportation Law (NPC, September 6). Speaking before the NPC on a draft of the law General Zhao Keshi (赵克石), head of the Logistics Support Department of the Central Military Committee (中央军事委员会后勤保障部) said that the new law would provide important guidance as China's economy develops and military reforms (PLA Daily, April 26). The law is an update to guidance first issued in 1995 and then revised in 2011. This law and its predecessors are part Chinese efforts to augment the PLA's warfighting capability through close integration with civilian infrastructure.
The law has an extremely broad scope, and extends explicitly to every level of government from the county (县) up. It also embraces the full range of modes of transport: rail, highways, canals, waterways, air and even pipelines as well as all of their related infrastructure. Joint use of transportation is just one part of China's broader focus on Civil-Military Integration (CMI; 军民融合). CMI is a regular feature of editorials in official publications (China Brief, August 22). As stated in China's 2015 Defense White Paper:
China encourages joint building and utilization of military and civilian infrastructure, joint exploration of the sea, outer space and air, and shared use of such resources as surveying and mapping, navigation, meteorology and frequency spectra. Accordingly, military and civilian resources can be more compatible, complementary and mutually accessible (China's Military Strategy, May 29, 2015).
As part of its modernization efforts, the PLA is consistently improving its ability to deploy internally, practicing, for example, high altitude drops, long-distance amphibious operations and cross-country mobilization. It has also invested heavily in roads, rail and improved air and sea mobility.
In the case of air mobility, long a major bottleneck for force projection, China is currently embarked on a building program for several new aircraft, the first of which the Y-20 (Y for运, transport), officially became part of the Chinese military in July (81.cn, July 6). In the past the PLA has had to charter civilian aircraft abroad to accomplish deployment and evacuation operations (China Brief, February 13, 2013 Other similar projects, including plans to work with Ukrainian aircraft maker Antonov to build more An-225s—the world's largest transport aircraft—are in the works (China News, September 8). But even a greatly expanded PLA strategic air-lift capability is unlikely to meet the full needs of a wartime PLA. However, given the leeway the transport law gives the government to use civilian aircraft in wartime, one can imagine the 380-odd passenger and cargo aircraft Air China's fleet being transferred to direct PLA command.
In the maritime domain China already makes extensive use of paramilitary forces (AMTI, September 11, 2015). The Chinese military recently carried out a drill in which a large number of civilian ships were suddenly ordered to join in a "multi-service joint drill" (PLA Daily, September 11). This is particularly important as China works to improve its long-distance maritime force projection, or closer to home in a Cross-Strait scenario in which vast numbers of civilian transports would be needed to bolster the PLA's own amphibious craft.
The PLA views CMI as a shortcut to rapid improvement of the PLA's capabilities, as well as an ideologically convenient path to reinforce the ties between Party, Army and People. Economically China is pushing the creation of road, rail and air connections across broader Eurasia as part of the Belt and Road Initiative, largely through state-owned enterprises. The Defense Transportation Law reinforces the fact that such infrastructure is explicitly dual-use