Bombings and Shootings Reported Across North Caucasus
Publication: Eurasia Daily Monitor Volume: 6 Issue: 105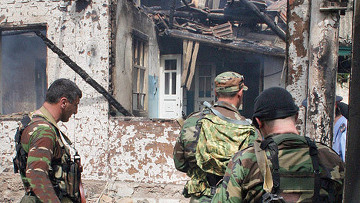 A month and a half after the President Dmitry Medvedev ordered an official end to the decade-long counter-terrorism operation in Chechnya, bombings and shootings have been reported there and in neighboring Dagestan, Ingushetia, North Ossetia over the past several days.
A man was hospitalized with shrapnel wounds in Dagestan's capital Makhachkala on June 1 when he accidently set off an improvised explosive device he found on the curb of a road in the city's Sovietsky district. Police who arrived at the scene of the blast found fragments of the explosive device, which was apparently made out of a plastic bucket, four kilograms of an ammonia nitrate-aluminum powder mixture, screws for use as shrapnel and a battery. A second blast took place in Makhachkala's Leninsky district as a police car was driving by. No one was hurt in the explosion, which police said had the force of 500 grams of TNT. The explosive device had been placed in a trash can (Interfax, June 1).
Two Federal Security Service (FSB) "spetsnaz" members and a district police officer were wounded in a shootout in Makhachkala on May 31. RIA Novosti reported later in the day that one of the FSB commandos, who had been shot in the head during the incident, had died in a hospital. A militant was also killed in the gun battle, which reportedly broke out after security forces tracked him down to an apartment in Makhachkala, surrounded the building and tried to negotiate his surrender via his wife, and then stormed the building when he refused to give up. The militant was identified as Gasan Gasanov, who authorities said was a member of an "illegal armed formation" – the standard official term for a rebel group – operating in Dagestan's Kizilyurt district. The apartment in which Gasanov was holed up was completely burned out during the operation, and several neighboring apartments were damaged by the fire. Security forces found a Kalashnikov automatic rifle, several grenades and ammunition in the apartment (www.newsru.com, RIA Novosti, May 31).
That same day – May 31 – three people were killed in an explosion in Ingushetia. According to the republic's Interior Ministry, the blast destroyed a car at a gas station in the city of Karabulak, killing two men and a woman who were inside the vehicle. An Interior Ministry spokesman said the explosion was the result of a bomb that had been placed underneath the car (Interfax, May 31). However, on June 1, Russian news agencies quoted law enforcement officials in Ingushetia as saying that among those killed in the car blast was Khamatkhan Gadaborshev, a 39-year-old resident of the village of Berd-Yurt who was a wanted member of the "gang underground" (a term often used by officialdom when referring to the rebel movement in the North Caucasus). Ekho Moskvy radio reported that there was no confirmation a woman had been among those killed inside the car, while ITAR-TASS quoted an unnamed official as saying the blast was caused by the accidental detonation of explosives which were being ferried inside the vehicle (Kavkazky Uzel, Ekho Moskvy, ITAR-TASS, June 1).
In North Ossetia on May 31 unidentified gunmen fired on a BMW X5 at the entrance to the city of Vladikavkaz. The Kavkazky Uzel website quoted an unnamed source as saying that two people in the car were killed immediately (the two victims were subsequently identified as Radik Sanakoev and Salvik Galoev) while two others were hospitalized with serious wounds. However, Gazeta.ru quoted a North Ossetian law enforcement source as saying three people were killed in the attack. A police source said the attackers were driving in a VAZ-2106 and that a large number of 5.45 mm and 7.62 mm shell casings were found at the scene of the shooting. The two men wounded in the attack were put under special police protection in the hospital (Kavkazky Uzel, www.gazeta.ru, May 31). It was not clear whether the attack in North Ossetia was the work of insurgents or an act of "ordinary" criminal violence.
Law enforcement sources in Chechnya said an arms cache was discovered in a house in the town of Shali on June 1. The cache, which included two Fagot wire-guided anti-tank missile systems, three 122 mm artillery shells and various other munitions, was destroyed in a controlled explosion (Interfax, ITAR-TASS, June 1).
A serviceman with the federal Interior Ministry's Interior Troops was killed May 30 when he stepped on a land mine while on a search and reconnaissance operation in a wooded area near the village of Benoi in Chechnya's Vedeno district. That same day, two members of a police foot patrol were wounded in the Oktyabrsky district of the Chechen capital Grozny when an improvised explosive device went off as they were walking by. Two other policemen who were part of the patrol unit escaped injury (Interfax, May 30-31).
A police officer was killed along with two suspected militants in a shootout in the Chechen town of Shali on May 28. The slain officer was identified as Timur Musaev, head of the Shali district police department's criminal investigation department. Another policeman, who was not identified by name, was wounded in the gun battle. A local police source identified the two dead suspected rebels as Yusup Askhabov, a 29-year-old Shali resident, and Aslan Makaev, a 26-year-old native of Grozny. Chechen President Ramzan Kadyrov visited the scene of the shooting in Shali and said the slain and wounded officers would each be awarded the republic's highest decoration – the Order of Akhmad Kadyrov – and that their families would be given financial support (Kavkazky Uzel, May 29).