Russia Struggles to Sustain Alliance with Belarus
Publication: Eurasia Daily Monitor Volume: 6 Issue: 105
By: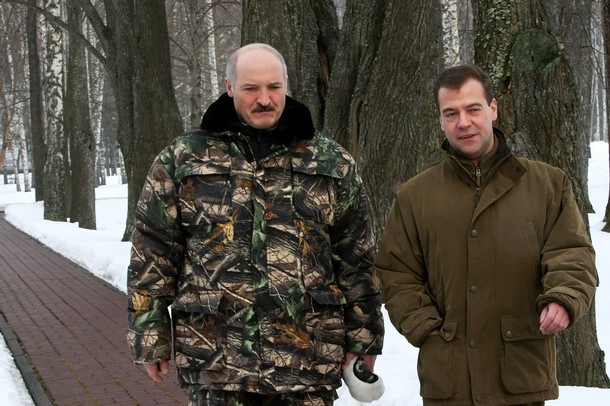 Russia's relationship with its former closest ally, Belarus, has reached a new low point following a bitter dispute. Moscow has apparently struggled to remain on good terms with Belarusian President Aleksandr Lukashenka -described by some as Europe's last dictator. Meanwhile, although both countries have attempted to form a "union state," Lukashenka bluntly told his government that they must no longer rely upon Russia. The session of the council of ministers of the Russia-Belarus union state, held in Minsk on May 28, proved to be a major disappointment for both sides.
Russian officials were keen to appease the authoritarian Belarusian leader. "Russia is always ready to support Belarus," Prime Minister Vladimir Putin said after talks in Minsk with his Belarusian counterpart Sergei Sidorsky and President Lukashenka. Russia will continue to provide financial support to Belarus, he told a news conference. Putin said that the Russian gas giant Gazprom had issued advance payments for gas transit via Belarus until October this year (www.belta.by, Interfax, ITAR-TASS, RIA Novosti, May 28).
After the talks, Sidorsky urged Moscow to lift all restrictions on Belarusian exports into Russia. He argued that Belarus accounts for only 4 percent of Russia's imports -thus posing no threat to Russian manufacturers. Sidorsky also said that in the first quarter of 2009 Russia had a sizable trade surplus with Belarus (www.belta.by, Interfax, May 28).
On May 28, Russia and Belarus signed agreements on the peaceful use of nuclear energy and land lease issues. On February 3, the supreme state council of the union state adopted a joint action plan, designed to limit the adverse repercussions of the financial crisis. In March, Russia disbursed the second $500 million installment of the $2 billion Russian loan, following the $1 billion granted in November 2008.
The Russian government press-service said in a statement before the meeting that Moscow "prioritized multi-faceted integration and cooperation with Belarus in its CIS policies." However, on May 22, Lukashenka accused Moscow of sabotaging the union state arrangements: "The presidents make decisions but the Russian government fails all of them," he argued. "They accuse us of cooperating with the West, but we have no other option," Lukashenka protested (Interfax, May 28).
Yet in the wake of the talks on May 28, Lukashenka intensified his verbal assault on Russian policies. On May 29, Lukashenka ordered the government to end "weeping, bowing and begging" to Russia (EDM, June 1). He also suggested that no country will be permitted to pressure Belarus. Moreover, he warned against what he described as attempts "to pocket" Belarus (www.belta.by, Interfax, ITAR-TASS, RIA Novosti, May 29). Lukashenka's rhetoric was apparently in response to remarks made by the Russian Deputy Prime Minister Igor Shuvalov and the Finance Minister Alexey Kudrin. On May 28, Kudrin warned that Belarus might become insolvent by the end of this year, as the country's currency reserves became further depleted. He said the disbursement of the last $500 million installment of a $2 billion Russian loan will depend on Belarusian economic policies, adding that Minsk had refused to accept the $500 million loan in Russian rubles (Interfax, May 28).
Not surprisingly, Belarusian officials dismissed Kudrin's remarks. On May 29, Belarusian Deputy Prime Minister Andrei Kobyakov insisted the country will be able to repay its debt. Its debt remains below 14 percent of the country's GDP, he argued. Kobyakov also characterized Kudrin's statements as an "exaggeration" (Interfax, ITAR-TASS, May 29).
Russian officials also tried to repair the damage inflicted by Kudrin's remarks. Notably, Putin described Kudrin's "extreme assessment" as "inappropriate" (Interfax, ITAR-TASS, RIA Novosti, May 28). However, Putin's explanation was not received well amongst the Belarusian government. On May 29, Lukashenka accused Kudrin of seeking to spread panic in Belarus and claimed that Kudrin's "tirade" was pre-arranged with Putin (www.belta.by, Interfax, May 29). In response, Shuvalov suggested settling bilateral differences "calmly," while the speaker of the Russian Duma Boris Gryzlov said there were no substantial disputes between the countries (ITAR-TASS, May 29). Both sides must not allow mutual trust to be undermined using the economic crisis as a pretext, he said (Interfax, May 29).
Russian lawmakers proved less diplomatic. Alexey Ostrovsky, the head of the Duma's CIS committee, argued that Lukashenka was unlikely to secure Western backing and had no other viable option but to continue in talks with Moscow (Interfax, May 29). Vadim Gustov, the head of the CIS committee of the federation council (the upper house of parliament) described Lukashenka's criticism as a "short-sighted" attempt to exert pressure on Russia. Another lawmaker, Oganes Oganyan, dismissed Lukashenka's statements as "blackmail and provocation" (Interfax, May 29).
Despite these apparent bilateral disagreements, Russian officials still hailed the strength of military ties between Moscow and Minsk. On May 29, Konstantin Biryulin, the deputy head of the Russian service on military-technical cooperation, noted a "positive" experience in the preferential export of Russian arms to Belarus. He said that among the CSTO states, Belarus remains the main buyer of Russian weapons at domestic prices (Interfax, May 29). Russia has significant security interests in Belarus. According to one bilateral agreement, the Russian military enjoys the use an early warning radar hub in Baranovichi free of charge until 2020.
The authoritarian Lukashenka first swept to victory in 1994 based on his promise to reunite Belarus with Russia. In 1997, then Russian President Boris Yeltsin and Lukashenko signed a treaty pledging the formation of a union with its neighbor. Russia and Belarus also agreed to introduce a single currency and a shared system of taxation by 1999, but these agreements were not implemented. For several years, cheap Russian energy supplies to Belarus have proven instrumental in sustaining Lukashenka's regime -while most of the union state pledges only remain on paper. The latest spat with Minsk indicates Russian difficulties in sustaining its close ties with Belarus. Following Lukashenka's calls not to rely on Russia, it remains to be seen whether Moscow and Minsk might continue pursuing their "union state" policy.