Border Disputes in the Ferghana Valley Threaten to Undermine Regional Trade and Stability
Publication: Eurasia Daily Monitor Volume: 11 Issue: 141
By: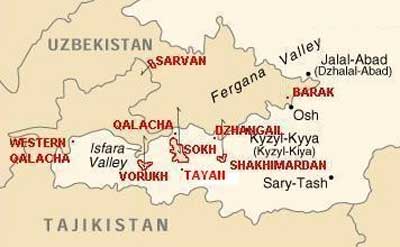 On July 21, eleven days after a recent skirmish between Tajik and Kyrgyz communities and border guards in the Ferghana Valley, Kyrgyzstan's Deputy Prime Minister Abdyrakhman Mamataliev commented on the progress of his country's delimitation talks with Tajikistan and Uzbekistan, stating that demarcation issues would persist for some time despite achieved progress (24.kg, July 23). The statement comes amid a spike in the number and intensity of clashes in disputed border areas since the start of the year, which has prompted Kyrgyzstani authorities to push for a speedy resolution of all outstanding issues that it and its neighbors have confronted since the Soviet Union broke up in 1991. If history is any guide, addressing these challenges will be a lengthy process. But a growing urgency to resolve them—in order to prevent the eruption of inter-state conflicts and to enhance trade across Central Asia—offers hope of a quicker solution.
An incident on July 10 involved a shootout between border guards in Tamdyk near Tajikistan's Vorukh exclave in Kyrgyzstan, in which one Tajikistani national was killed and seven other individuals were injured, including one border guard from the Kyrgyz Republic. The clashes reportedly occurred after the Tajikistani side protested the construction of the Kok Tash-Ak Sai-Tamdyk road being built to bypass the exclave, claiming that it was passing through their territory. Both sides subsequently sealed off the road connecting the exclave with the Tajikistani city of Isfara. Kyrgyzstani residents view the road as a way to avoid frictions when transiting through the Tajikistan's exclave of Vorukh, while Tajikistani residents consider it a means by Kyrgyzstan to cut off a Tajik village located within Vorukh (news.tj, July 11; IWPR, January 14). On July 21, Mamataliev indicated that Kyrgyzstan and Tajikistan already reached an agreement allowing for the use of the road via the territory in question (24.kg, July 23). Tajikistan's Foreign Minister Sirojiddin Aslov, in turn, issued a statement acknowledging "some difficulties" in the negotiations but cautioning against the involvement of "other parties" (Avesta.tj, July 17).
The July 10 skirmish is the second highly violent confrontation between border troops of both countries after they first exchanged fire over the same issue on January 11. That incident resulted in heavy injuries among soldiers and the closure of the border for two months. Overall, more than 20 incidents were registered near Central Asia's border areas since 2013 and have regularly been followed by other minor incidents. This periodic violence contributes to a tense atmosphere in the region that persists to this day, despite alleged active diplomatic engagement by both parties (24.kg, July 17, 23). Meanwhile, the deployment of troops to areas where the incidents occurred, while routine, has increased the risk of miscalculation and militarization of the already volatile Ferghana Valley—even though these countries' membership in the Russia-led Collective Security Treaty Organization (CSTO) is meant to keep their reactions in check.
Border area disputes in the Ferghana Valley have usually involved clashes between local communities of the respective countries, but the above-mentioned incidents are noteworthy for involving armed skirmishes between border troops. The disputes have led to prolonged closures of borders and tense security conditions that have weakened Central Asia's already poor inter-state collaboration as well as impeded the growth of intra- and inter-regional trade. One major obstacle to settling the issues of delimitation is the use of different maps by the countries in the region (see Jamestown Foundation Blog, July 16). Another has to do with the need for leverage. Several Central Asian republics have, in the past, chosen to enforce border closures following/during an incident or dispute as a form of bargaining or tool for pressuring the other side. Uzbekistan, for instance, has often resorted to this practice vis-à-vis Tajikistan, blocking road and rail transit to the country to prevent the construction of the Rogun water dam, which it fears will deprive it of water inflows from the energy deficit-stricken Tajikistan (see EDM, November 9, 2011).
Residents in border areas also face issues associated with access to land, pastures and water, making border delimitation a high priority. According to Deputy Prime Minister Mamataliev, Kyrgyzstan has now delimited 1,007 kilometers of its 1,378-km border with Uzbekistan and about half of its 970-km frontier with Tajikistan (Azattyk, July 21). But it is important to consider the timing. On the eve of the January 11 incident, Mamytov stated that Kyrgyzstan and Tajikistan had not delimited even one kilometer of their border over the previous seven years, illustrating how drawn out and ineffective the talks could be (AKIPress, January 10).
Unfortunately, no reports have been made available regarding deadlines or timeframes within which Kyrgyzstan and its partners have agreed to resolve their outstanding demarcation issues. The record of slow work and the seeming lack of timelines leave little confidence that the respective parties will be able to resolve these problems any time soon. However, there has been an increase in reported efforts to address them. For instance, on July 23, delegates from Tajikistan and Kyrgyzstan reviewed border delimitation practices during their study trip in Estonia (Central Asia Online, July 24). The authorities of both countries now also consider possible land exchanges to facilitate the delimitation process. The urgency is there and likely to grow due to a heightened risk of inter-state conflict as evidenced by the use of heavy fire in the incidents, prolonged periods of heightened security conditions, and extended border closures. An inconspicuous but growing imperative to facilitate rapidly growing trade in and via Central Asia—championed by several outside powers, including China (Silk Road Belt), India (Connect Central Asia Policy), the United States (New Silk Roads Strategy) and Russia (Eurasian Economic Union), among others—adds another level of urgency to this crucial task. Illustratively, border closures triggered by recent incidents have adversely impacted the transit of international cargo and have threatened to undermine China's imports of natural gas from Turkmenistan (National Geographic, May 19).
Tajikistan, Kyrgyzstan and Uzbekistan have suffered from border disputes and closures, raising the incentives to work together on solutions advancing regional integration rather than isolation. Doing so promises to reduce the risk of inter-state conflict and enable them to take advantage of growing trade to foster connectivity with each other and the global economy. Until then, the risk of internal and external militarization and involvement will persist, preventing these states from realizing their internal and regional economic potential.